JA Solar Holdings (NASDAQ:JASO) is scheduled to report its Q2 2012 results on Aug. 29, 2012, before market opens. The Street expects EPS and revenue of ($0.14) loss and $290.88 million, respectively.
In this article I will recap the company's historical results, its latest EPS estimates vs. surprises, the latest news from JASO, and the news from its closest competitors.
Click to enlarge images.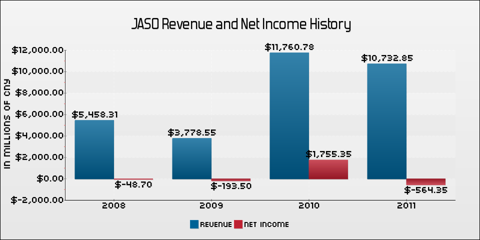 Recent EPS: Actual Vs. Estimates
The company has failed to meet analysts' estimates in the last four quarters. In the last quarter it reported a $0.20 loss per share, failing to meet analyst estimates of a $0.15 loss.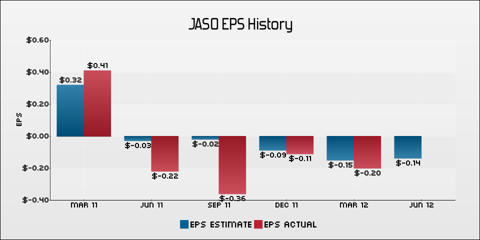 The consensus EPS estimate is a $0.14 loss based on 11 analysts' estimates, up from a $0.22 loss a year ago. Revenue estimates are $290.88 million, down from $412.95 million a year ago. The median target price by analysts for the stock is $1.10.
Average Recommendation: Underweight
Source: MarketWatch.
Latest News
On Aug. 7, 2012, JA Solar Holdings announced that it has signed a supply agreement with A Shade Greener (NYSE:ASG), a U.K.-based PV installer and installer of free solar panels to the residential market in the United Kingdom.
On July 30, 2012, JA Solar Holdings announced that it entered into a share transfer agreement on July 23, 2012, with M.SETEK Co. (M.SETEK), a polysilicon and solar wafer manufacturer in Japan controlled by AU Optronics.
On June 14, 2012, JA Solar Holdings announced that board of directors has approved a share repurchase program, effective immediately, that authorizes JA Solar to repurchase up to a $100 million worth of its issued and outstanding American depositary shares prior to Sept. 30, 2012.
Competitors
Canadian Solar (NASDAQ:CSIQ), First Solar (NASDAQ:FSLR), LDK Solar (NYSE:LDK), ReneSola (NYSE:SOL), and Suntech Power Holdings (NYSE:STP) are considered major competitors for JA Solar Holdings, and the chart below compares the stock price changes as a percentage for the selected companies for the last one-year period.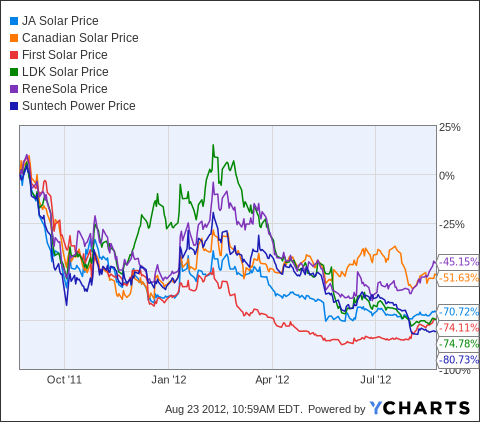 Competitors' Latest Developments
Technical Overview
The stock has a market capitalization of $218.42 million and is currently trading at $1.07 with a 52-week range of $0.89 to $3.79. The stock's year-to-date performance has been -19.40%. It is currently trading above the 20-day and 50-day SMA, but below the 200-day SMA.
Data sourced from Yahoo Finance, Google Finance, MarketWatch, Finviz, and Reuters.
Disclosure: I have no positions in any stocks mentioned, and no plans to initiate any positions within the next 72 hours. I wrote this article myself, and it expresses my own opinions. I am not receiving compensation for it (other than from Seeking Alpha). I have no business relationship with any company whose stock is mentioned in this article.