There are a seemingly infinite number of cultural divides where people can be broadly classified into one of two groups. Football or baseball. Republican or Democrat. Coffee or tea. Dogs or cats. And perhaps most critically of all, Coke or Pepsi?
Anecdotally speaking, few people I know are switch-hitters. If you're a Coke drinker, a Pepsi is a meager substitute; if you're a Pepsi drinker, a Coke just doesn't hit the spot. As a native Texan, I must profess that my love is split between Coke and hometown icon Dr Pepper (NYSE:DPS). But in the investing world, Dr Pepper comes in a distant third to the two major beverage giants Coca-Cola (NYSE:KO) and PepsiCo (NYSE:PEP).
I honestly can't stand the taste of Pepsi. And ironically, that's one of the reasons I prefer it as an investment.
Below, I'll be analyzing various reasons why I prefer Pepsi stock to Coca-Cola stock at the current point in time. Please remember that market conditions change, and in a few months, some of the points may be outdated. Nonetheless, while both are solid companies that hold a spot in my portfolio, Pepsi's the better buy right now. Here's why.
1: I Hate Pepsi, But I Love Other PepsiCo Products
Both Coca-Cola and PepsiCo have broad product lines (click here to browse through all of Coke's 3500 beverages). Even though I drink Coke rather than Pepsi, I probably contribute an equal amount to Pepsi's revenues as I do to Coke's. Why is that?
Well, simply put, Coca-Cola does beverages, while PepsiCo does much more. PepsiCo owns FritoLay, meaning that Pepsi derives revenue not just from beverages, but also from the Tostitos, Doritos, and Cracker Jack that people like to snack on. This means that Pepsi reaches consumers like me who don't like their drinks (besides Tropicana).
This is especially important in an era when soda consumption in America is declining. True, the decline can be offset by increased consumption in emerging/frontier markets, but PepsiCo's diversification into snacky foods seems to give it an edge.
Furthermore, Pepsi also has a focus on "health" foods which Coca-Cola seemingly lacks. As I examined in PepsiCo's Yogurt Brings All The Boys To The Yard, Pepsi is on a health bent with new offerings like yogurt. PepsiCo CEO Indra Nooyi implemented the Performance With A Purpose program to promote "good for you" products like Quaker oatmeal in addition to the flagship sugary drink.
PepsiCo's diverse product lines and focus on health foods mean that it can still win even if Coca-Cola drubs it (again) in the Soda Wars Sequel.
2: PepsiCo Is A Better Value
Over time, Pepsi and Coke have traded at fairly correlated multiples. Right now, Pepsi is a bit cheaper.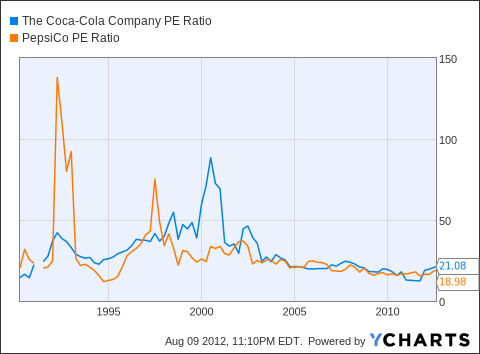 KO PE Ratio data by YCharts
Pepsi's valuation advantage becomes even clearer on a forward basis. For 2013, Coke's mean analyst EPS is currently $2.18, with a low of $2.13 and a high of $2.25. For 2013, Pepsi's mean analyst EPS is currently $4.41, with a low of $4.33 and a high of $4.48. Pre-split, the numbers were roughly comparable, with Pepsi having a slight but possibly statistically insignificant edge.
Given that PEP is currently quoted at roughly $73, vs $38 for KO, you're definitely getting more bang for your buck with Pepsi.
Pepsi's dividend yield (3%) is also slightly higher than Coca-Cola's (2.6%).
3: Relative Timeframes
The last few years have been tough for Pepsi. The company is in the midst of a much-discussed turnaround, and took a small EPS charge in the last quarter related to turnaround efforts and the acquisition of Chinese bottler Tingyi. It seems that the hard part's behind Pepsi, and as they streamline operations, there should be only upside left as they become leaner and meaner.
On the other hand, Coca-Cola recently announced a major reorganization of the company's operating structure. While this doesn't look to be as extensive as Pepsi's efforts, Coca-Cola may experience some "reorganizing pains." Given that Pepsi is coming out of a reorganization and Coca-Cola is going in, it seems the multiples should be reversed. Pepsi has more upside at this point than Coca-Cola in terms of earnings growth through cost-cutting and streamlining, yet Coca-Cola is commanding the higher multiple. Given the relative position of both companies in their reorganizations/turnarounds, I think Pepsi again comes out on top as of right now.
Conclusion
When I want a delicious beverage to wash down my Big Kahuna Burger, I choose Coca-Cola. Five points if you get the movie reference - comment if you remember Samuel Jackson's opining on the appropriateness of foot massages.
Seriously, though, both Coca-Cola and PepsiCo are solid companies with a history of dividend growth and solid returns. You can't go wrong with either. However, at the current juncture, the three factors mentioned above would lead me to recommend Pepsi over Coke.
Disclosure: I am long KO, PEP. I wrote this article myself, and it expresses my own opinions. I am not receiving compensation for it (other than from Seeking Alpha). I have no business relationship with any company whose stock is mentioned in this article.
Additional disclosure: I may initiate a long position in DPS over the next 72 hours.