Oppenheimer Holdings (NYSE:OPY) is an interesting stock here. It trades for only 4x its earnings power.  The company is a good stable business consisting of mainly a retail brokerage with 2,000 financial advisors.  Management runs the business conservatively.  The stock has been pummeled recently due to an earnings miss in the March quarter caused by a recent acquisition of CIBC's institutional business.  Last year, Oppenheimer earned $5 per share, and we think the CIBC acquisition could add $2 in earnings power.
Background and Recent Corporate History
Price: $29.00
Shares Outstanding: 13.5 MM 
Market Cap: $392 MM
Dividend: $0.44
Dividend Yield: 1.51% 
Location: New York, NY
Oppenheimer has gone through a metamorphosis over the past 6 years.  Oppenheimer is the old Fahenstock Vinar Holdings.  Fahenstock was mainly an institutional bond house with about 1,000 retail brokers.  In 2002, Fahenstock acquired the retail brokerage of CIBC Oppenheimer from CIBC.  As part of this deal, Fahenstock took the Oppenheimer name and CIBC renamed the retained institutional business CIBC World Markets.  This deal worked well for the new Oppenheimer as the merger integration went fine and the stock market rallied from its 2002 lows.
In late 2007, Oppenheimer made another acquisition that could be a home run but is a little rocky at the moment.  Oppenheimer purchased the U.S. portion of the CIBC World Markets business from CIBC.  This business included institutional equities, equity capital markets, high yield capital markets and investment banking.  One very interesting thing about this business is the lack of fixed income inventory held on the balance sheet.
Oppenheimer Holdings does not own Oppenheimer Funds.  Oppenheimer Funds is a subsidiary of Mass Mutual.  Oppenheimer Holdings is helped by the name recognition from Oppenheimer Funds' advertising campaign.                                               
Investment Thesis and Gator's Investment Criteria
Our investment thesis on Oppenheimer is simple:
We like the underlying business of retail brokerage, asset management and investment banking.
The stock is very cheap compared to its earnings power due to the small market cap, lack of Wall Street research coverage, and earnings noise due to the recent acquisition.
The CEO is a moneymaker, controls the stock and is more than 70 years old in a consolidating industry.
Does Oppenheimer meet Gator's investment criteria of a high-quality growth business? Consider the following:
Franchise
Strong brand - Yes
Dominant market share - No
Pricing power - No
Recurring revenue stream - Yes
Free cash flow - Yes
High ROIC - Yes
Strong balance sheet - Yes
Long-term prospects
Predictable growth - No
Sustainable growth - Yes
Long product life cycle - Yes
Enduring competitive advantage - Yes
Favorable demographic trends - Yes
Excellent management
Rational capital allocation - Yes
Consistent operating history - Yes
Incentives aligned with shareholders -Yes
Oppenheimer meets some of the criteria of a high-quality growth business but not all.  Oppenheimer is a small player in the brokerage industry, but I would argue this is not a deal killer in the brokerage industry where individual advice is more important than cost savings from economies of scale.
Recent Stock Performance
Oppenheimer's stock performance has been disappointing in 2008.  The stock had a huge run from the beginning of 2006 until the middle of 2007.  During this time, it went from $20 to almost $60.  In late-2007, the stock pulled back during the credit crisis during the Fall.  In November, Oppenheimer announced the CIBC World Markets acquisition and the stock was range bound in the 40's until the end of April.  The stock cratered on the Q1 earnings report.  The acquired investment banking businesses produced almost no advisory or underwriting revenue.  The combination of the acquisition disruption and the tough Q1 investment banking environment did them in.  The stock has lost 32% of its value since the report came out.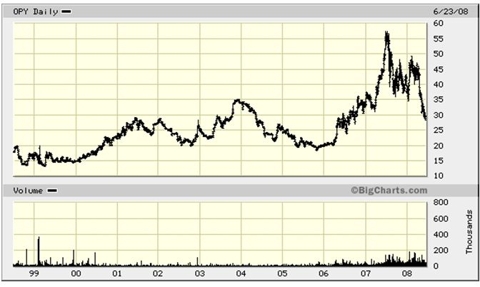 Industry Analysis
Notwithstanding the current downturn in the capital markets, we like capital markets businesses.  Our favorite capital markets business is the asset management business, but the stock market agrees with us.  However, we very much like a business similar to the asset management business that the stock market doesn't fully appreciate: the regional full-service brokerage business.  Of course, we like Oppenheimer, but there other interesting investments in this sector in firms like Raymond James and Stifel Financial.   
Asset management is a great business.  Asset managers have no capital requirements, their businesses can grow based on market appreciation and with positive net flows, the margins in the business can be as high as 40%, and the cash flow doesn't have to be reinvested in the business and can be used to make acquisitions or to repurchase stock.  The stock market awards asset management firms strong multiples as it should.
We like full-service retail brokerage almost as much as asset management.  The retail brokerage industry has drastically improved over the last 10 years.  Stockbrokers have changed from stock-jockeys pitching individual stock trades to their clients to being financial advisors recommending asset allocation strategies and outside money managers to their clients.  Now the financial advisor sits on the same side of the table as the client.  If a money manager managing a portion of the client's portfolio doesn't perform well, the financial advisor can say, "Let's fire the money manager.  Don't fire me." 
Another improvement to the retail brokerage business is an improvement in the industry structure due to consolidation.  It seems like all the regional brokerages (i.e., J.C. Bradford, McDonald, Piper, etc.) have all been rolled up into UBS.  With these changes, retail brokerage has similar economics to asset management.  With asset managers getting only 40 bps to manage wrap accounts, one could argue that retail brokers have pricing power over the asset managers.
The current environment to recruit is great for retail brokers.  Regional brokers have always had a more laid back style compared to the big New York wirehouses.  Right now, there are a decent number of financial advisors looking to run their practice without being told how much product to stuff in the clients' portfolios.  Plus, with the stock price declines at Merrill, Citigroup, UBS, Wachovia and Morgan Stanley, there is an unprecedented level of angst amongst wirehouse brokers.  Collectively, they have lost faith in their management teams.  The best part for the regional brokers is their regional competitors don't exist, so there are fewer places for a disaffected large wirehouse broker to go.
Institutional brokerage and investment banking is probably the least attractive of the three capital markets businesses, but it isn't so bad.  The capital markets continue to grow faster than GDP by taking share from the commercial banking sector.  The 2 issues with this business are the volatility of results and the black-box nature of the trading books.
CIBC World Markets Acquisition
Oppenheimer's acquisition of CIBC World Markets business could be a home run, but the March quarter results make it look like a disaster.  In November, Oppenheimer agreed to purchase CIBC World Markets business for practically nothing.   Here were the terms:
Oppenheimer paid:
1 million warrants on OPY's stock with a strike of $48 and 5 years to maturity,
Approximately $10 million to cover the book value of the desks and computers, and
An earn-out for 5 years of 50% of the first 16% of EBITDA margin earned but no less than $5 million per year.
So basically, Oppenheimer paid $10 million cash up-front and is on the hook for at least another $25 million over the next 5 years.  For an investor buying the stock at $29, the potential overhang of the $48 warrants will be a high class problem if they become an issue.
Oppenheimer received:
CIBC's institutional equities business, investment banking business and high-yield capital markets business in the U.S. and Israel,
$100 MM sub debt financing,
 unspecified financial support to bring certain business systems up-to-date, and
a $1 billion warehouse line of credit to fund the high-yield issuance business.
The business had revenue of about $450 million in 2007 and $65 million of EBITDA.  This EBITDA is understated because it includes about $60 million of overhead allocation from CIBC.  At least $30 million of this allocated overhead can go away.  Plus, there is plenty of cost cutting opportunity in the acquired business's back office.  400 of the 700 acquired employees were in the back office.  Oppenheimer's management is known to run a much, much leaner ship.
If these revenue and margin numbers hold, Oppenheimer will have to make earn-out payments to CIBC of about $36 million per year.  $450MM revenue * 16% EBITDA * ½ payout = $36 million.  This could push the total cash consideration to $190 million, or 2x EBITDA.  It looks like a steal.
Here's our calculation of earnings accretion:
Acquired Revenue: $450 MM
 Existing EBITDA: $65 MM
Costs Savings: $20 MM
Earn-out Payment: ($36 MM)
New EBITDA Run Rate: $49 MM
Tax rate: 40.5%
Net Profit: $29.5 MM
Diluted Shares Out: 14.5 MM
Accretion: $2.03
The big assumption here is the revenue run rate can be maintained.  Areas where we are conservative are the cost savings which could be up to $60 million and by including the earn-out in the income statement.  Arguably, the earn-out is an acquisition cost and it goes away after 5 years.
Latest Earnings
Oppenheimer's earnings for the March quarter were disappointing.  After reporting earnings of $1.94 in EPS for the December quarter, Oppenheimer had a huge negative swing in the March quarter and lost $1.19 in EPS. 
There were 4 major drivers of the negative change:
Seasonal Decline in Hedge Fund Incentive Fees ($0.70)
Declining Interest Rates Effect on Retail Brokerage spreads($0.47)
Decline in Investment Banking Revenue from Acquired CIBC Business ($0.80)
Transitional Acquisition-related Expense ($1.16)
Total Q4 to Q1 Change in EPS ($3.13)
The seasonal decline in hedge fund fees and the transitional acquisition expenses were expected and not concerning.  The decline in the margin at the retail broker was blamed on a decline in interest rate spreads.  This is a little bit of a head scratcher because interest rates had begun to decline in Q4.  As rates stay low, this will continue to be an issue. 
The decline in investment banking revenue was the biggest unexpected surprise and should be temporary due to the environment and the acquisition.  The March quarter was very tough for investment banking activity, especially with the demise of Bear Stearns in March basically freezing the capital markets.  The June quarter has been getting better each month, and I've seen Oppenheimer as a co-manager on a few offerings.  It is normal for investment banking activity to dip during an investment banking acquisition.  The same thing happened to Stifel Financial when they acquired the Legg Mason Capital Markets business from Citigroup.  If the decline in investment banking isn't temporary because the old CIBC investment banking business is permanently damaged, then the acquisition's appeal is called into question.  This uncertainty is why the stock is below $30. 
Balance Sheet
The Oppenheimer balance sheet isn't too bad.  Equity is $444 million and tangible equity is $258 million or just over $19 a share.  Debt consists of $63 of senior notes and $100 million subordinated notes.  Debt-to-capital is 27% and debt-to-tangible capital is 39%.  Debt-to-est-EBITDA is about 1.25x.
Valuation
Oppenheimer trades at cheap valuation levels based on potential earnings power, 3.9x our 2009 EPS.  2008 is a transition year due to the CIBC World Markets acquisition and related one-time expenses.  2008 is also hurt by the weak investment banking environment.  Our assumption for 2009 imbeds some recovery in the capital markets, but the assumptions are not heroic.

Conclusion
Oppenheimer is interesting here because of the potential upside.  The earnings power could be above $7 per share, so it is trading around 4x earnings power.  Even if earnings never grow, buying the stock at 4x earnings presents a potential 25% annual return.
In the short term with financials in a free fall, I don't see any support for the stock before the 2nd quarter earnings report comes out at the end of July.   There is no research coverage from the Street to defend the stock.  Plus, the 1st quarter was so bad, even big believers like us want to wait to make sure business recovers a little.  Keep an eye on Oppenheimer.  If the June earnings release shows improvement, there is a ton of upside potential in this one.
Disclosure: Author holds a long position in OPY