On Tuesday, computer maker Dell (NASDAQ:DELL) reported mediocre results for the second quarter of its 2013 fiscal year and gave dismal guidance. Revenue declined 8% year-over-year to $14.5 billion, which was even worse than the Street's estimates. Operating income fell 15% year-over-year, but due to massive share repurchases, non-GAAP earnings per share exceeded consensus estimates, falling 7% to $0.50. Going forward, management expects earnings of at least $1.70 per share for fiscal year 2013, which was significantly lower than the consensus forecast of $1.91 per share.
We've previously addressed the bevy of companies Apple (NASDAQ:AAPL) has left for dead in its wake of destruction, including Research In Motion (RIMM) and Hewlett Packard (NYSE:HPQ), and it appears that Dell's consumer PC business is no different. The segment's revenue declined 22% year-over-year to $2.6 billion. With consumers opting for iPads, notebook sales slipped 26% year-over-year. Of course, management cited consumer anticipation of Windows 8 (NASDAQ:MSFT) as one of the main drivers of weakness, but we think this is only an ancillary reason. Though Dell is far from dead, the shift to mobile looks like it might be too powerful for the firm to overcome. Operating income fell a whopping 86% to just $14 million. Dell's lack of innovation is hurting itself, as well as crushing (NYSE:BBY).
Dell's Large Enterprise business segment was significantly stronger (but still weak), with revenue falling just 3% year-over-year to $4.5 billion. Operating income fell 6% to $433 million, but the segment's operating margin slipped just 30 basis points to 9.5%. Enterprise solutions revenue in the division grew 9% year-over-year, and we expect calendar fourth quarter spending could be strong due to budget dumping. Small & Medium Business revenues held up and only fell 1% year-over-year to $3.2 billion-the segment's operating margin expanded 20 basis points, to 11.7%. Services revenue within this segment, however, grew 27%, and we think this area is particularly attractive given better pricing power and a long runway for future expansion.
On a product basis, Servers & Networking continue to outperform other business lines, growing 14%. As the movement to the cloud continues, we figure Servers & Networking could become one of Dell's most valuable product offerings. Though revenue from desktops fell 9% year-over-year, we're much more concerned about the 19% drop in mobility revenue. We fear that without an integrated tablet and smartphone offering, Dell will continue to lose share to Apple. We previously mentioned how Dell has designed security solutions for Apple devices, almost admitting defeat. The PC business is becoming more and more commoditized, and Dell is languishing.
Though Dell continues to generate robust free cash flow ($577 million in the second quarter), the firm's cash conversion cycle (turning a product into cash) continues to increase, leading to a decline in overall cash flow generation. The firm wants to maintain pricing and margins, which may be good for the company in the near term, but elevated prices, could lead to bloated inventories resulting in lower margins in the future.
While we think Dell is undervalued at current levels (click here for our valuation model template), we simply aren't interested in the shares at this time. Our Valuentum Buying Index (our stock-selection process) has a technical and momentum overlay in it, which is depressing our enthusiasm for the company.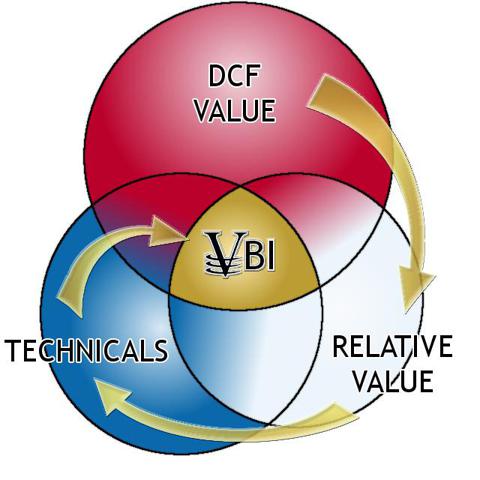 Click to enlarge
The firm's dividend is 2.7% (above the broader market average) and we expect it to continue to grow, but we don't think the firm is well-positioned over the next several years. Without question, the company is shifting to become a fully-integrated enterprise business provider, but the consumer business is still a large (and unprofitable) part of its sales mix. Additionally, the business enterprise market remains a highly competitive industry. Shares score just a 3 on our Valuentum Buying Index, so we're steering clear of the company at this time.
Disclosure: I have no positions in any stocks mentioned, and no plans to initiate any positions within the next 72 hours. I wrote this article myself, and it expresses my own opinions. I am not receiving compensation for it (other than from Seeking Alpha). I have no business relationship with any company whose stock is mentioned in this article.
Additional disclosure: Some of the firms mentioned in this article may be included in our actively-managed portfolios.