Kraft Foods (KFT) will unlock shareholder value on October 1st. Kraft will spinoff into two separate entities. The first piece is the spinoff of the North American grocery business. The second piece is the separation of the Mondelez International division. Mondelez International offers higher revenue potential and earnings growth. I believe the new Kraft Foods Group stock will provide a stable dividend. This is highly desirable in a tough global economic economy.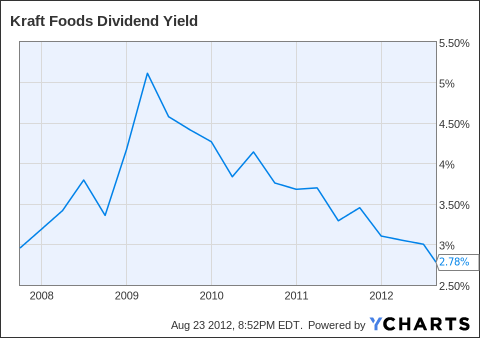 KFT Dividend Yield data by YCharts
Background
Kraft is the second largest food company in the world. Current brand names include: Oreo; Nabisco; Milka and Cadbury branded chocolates; Trident branded gums; Maxwell House branded coffees; Kraft branded foods; and Oscar Mayer branded products.
I look upon the European Mondelez International spinoff from Kraft's cash cow Grocery Food business in a similar light as the Phillip Morris (NYSE:PM) separation from Altria (NYSE:MO). Altria is a cash cow dividend stock. Phillip Morris owns a rapidly expanding market share presence in European and Asian markets. Although China remains a Phillip Morris barrier to entry hurdle, the company is gaining global tobacco market share. Mondelez International, on the other hand, already has a Chinese market share presence.
Nestle (OTCPK:NSRGY) is the largest global food company. Nestle brand names are far reaching in category and global sales. Brand names include: Gerber baby food; Wonka candy; Stouffer's; Carnation milk; Dreyer's ice cream; Alpo dog food; and Jenny Craig weight loss products.
Dividend
Kraft's current dividend is a quarterly 29 cents per share. The yield is 2.8% per year. The Kraft Foods Group is expected to retain a higher than average dividend yield. The North American food business is expected to remain as a cash cow with moderate revenue growth.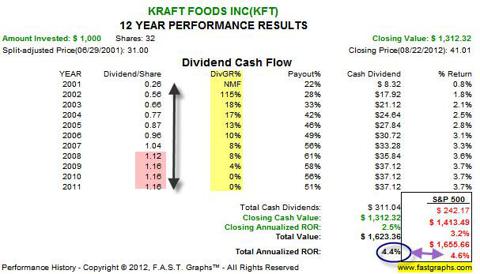 Earnings Expectations
In 2011, the net revenues increased by an impressive 10.5%. The company earned $2.29 per share.
Kraft announced a positive 2012 2nd quarter earnings release.
2012 net earnings should amount to $2.50 per share. 2013 net earnings should equal approximately $2.75 per share. Based upon an August 23rd closing price of $41.28, Kraft shares are trading at a 16.51x price to earnings multiple.
The spinoff was officially announced on August 14th, 2012. This will be a tax free distribution.
Current Kraft shareholders will receive 1 share of new Kraft Food Group for every 3 shares of old Kraft shares.
The North American grocery business unit will be known as Kraft Foods Group. The new October 1st symbol will be "KRFT". Mondelez International is growing at a faster pace. The Mondelez new ticker symbol will be "MDLZ". Both new symbols will take effect in October.
Mondelez International
Mondelez International is expected to trade at a higher price to earnings multiple due to higher growth rates in emerging markets. These markets include China. Biscuits and candy products continue to foster revenue and earnings growth.
Action
I believe spinoffs generate significant shareholder value. This is particular true when the businesses are recognized with strong brand names. This is the case with the Kraft spinoff. One unit will be a North American cash cow paying a reliable dividend. The second unit is the international growth business.
CF Industries (NYSE:CF) has proven that food prices should continue to increase. This is likely to have a negative impact upon the brand name food manufacturers. The global population is expanding. CF Industries focuses upon products to promote enhanced agriculture production. Due to the U.S. drought, raw food costs will eventually take a hit upon Kraft. Consumers may opt to choose generic names versus higher profit margin Kraft brand names.
My goal is to keep both Kraft spinoff entities. I will allow time to review their progress and dividend plans. This will identify key trends and growth patterns for the growth division versus the North American cash cow spinoff.
Disclosure: I am long KFT, PM, CF. I wrote this article myself, and it expresses my own opinions. I am not receiving compensation for it (other than from Seeking Alpha). I have no business relationship with any company whose stock is mentioned in this article.