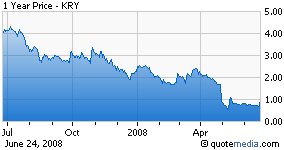 Crystallex International Corp. (KRY) shares were up more than 90% early Tuesday morning after the company said the Venezuelan government was willing to reconsider the cancellation of the environmental permit for the company's Las Cristinas gold project.
In a release, Crystallex said that last week it was invited to a meeting by representatives of the Ministry of the Environment ("MinAmb"), led by Vice Minister of Environmental Planning and Administration, Ing. Merly Garcia.
At this meeting, Crystallex said it was told possible modifications of the Las Cristinas project could enable the environmental permit to be issued.
The modifications suggested by the MinAmb representatives included further optimizing the social projects in the area, mitigating the impact of open vein deposit mining in the currently affected areas of the Imataca, and improving the remediation plans at the end of the mine life as well as to remediate the existing environmental damage caused by the illegal miners who have worked in the area.
Crystallex is scheduled to hold its annual general meeting today.