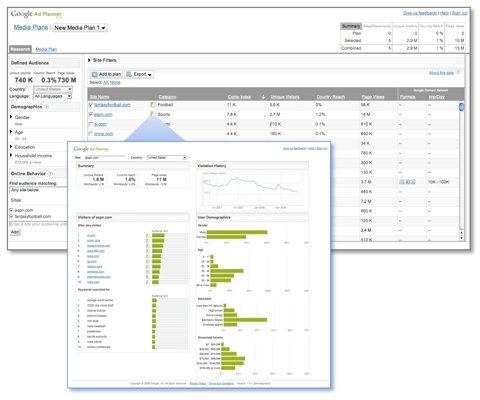 click to enlarge image
Google's (NASDAQ:
GOOG
) new
web audience measurement
service is intended to help advertisers identify the best places to buy online ads by providing them data on which web sites their target audiences visit. The goal is to connect advertisers and publishers and provide them with demographics and usage patterns of target audiences. The
service
is available to select parties at the moment but it is expect to be freely available to anyone shortly.
Presently, ad buyers use services such as comScore (NASDAQ:
SCOR
), Nielson, Hitwise, Compete.com and Quantcast to analyze audience usage patterns to allocate their media spend. Everyone of these services uses a different methodolgy to gauge usage and their results vary greatly. Ad buyers spend alot of money on these services for the data that they provide.
According to the
WSJ
, some ad executives are leery about placing even more power in the Google's hands. "For an advertiser, the last thing you want to do is to have your adviser be the same person you are spending your money with," says Sarah Fay, chief executive of Aegis North America, the media-buying giant owned by Aegis Group of the U.K.
Some ad executives say they are concerned that Google could use the data it compiles about their campaigns to make a business pitch to a competitor. They imagine a scenario in which the biggest online advertiser in a category is running its campaign through Google's ad-serving systems. Not only would Google be helping that marketer deliver ads to particular web sites; it would also be capturing data about which Web sites and types of ads work best. Advertising executives fear that Google could then resell that same intelligence to competitors.
Google's new tool could bring more efficiency to the process of buying online ads, ad executives say. Google already has one of the dominant systems for online ad-serving, which helps Web publishers manage their advertising sales and serve up ads each time a consumer opens one of their Web pages. The Web-audience data could be combined with the ad-serving system, so that advertisers would be able to find out whether they would reach the right audience before they committed to placing an ad. Existing ad-serving systems don't currently provide detailed Web-audience data about the sites where they place ads. By giving away the new tool, Google could presumably attract more ad business and shake up the web audience measurement business.
Ad executives weren't the only ones nervous. Yesterday, comScore's stock dropped 22% on the announcement of Google Ad Planner.