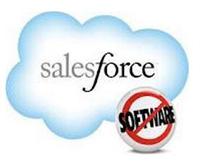 Salesforce.com (NYSE:CRM) is a leading solutions company that provides customer relationship management applications to businesses through a cloud-based operation. The company provides computing solutions to businesses around the world as they look to adjust from the traditional sales model to one adapted for increased interconnectedness. Salesforce.com helps create an infrastructure for businesses in such a way that they are able to operate more efficiently and with greater ease.
On Thursday, August 23, Salesforce.com announced its 2Q earnings in which it reported a loss of ($0.07) but gained non-GAAP diluted earnings of $0.42. This topped earnings expectations by $0.03, and was combined with a beat on revenues as well. The company's revenues grew 34% year-over-year to $731.6 million from $546 million, and topped analyst expectations of $728 million. However, in the after-hours session, the market proceeded to punish the company as shares dropped over 6% despite the positive report on earnings and revenue.
The downbeat sentiment was largely attributed to the company's guidance for the upcoming period ending in October. Excluding certain items, the company stated that it expected earnings in a range of $0.31 to $0.32, which falls short of the average expectation of $0.34 by analysts. The lowered guidance has largely been attributed to increased competition as companies like Oracle (NASDAQ:ORCL) and SAP AG (NYSE:SAP) move more aggressively into this cloud computing model.
While seemingly late to the trend, the abundant resources of Oracle and SAP AG suggest that Salesforce.com may find a more difficult environment to operate in as the need to competitively price its services becomes more pressing. In light of its leadership stance in their respective industry, Salesforce.come has been largely priced to reflect this. The company currently trades at a lofty price-to-book ratio of 11.33 and a price-to-sales ratio of 8.35. Taken from the standpoint of its enterprise multiple (EV/EBITDA), Salesforce.com's current price reflects a lucrative 192.15.
| | | | | |
| --- | --- | --- | --- | --- |
| Company Name | Market Cap. | Price/Book Ratio | Price/Sales Ratio | EV/EBITDA |
| Salesforce.com | $20.25 Billion | 11.33 | 8.35 | 192.15 |
| Oracle Corporation | $154.21 Billion | 3.56 | 4.17 | 8.76 |
| SAP AG | $76.87 Billion | 4.91 | 4.14 | 11.41 |
Accounting for these commonly accepted metrics, it is clear that the market has placed the company on a pedestal of its own. Salesforce.com has largely been measured by the market on the basis of unhindered growth progress. For cautious investors, the recent share price collapses of Netflix (NASDAQ:NFLX) and Chipotle Mexican Grill (NYSE:CMG) show the repercussions of growth investments that fall out of favor with the optimism that once surrounded them. As it stands now, Salesforce.com currently supports a PEG ratio of 3.64, a rather high value considering the rapid growth already underway. It remains clear that the market must remain convinced that the company will be able to convert its largely growing revenue stream into very rapidly growing earnings.
Yet this latest shock to the stock price remains a potential indicator that such uncertainties have not yet been placed to rest. The inability for the company to yield more meaningful earnings to date, the arrival of well-founded competition into a market space with limited barriers to entry, and the increasing need to spend more on acquisitions to remain competitive all stand as reasons investors should remain cautious on this seemingly well played-out growth story.
While the company is likely to continue outperform on the revenue front, the promises of future earnings potential may begin to hold less weight in the shorter time frame. It remains uncertain whether the focus by investors and analysts will patiently continue to center around Salesforce.com's promising capabilities. Undoubtedly, the underperformance of the recent guidance does little to keep the heads of investors in the clouds above.
Disclaimer: Please refer to my standard disclaimer found here.
Disclosure: I am short CRM. I wrote this article myself, and it expresses my own opinions. I am not receiving compensation for it (other than from Seeking Alpha). I have no business relationship with any company whose stock is mentioned in this article.