Speculative small cap biotechnology and pharmaceuticals stocks offer some of the best upside in the market. Along with that, of course, comes a great deal of risk. Often stocks like these give you great gains, but take them right back if you don't book the profits. Here are four stocks we think you should consider selling right here:
1) Neptune Technologies & Bioresources (Nasdaq:NEPT)
We think it is time to take profits in Neptune: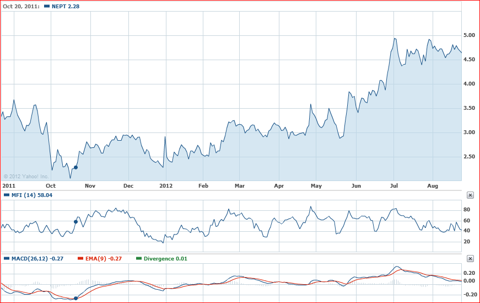 The stock has basically doubled this year. While that is not a reason that it can't go higher, the Money Flow Index and MACD have both been deteriorating in the last two months. Meanwhile, the stock has held on to its gains. Both the MFI and MACD are measures of momentum and can be leading indicators of share price. Here they are suggesting that there are motivated sellers in the market. The MFI is the more clear of the two in this case:
The money flow index, a measure of momentum that is sometimes a leading indicator of price movement in a stock. The MFI takes into account whether more shares are bought on the uptick or downtick. For example, a stock could open at $1, then 100 shares trade hands at $1.01, then 10 shares trade at $1 again. The price is flat but the MFI would show positive momentum because more shares were bought on the uptick suggesting motivated buyers.
Since July, the price trend has been a healthy upward climb, but the money flow has been going the opposite way. Those gains may be on their way out and it is looking like time to book profits while you have them.
2) Cornerstone Therapeutics, Inc. (Nasdaq:CRTX)
Cornerstone is in a similar situation to Neptune - a nice run this year, but since July, the share price has been steadily higher while the MFI is showing us that motivated sellers are here and these profits might be short-lived if they are not booked now: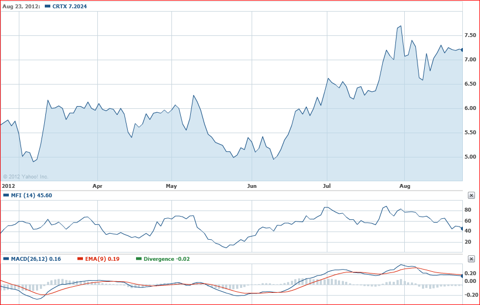 3) Peregrine Pharmaceuticals (Nasdaq:PPHM)
Peregrine makes it three stocks in a row that have run since July and are in danger of giving back profits. The MFI has been declining since mid-July, while the share price marched higher. Additionally, in the past week, the MACD is showing a bearish crossover. Investopedia:
when the MACD falls below the signal line, it is a bearish signal, which indicates that it may be time to sell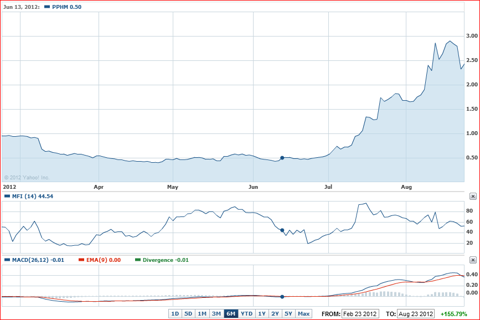 Peregrine has had an absolutely monstrous run, posting a six-fold increase in just 2 months. Surges like those are rare indeed and too precious to give back. If you own Peregrine, locking in those gains here is advised.
4) Pluristem Therapeutics (Nasdaq:PSTI)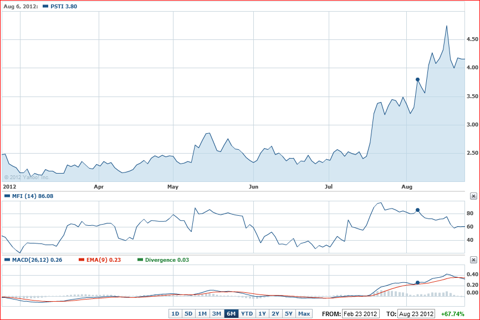 You know the drill here. The money flow toward the end of July was predicting a big run, and Pluristem bagged a quick double. But all the while that MFI has been declining while PSTI surged. Again, we encourage you to book those profits now.
Some Others of Note
VIVUS, Inc. (Nasdaq:VVUS)
Vivus has already been slammed, giving back a third of its value over the last month. But, there is still no indication of relief. The MFI is in negative territory and still trending down, while the MACD tried to rally but fell back into a bearish crossover: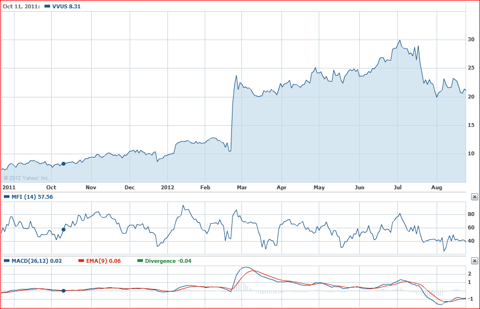 Spectrum Pharmaceuticals, Inc. (Nasdaq:SPPI)
We are on the fence about Spectrum, noting that both the bull case and bear case have merits. The chart does not help settle the debate, no big signals on the indicators. We say neutral is the right stance for this stock.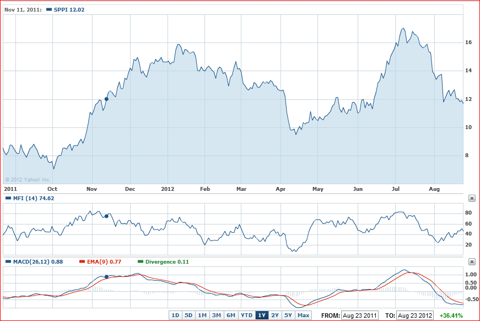 Amarin Corporation (Nasdaq:AMRN)
Like with SPPI we are on the fence with Amarin, and the charts say go ahead and stay neutral: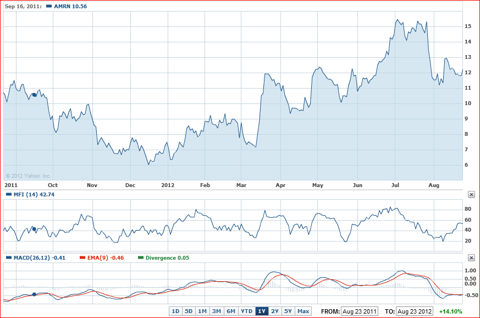 Disclosure: I have no positions in any stocks mentioned, and no plans to initiate any positions within the next 72 hours. I wrote this article myself, and it expresses my own opinions. I am not receiving compensation for it (other than from Seeking Alpha). I have no business relationship with any company whose stock is mentioned in this article.