American Tower's (NYSE:AMT) business strategy is a "winner, winner, chicken dinner" for American Tower and for mobile carriers such as AT&T (NYSE:T), Sprint (NYSE:S), T-Mobile USA, owned by Deutsche Telekom, and Verizon Wireless, jointly owned by Verizon (NYSE:VZ) and Vodafone (NASDAQ:VOD). American Tower leases portions of its communication towers to the various mobile carriers, such that a tower may simultaneously support equipment for AT&T, Verizon, etc. Sharing of American Tower's assets by the mobile carriers increases efficiency and reduces costs, as an American Tower communication asset may be fully and efficiently populated with equipment. In contrast, there's a good chance a tower owned and operated by a single mobile carrier will not be fully populated with equipment and as a result will be less efficient and more costly.
In the company's Q2 2012 earnings call held on August, 1, 2012, American Tower reported quarterly revenue of $682 million which represents a year-over-year growth rate of 16.9%. The rental and management business accounted for 98% of total revenues. On a negative note, the company reported a couple of non-cash items with one item resulting from foreign currency exchange rate fluctuations and the second item relating to an allowance on deferred tax assets. The allowance for deferred tax assets was attributed to depreciation and interest expense related to foreign operations.
American Tower completed construction or acquired over 2400 global communication sites during the quarter with 95% of the new sites located in international markets. The company expects to continue experiencing strong demand in international markets with the deployment of new technologies, opening of new spectrum and growing demand for wireless data. International core growth clocked in at a whopping 56% with 22% driven by organic growth. Drivers for the international growth were related to Telefonica and America Movil in Latin America, Vodafone and MTN in South Africa and Vodafone, Bharti and Aircel in India.
The company constructed 500 sites in India, closed acquisitions for 962 sites in Uganda and 700 sites in Brazil. The company also acquired 45 communication sites in the U.S. during the quarter. American Tower has added approximately 11,700 communication sites to its international portfolio since the beginning of the second quarter of 2011.
American Tower's competitor Crown Castle International (NYSE:CCI) appears to be the lead bidder for 7,000 towers being offered for sale by T-Mobile USA. T-Mobile USA is selling the towers in a move to raise case in order to fund T-Mobile USA operations.
American Tower noted the four largest U.S. wireless carriers, AT&T, Verizon Wireless, Spring and T-Mobile, have committed to achieve nearly nationwide 4G LTE network coverage between 2013 and 2015. This aggressive wireless network build-out represents a significant opportunity for American Tower. Additionally, American Tower believes it has built a strong foundation for the remaining portion of this year and plans on taking full advantage of its two primary core competencies developed over the years which are first, effectively operating and growing revenue for multi-tenant communication sites and second, applying the first core competency on a global basis.
American Tower's stock price has gone ballistic over the last year as shown below: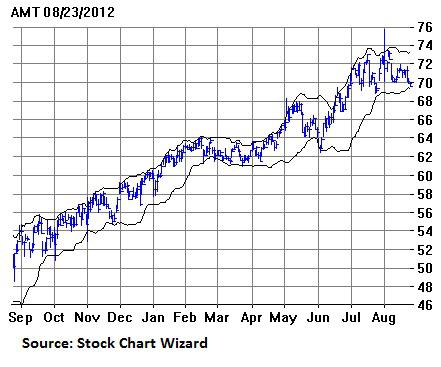 American Tower's stock price is currently near the lower Bollinger band and its previous support level, so this looks like a good opportunity to make an entry.
With the increased demand for wireless data, the prospects for American Tower look bright, however, the company's stock price is very expensive with a Price-to-Earnings (P/E) ratio of 52 and a Price-to-Sales ratio of 12 (P/S). With this P/E and P/S, one misstep by the company would most likely result in a dramatic drop in stock price.
A good investment to consider for a company with good prospects and a high valuation is the married put, as it provides for unlimited upside and limited downside. The married put participates in stock price appreciation, but is protected from a dramatic drop in stock price. Married put positions are typically selected with expiration several months out in the future in order to reduce the "insurance" cost per day. The married put may be entered by purchasing a put option against a stock.
Using PowerOptions, a variety of married put positions are available for American Tower as shown below: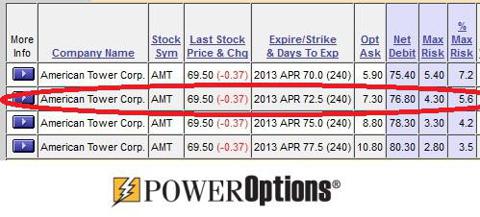 The second position in the table looks attractive with a maximum potential loss of 5.6%. The maximum potential losses for the positions in the table above do not include expected dividend payments during the holding time. When including expecting dividend payments during the holding time, the maximum potential loss for the second position in the table above is reduced to 4.8%. The specific put option to purchase is the AMT 2013 Apr 72.5 at $7.30.
AMT Married Put Trade
AMT stock (existing or purchased)
Buy AMT 2013 Apr 72.5 at $7.30
A profit/loss graph for one contract of the American Tower married put position is shown below: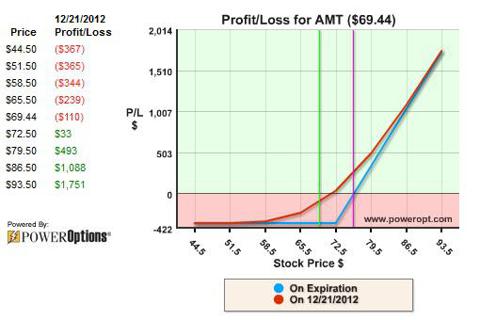 For a stock price below the $72.5 strike price of the put option, the value of the married put remains unchanged (at expiration). If the price of the stock increases above the $72.5 strike price of the put option, then income methods may be applied in order to receive income and reduce risk as described by RadioActiveTrading.com.
Disclosure: I have no positions in any stocks mentioned, and no plans to initiate any positions within the next 72 hours. I wrote this article myself, and it expresses my own opinions. I am not receiving compensation for it (other than from Seeking Alpha). I have no business relationship with any company whose stock is mentioned in this article.