With a trailing 12-month P/E of 79 and a forward P/E of 35, Toll Brothers (NYSE:TOL) seems extremely expensive for a homebuilder. However, TOL is coming out of a period of successive years of losses: TOL's annual net income from 2008 to 2010 was negative. Earnings growth is now launching off a low base with quarterly year-over-year EPS growth ranging from 50% to 183%. I think guidance for FY13 in the next earnings call might provide hints to TOL's expected sustainable growth rate. Future growth should at least bring the earnings-based valuations down quickly to historic norms in the single-digits (that is, TOL should grow into its valuation). Price/sales and price/book also look very high at 3.5 and 2.0, respectively. Historically, both ratios have hovered around 1.0. The housing recovery that is underway is now well-anticipated by current prices. TOL sees this recovery across most of its regions with operations in 20 states and 50 markets.
TOL reported earnings the morning of August 22nd. The tone of the conference call was bullish and the market responded by pushing TOL to fresh 5 1/2 year highs. TOL's stock has increased around 136% since last year's lows. TOL has gone from pricing in a new phase downward in the housing industry to pricing in a boom in less than a year. This is quite an abrupt shift in sentiment that is due for some kind of rest.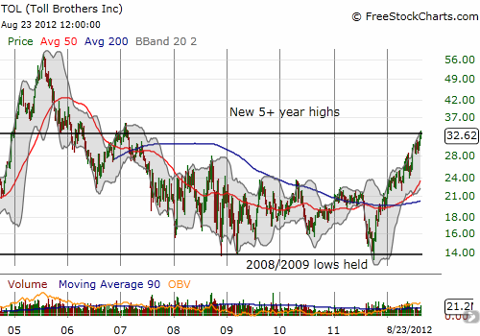 In the last 10 months, Toll Brothers has broken through years of churn
Source: FreeStockCharts.com
TOL's commentary during earnings calls usually provides valuable insights into the housing market, both in TOL's niche of luxury homes and the market in general. I found the following commentary most interesting as posted in the transcript from Seeking Alpha.
Although TOL reduced guidance for community count projects from a range of 230 - 245 to 225 - 235 (due to complex local land entitlements which significantly slow down the building of new homes), TOL is overall riding the crest of "…the most sustained demand [it's] experienced in over five years." Here is a sample list of some of TOL's major achievements in the previous quarter:
Net signed contracts of 4.87 per community are up 39% year-over-year - the highest for the third quarter since 2006.
Pricing power exists in many markets. Prices went up in about 50% to 60% of TOL communities.
Signed contracts are up 45%, 51%, and 66% year-over-year over the past three quarters.
Note that TOL claims its contract growth has led to market share gains.
While it may seem counter-intuitive that housing can start a recovery while unemployment remains high, it is not as surprising within the context of time. Seven years have now passed since the bursting of the housing bubble. As people have accumulated on the outside looking in, pent-up demand has continued to build. TOL describes it this way:
"We believe the housing recovery is being driven by pent-up demand, very low interest rates and attractively priced homes. Customers who have postponed buying for a number of years are moving into the market with an industry wide shortage of inventory in many markets, we are enjoying some pricing power…

As housing demand marches towards historic norms, we envision a significant industry-wide supply-demand imbalance due to a shortage of 'ready-to-build-on' home sites."
Essentially, people eventually get tired of waiting. Favorable rates and prices become too attractive to continue passing up (for those who can get loans of course!). TOL believes that the recovery is at the beginning of a virtuous cycle where increasing prices get people off the sidelines which in turn drives more price increases. The company thinks it will take another five or six years before all the fear squeezes out the market.
For now, TOL is just as "scared" as its customers. There are markets like New York City which are already seeing price increases reminiscent of 2005, but, in general, TOL continues to proceed cautiously: "…the $10,000 price increase in 2005 is probably a $3,000 price increase today."
Another indicator of the firming market is the price of land. TOL confirmed observations from Kb Home (NYSE:KBH) that the bargain basement deals for land have dried up.
"The land market is good we're seeing good deal flow, where we've got a lot of action. There aren't too many bank deals right now, distressed deals[.] Most of what we see is back to the old fashioned talk to the farmer, talk to the developer, talk to the areas of state, they are good deals…"
Finally, no need to worry about TOL using its increasing valuation to go on a buying spree. The company has only acquired 7 builders over the past 17 years. Seattle was TOL's last untapped market in the top 15 for luxury homes. TOL's last acquisition was Seattle-based CamWest Development, LLC.
"We're very happy with our geographic footprint right now…We would rather pick off individual parcels of land that work, than buy a builder who has the portfolio of great land, good land, average land and bad land, which just doesn't make sense for us to do that in existing markets, where we have the operations, we have the brand. So right now our strategy is to go after the individuals pieces."
As I wrote earlier, I think it is time to hedge holdings in homebuilders as multi-year milestones get hit. Stocks throughout the industry are experiencing their strongest and longest rallies since the 2008/2009 lows as the American domestic market finally looks more attractive relative to international markets. When the correction happens, I do not expect a sharp fall, but the dip will likely be the last opportunity in a while to participate in this recovery at cheaper prices.
Be careful out there!
Disclosure: I am long KBH. I wrote this article myself, and it expresses my own opinions. I am not receiving compensation for it (other than from Seeking Alpha). I have no business relationship with any company whose stock is mentioned in this article.