Cisco (NASDAQ:CSCO), a global leader in networking solutions, retained its dominant position in its core switching and routing business, and registered a solid financial performance for the fourth quarter. Time and again, Cisco has proved its ability to resist market slowdowns and align its strategic plans, which seek to strengthen its core areas of business while maintaining revenue growth and the company's exceptional cash flows. We maintain that Cisco has a distinct competitive advantage in the leadership positions, and is backed by its encouraging financial position, its current undervaluation in the market, and signs of a sustainable dividend policy; therefore, we recommend the stock as a buy.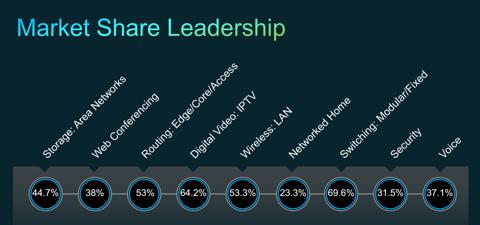 Source: Company profile
Cisco posted a healthy Q4 net sales figure of $11.7b and FY2012 sales of $46.1b, representing a 4% and 7% YoY respective increase. Reported figures beat analyst estimates and the company raised dividends to 14 cents per share, indicating a rise of 75%. CEO John Chambers was confident of the macro stability and forecasted a 4%-6% revenue growth and 5%-9% earnings growth annualized for the upcoming quarters. Gartner predicts a 3% growth in IT spending worldwide, up from a 2.4% prediction in the last quarter. In contrast to a healthy 6.9% IT spending growth in 2011, the fall in growth expectations comes as a result of a sluggish recovery in the U.S and fears of an economic turmoil in Europe. Additionally, IDC estimates the demand for smart devices will top at $2b by 2016, which will boost the demand for switches and routers to accommodate the increased bandwidth. At a time when businesses have slashed their networking infrastructure spending amidst the fears cited above, Cisco has marched ahead of its competitors ( Juniper Networks (NYSE:JNPR), International Business Machines (NYSE:IBM) and Alcatel Lucent (ALU)) in terms of revenue growth. Although companies have roughly followed the broader industry trend, Cisco has recently maintained a healthier revenue growth in comparison to its competitors. Cisco unveiled its strategic plan in 2011, which sought to realign its sales, services and organizations, to attain a leadership in routing in the company's core business, collaboration, data center virtualization and cloud, video, and architecture for business transformation.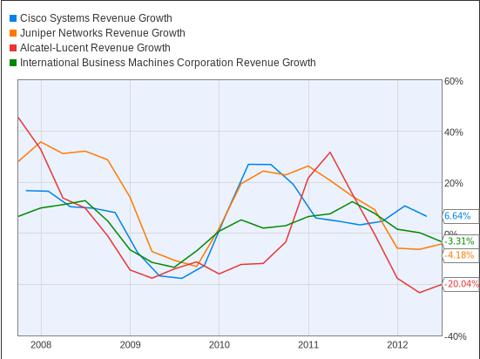 Source: Y-Charts
Somewhat disturbing have been the gross margin figures for Cisco, which have continued their slide and brought into question how effectively the management can stem this momentum. Below is a snapshot of the Q4 gross margins beginning from 2009. The decline is a sign of increased price competition in the market, and remains a negative for investors.
| | | | | |
| --- | --- | --- | --- | --- |
|   | FQ4'12 | FQ4'11 | FQ4'10 | FQ4'09 |
| GP Margin | 61% | 62% | 63% | 64% |
Source: Bloomberg
A look at gross margins on a quarterly basis since 2008 paints a similar picture.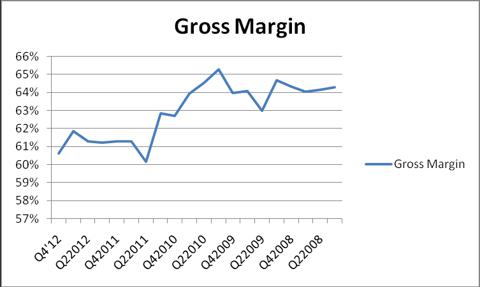 Source: Bloomberg and Qineqt's calculations
Furthermore, in FQ42012, products accounted for 78.27%, whereas services accounted for 21.73% of total revenues. If somehow Cisco can increase services' (which have higher margins) share in revenue generation, we anticipate a healthier picture for gross margins. Cisco has in fact steadily increased services' relative share in the business, as the table below shows.
| | | | | | | |
| --- | --- | --- | --- | --- | --- | --- |
|   | FQ4'12 | FQ4'11 | FQ4'10 | FQ4'09 | FQ4'08 | FQ4'07 |
| Services | 22% | 21% | 19% | 21% | 17% | 16% |
Source: Company Financial Report
Chambers has also highlighted the importance of investing in emerging markets to expand Cisco's market share. He cited Russia as an example of the company's success in investing in emerging markets,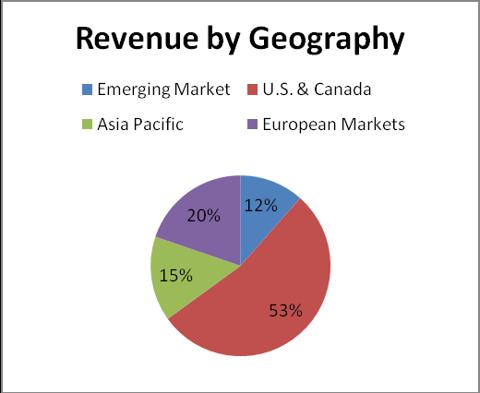 from where it benefited from a 50 percent growth last year. Although emerging markets account for a mere 12% of total revenues, Chambers believes that Cisco's investment will reap profits in the long term. Also, the emerging market's share in revenues has been steadily increasing.
| | | | | | | |
| --- | --- | --- | --- | --- | --- | --- |
|   | FY'11 | FY'10 | FY'09 | FY'08 | FY'07 | FY'06 |
| Emerging Market's share in revenues | 12% | 11% | 11% | 11% | 9% | 8% |
Along with the solid fourth quarter results, the management announced its intent to pay as much as 50% of free cash flows to its shareholders. Cisco's current $10.365b TTM FCF, which translates into a payout ratio of 30%, leaves ample room for dividend growth to reach the promised 50% payout mark. The recent dividend hike shot the payment to 14 cents a share with a dividend yield of ~3%. Chambers also pointed towards dividend increases over time; signs indicative of a maturing company. This welcome payment comes at a time when investors are dissatisfied with low yielding albeit safe Treasury instruments in a post-financial crisis environment. In addition to dividends, Cisco has, during the fiscal year 2012, purchased 262m shares at an average price of $16.61 for a total amount of $4.4b. As of July 2012, it had purchased 3.6b shares for $20.36 on average, for a total outlay of $76.1b. The remaining authorized amount for the repurchase program is $5.9b. These measures have and will continue to reduce the number of shares outstanding, and thereby boosting earnings per share.
Valuation
| | | | | | |
| --- | --- | --- | --- | --- | --- |
|   | CSCO | ALU | JNPR | IBM | Average |
| Forward P/E | 9x | 10x | 16x | 12x | 12x |
| Beta | 1.24 | 2.31 | 1.75 | 0.67 |   |
| Next 5 year Growth | 8% | 10% | 14% | 11% |   |
| Expected 5-year PEG | 1.22 | 1.73 | -1.98 | 1.22 |   |
Source: Yahoo Finance and Qineqt's calculation
Currently trading at 9x its forward earnings; below the industry average of 12x and the company's five year average of 17x, and given its dominant position in the Networking Industry, the stock seems cheap. Analysts expect a growth rate of 8% against a five-year historical rate of 4.68%. The PEG ratio reveals that the stock is attractive, with the ratio being one of the lowest amongst its competitors. We are confident in Cisco's growth potential in the future, and believe the company has made sound strategic plans to emphasize on its core competencies. We expect the stock to trade at the industry average of 12x its 2014 earnings, and estimate a price target of $25.
Disclosure: I have no positions in any stocks mentioned, and no plans to initiate any positions within the next 72 hours.
Business relationship disclosure: This article is written by Qineqt's Technology Analyst. Qineqt is not receiving compensation for it (other than from Seeking Alpha). Qineqt has no business relationship with any company whose stock is mentioned in this article.