Caterpillar (NYSE:CAT), the world's largest earth moving equipment maker, does not hold a positive outlook for its future demand from the Chinese market in the near future. This opinion has been formed after the Chinese market displayed slower than expected rise in demand, leading to piling of inventories. The market, which was experiencing a real estate boom a year ago, has been plagued by a tight monetary policy. With six straight quarters of decline in China's GDP growth rate, falling demand for excavators in the country, pessimistic outlook provided by industry players, overcapacity at Chinese operations, weak economic growth indicators like falling FDI, exports and falling industrial production, CAT has every reason to justify its outlook.
However, on a positive note, Chinese authorities are actively working to bring growth rates to their normal levels. However, the lag time will take at least 6-8 months before the economy starts responding to the revised monetary policy. In anticipation of a rebound, some companies are still building new factories to serve the future massive construction market of the emerging economy. CAT is also not idling its workforce in order to meet the predicted future rise in demand.
We expect that living through such a short downturn is not a problem for a giant like CAT, and we remain bullish on the stock.
Opportunity in China
China makes up 10% of CAT's Asian (25% comes from Asia) sales and 2.5% of overall sales. The following chart shows how the focus of revenues has shifted globally from developed to emerging economies.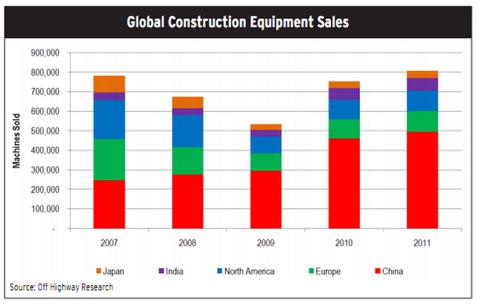 Click to enlarge
The chart shows the importance of China, and why companies have invested billions of dollars to establish their manufacturing units in the country.
According to a study conducted by McKinsey, large-scale urbanization in China is right around the corner, as 350 million people are expected to move to urban areas and 50,000 skyscrapers are expected to be built in 15 years. Also, 60,000 miles of road network, 170 mass transit systems, and 97 airports will be built to support the rise in population. CAT is expected to be one of the main beneficiaries, of course, depending upon at what pace it penetrates the fragmented Chinese market.
Chinese Economic Indicators
The Chinese GDP growth rate has declined for six consecutive quarters. This has come as a reaction to the tight monetary policy that regulators implemented after inflation crossed the targeted 4% rate last July. However, recently the rate plunged below 4%. The state is trying hard to bring economic growth to its previous levels. However, the YoY GDP growth of 7.6% this quarter has compelled analysts to revise their earlier comments that the Chinese economy will start to recover in the fourth quarter. Now they believe it will take at least 6-8 months before the economy shows signs of a recovery.
The IMF says that the economy can recover before time if leaders are able to divert the source of growth from investment to domestic consumption. This is only possible in a scenario where household savings are channelized towards household consumption, which can be achieved by further easing of the monetary policy.
Meanwhile, the Chinese consumption growth rate for iron ore is expected to decline for the next decade. The growth rate, which remained 6.1% between 2000 and 2010, is expected to decline to 3.5% for the next 10 years.
The FDI has also dropped by 8.7% YoY, which has marked the eighth YoY drop in nine months. Following shows the FDI pattern for the last four months: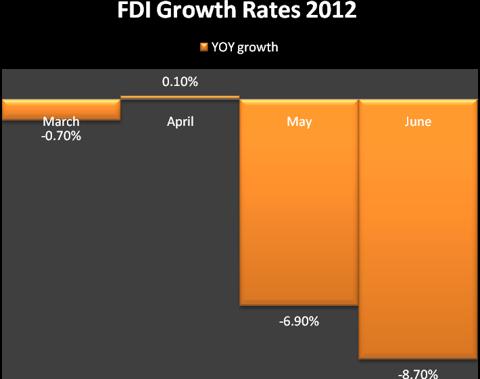 Click to enlargee
The analyst estimates for this year's FDI range between a decline of 2.2-9.2 percent. Exports growth has also slid sharply, seen from the graph below: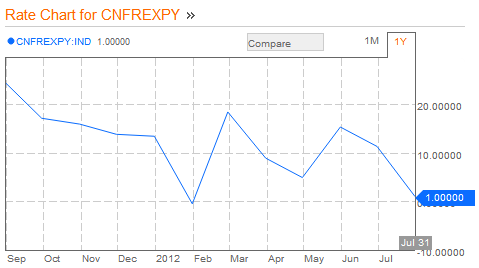 *CNFREXPY shows the stats from Custom General Administration of China for trade of exports.
The sharp decline in exports, to some extent, shows the weak state of the economy.
Growth rates for industrial production and the fixed asset investment figure fell short of economists' estimates. Industrial production growth rate declined to 9.2% in July from 9.6% in June. It was short of the 9.8% estimated figure. Also, Fixed Asset Investment of 10.4% for the Jan-July period remained unchanged from the Jan-June period, and fell short of the 10.5% figure that was estimated by the market.
Data extracted from Chinese sources are not considered authentic most of the time. The most reliable data is the total electricity consumed in China. For the last quarter, the electricity consumed was as follows: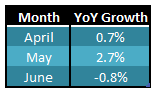 However, the GDP growth rate was announced to be 7.6% YoY. According to Gordon Chang, the author of "The Coming Collapse of China", this does not make sense, and therefore, the GDP growth rate is well below the 7.6% mark.
Also, according to Chang, China is in a similar situation to that of 2008-09, when the economy was crumbling. At that point in time, the Chinese banks pumped $1.1 trillion in the $4.4 trillion economy, which ended the crisis. However, this time around, banks do not have money. They are overburdened by bad loans, and it is highly improbable that they will be able to pump money in the economy.
All this information does not give the market a good impression about the Chinese market's future. Specific figures for sales of hydraulic excavators show that they have declined YoY for 15 consecutive months. Sales are down 23% YoY for this July.
CAT and China
At the start of the year, CAT's management was very excited about the massive potential in China. At that time, the company gave a figure of 5%-10% growth in revenue from construction equipment sales in China for this year. However, now it has slashed its outlook and expects revenues to decline in China this year. In anticipation of that growth, and to compete against over 100 competitors in the fragmented Chinese market, the company heavily invested to build its manufacturing facilities in China. Currently, it owns 16 fully operating plants, and nine plants are under construction. The company earlier planned to double its 11,000 workforce and quadruple its production of the excavator by the end of 2015. However, these plans have been delayed in light of the current economic situation.
Nevertheless, CEO Doug Oberhelman has decided not to lay off workers, as he does not want demand for CAT products to remain unmet. As a result, significant piles of inventories have been created. CAT plans to export these excess inventories to other parts of the world, especially EMEA. In the conference call, CAT CFO Ed Rapp told that 2,300 excavators are going to be exported in the near future.
Other Competitors
Komatsu Ltd. (OTCPK:KMTUY), the world's second biggest equipment manufacturer, slashed its annual profit forecast after it experienced a 42% drop in its sales from China.
The Hitachi Construction Company (OTCPK:HTHIY) also reduced its operating profit forecast to 7.7% from 12.5%. The company's sales from construction equipment collapsed by 40% YoY for the first quarter.
Sany Heavy Industry (OTC:SNYYF), the biggest Chinese player of construction equipment, lowered its sales forecast from 40% growth to 10% growth only.
Given the bearish attitude of competitors, one can easily judge that the coming period in China will not be an easy one for CAT.
Conclusion
The Chinese economy did not grow at the rate anticipated by construction manufacturers. The manufacturers, including CAT, build up inventories in preparation for the hike in demand, which the economy failed to produce. These inventories will tie up companies' resources for some time. However, the Chinese government's active involvement in the process of speeding up the growth of the economy means that companies like CAT will soon be prospering in China. Giants like CAT do not face any problem surviving such short-term crises.
Market has already discounted fears of a global slowdown. CAT is just trading at a forward P/E of 8x and a PEG of 0.5. It's a great opportunity to buy growth at real cheap valuations. CAT offers a dividend yield of 2.5% and a ROE of 40%.
Disclosure: I have no positions in any stocks mentioned, and no plans to initiate any positions within the next 72 hours.
Business relationship disclosure: The article is written by Qineqt's Industrial Analyst. We are not receiving compensation for it (other than from Seeking Alpha). We have no business relationship with any company whose stock is mentioned in this article.