Over the past two months, oil prices have rallied sharply off their June lows, with Brent crude gaining more than 25% over that period of time.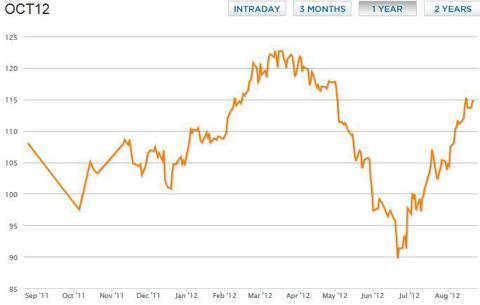 Click to enlarge
(Click to enlarge)
While oil still sits slightly below its 2012 highs, the current price is not justified by the supply situation or the demand environment. With the end of the peak summer season just around the corner, oil prices are poised for a downward correction. Given the airlines' tight profit margins, a move back towards $100/barrel will boost airline profitability. With many airline stocks having sold off over the past month, this creates a solid buying opportunity.
The rise in oil prices since June has occurred due to a confluence of several factors. First, the U.S. Department of Energy has reported drawdowns of crude oil inventories in each of the past several weeks. Additionally, there has been growing unease over the geopolitical situation in the Middle East. Oil traders are particularly worried about a possible military clash between Israel and Iran. Some analysts are also concerned about a spillover of the ongoing civil war in Syria. Either of these scenarios could potentially result in severe supply disruptions. Lastly, weak economic data has (perhaps counter-intuitively) boosted oil prices by increasing expectations of further quantitative easing by the Fed.
However, traders bidding up oil prices appear to be underestimating the weakness of petroleum demand. While oil inventories have decreased over the past month, total U.S. inventories of petroleum products are roughly flat year over year. Crude oil stockpiles are actually at very high levels by historical standards. By contrast, U.S. demand for imported oil is at very low levels by historical standards. Over the past four weeks, net imports (i.e. total imports minus exports) of petroleum products for the U.S. have been roughly 14% lower than the same period last year (see the Weekly Petroleum Status Report, above). As we exit the busy summer travel season, this demand level will drop even further. Given widespread macroeconomic weakness (China can no longer pick up the slack for slowing growth in the developed world), Brent prices cannot remain above $100 for long without causing demand destruction. Sooner or later, this would lead to a significant drop in oil prices (at least 10%; more likely 20% or more).
On the supply side, an important but sometimes overlooked point is that the quantity of U.S. (and Canadian) crude coming to market is steadily rising and will continue to do so for the foreseeable future. The reversal of the Seaway pipeline this spring began to address the glut of oil at Cushing, Oklahoma by providing an outlet to refineries on the Gulf Coast. This temporarily narrowed the WTI-Brent spread to less than $10/barrel. However, the initial flow of oil has been only 150,000 bpd (barrels per day). The pipeline's capacity will be raised to 400,000 bpd no later than the first quarter of 2013. Capacity on the Cushing-Gulf route will almost certainly continue to rise over the next few years, as Enbridge (NYSE:EEP) and Enterprise (NYSE:EPD) plan to "twin" the Seaway pipeline, and the Cushing-Gulf portion of TransCanada's (NYSE:TRP) controversial Keystone XL pipeline will open. These projects will help bring more North American crude to market, increasing supply and (to some extent) reducing U.S. dependence on oil imports from the Middle East and Africa, where geopolitical risk is higher.
While oil pipelines can take years to come on line, some companies are finding ways to use the existing infrastructure to tap into growing North American crude production immediately. Delta (NYSE:DAL) has announced that it will source the majority of the crude oil for its newly-acquired Trainer refinery from the Bakken region. Due to the current glut of Bakken crude and other "inland" oils, this will effectively increase the supply of oil coming to market by up to 185,000 bpd starting next month. The point of this market analysis is simply to show that oil fundamentals on both the supply and demand sides are fairly bearish, and yet Brent prices sit near 52-week highs.
As usual, airlines would be a major beneficiary of lower oil prices. Fuel constitutes 30-40% of total operating expenses for most major airlines. Delta and chief rival United Continental (NYSE:UAL) each consume over 4 billion gallons of jet fuel annually, so a 40-50 cent drop in jet fuel prices (back towards the levels seen in late June) would result in over $1 billion of annualized savings for each carrier. This would help compensate for slowing demand, which (combined with the recent spike in oil prices) has caused airline shares to drop recently.
All airlines will benefit from lower oil prices, but my favorite pick within the sector remains Hawaiian Holdings (NASDAQ:HA). The company's business model is particularly robust and demand for the company's international routes has been extraordinary. However, the major carriers, such as United, Delta, Southwest (NYSE:LUV), and US Airways (LCC) are also solid investment choices at current prices.
Disclosure: I am long HA, DAL, UAL. I wrote this article myself, and it expresses my own opinions. I am not receiving compensation for it (other than from Seeking Alpha). I have no business relationship with any company whose stock is mentioned in this article.