J.C. Penney Company Inc. (NYSE:JCP), the department store founded in 1902, is currently in the middle of a turnaround. The strategy, headed by former Vice President of Retail Operations at Apple (NASDAQ:AAPL) and now CEO of J.C. Penney - Ron Johnson, is to move to an "everyday low price" model instead of offering sales. The stock price initially jumped at the hiring of Johnson, but since then has steadily and continuously fallen back to pre-Johnson levels.
Click to enlarge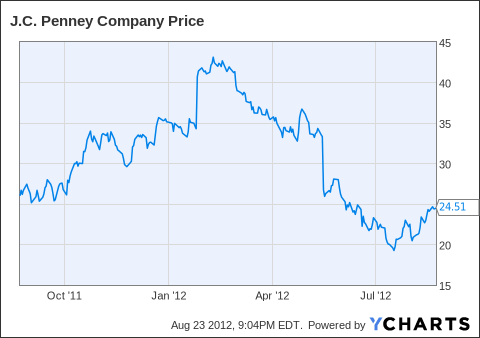 J.C. Penney reported a loss for the second quarter, and it's clear that investors are becoming impatient with the turnaround. Of course, Wall Street has never been known for its patience. In addition to the stock falling from a high of around $42 to roughly half that, the bond market has turned against J.C. Penney, with the price of long-term bonds selling at a significant discount to par.
| Bond Symbol | Coupon | Maturity | Price | Yield |
| --- | --- | --- | --- | --- |
| JCP.HA | 5.65% | 06/01/2020 | 87.55 | 7.818% |
| JCP.GJ | 6.90% | 08/15/2026 | 83.10 | 9.053% |
| JCP.GP | 7.40% | 04/01/2037 | 83.90 | 9.041% |
| JCP.GK | 7.63% | 03/01/2097 | 81.80 | 9.322% |
* Data from FINRA
The 2026 maturity bond is selling at 83.10, offering a yield of just over 9%.
J.C. Penney 2026 Bond Price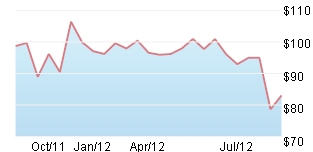 Having traded near par for the beginning of the year, recently the prices tanked, trading for less than 80 at the lowest point. Let's take a look at the most recent balance sheet to see if these fears are justified. There is currently $888 million in cash and cash equivalents, down from $1.55 billion a year ago. This compares with $2.9 billion in long-term debt, down from $3.1 billion a year ago. Interest expense was $58 million for the quarter, which is $232 million annually. J.C. Penney scrapped its dividend earlier this year, a necessary step on its road to recovery.
The message from the balance sheet is this: J.C. Penney has time for the turnaround to work, at least a few years. If Ron Johnson can't succeed by then, then the company is most likely lost. Turnarounds take time, certainly more than 6 months, and J.C. Penney's balance sheet should be strong enough to withstand the strategy.
There is a chance that J.C. Penney will successfully transform itself and in the process become a profitable store once again. There is also a chance that the turnaround will fail. But if you believe that the turnaround will work, the bonds are trading at a significant discount, offering an yield that can't be found in too many places these days. Couple that with a balance sheet that should buy enough time for the turnaround to take affect, and J.C Penney bonds offer a great way to bet on J.C. Penney's future.
Disclosure: I have no positions in any stocks mentioned, and no plans to initiate any positions within the next 72 hours. I wrote this article myself, and it expresses my own opinions. I am not receiving compensation for it (other than from Seeking Alpha). I have no business relationship with any company whose stock is mentioned in this article.