CIBC (NYSE:CM) has been downgraded to a "sell" by Dundee Securities analyst John Aiken as a result of its exposure to U.S. monoline insurers and the bank's potential for higher third quarter charges. He estimates that while the Canadian bank can take roughly C$2.3-billion in pre-tax charges before it will have to raise additional common equity, those numbers are adding up quickly.
Last week, several monolines were downgraded by ratings agencies and CIBC has exposure to a few of them in its residential mortgage securities, Mr. Aiken told clients, adding that CIBC will likely incur incremental charges of between C$900-million and C$1.2-billion in the third quarter. And like the second quarter, they may not be pre-announced. However, Mr. Aiken said this range climbs to between C$1.5-billion and C$1.9-billion when potentially higher fair values are factored in.
He said:
Even if CIBC's write-downs come in at the top (or even above) our estimated, there is absolutely no assurance that the charges will end.
If the market starts to think the bank will raise more common equity, more pressure on CIBC shares is anticipated.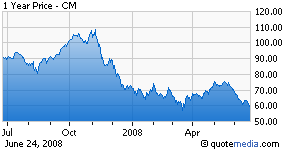 Mr. Aiken said there is "no reason to hold the bank at current levels," particularly because of the large number of write-down predictions for the quarter that will likely surround the market. The only reason the analyst considers reasonable to buy CIBC is that it may eventually be bought. Even then, he sees a better entry point in the future.
Mr. Aiken also admitted he may have jumped the gun with an upgrade to "neutral" earlier in the month, and is lowering his price target to C$55 per share from C$67.