He already had a "sell" rating on shares of Shoppers Drug Mart Corp. (OTCPK:SHDMF), but a deal last week that appears to signal a U.S. health care player's push up north gave Octagon Capital analyst Robert Gibson even more reason to be bearish on Canada's largest pharmacy chain.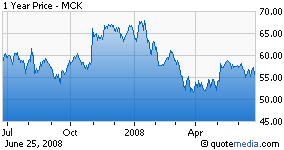 On June 19, health care logistics provider McKesson Canada, a division of San Francisco-based McKesson Corp. (NYSE:MCK), (announced that it is buying Quebec-based Group PharmEssor Inc., which consists of 270 independently-owned pharmacies in Quebec, Ontario and the Atlantic provinces. The chain operates under the Proxim and ProxiMed brands. In the U.S., McKesson runs Health Mart, the number one independent retail pharmacy, Mr. Gibson noted.
He told clients:
It would appear that this Proxim acquisition is McKesson's move north with their Health Mart model.
The company's vertical integration likely means the McKesson-Proxim combination will become a stronger competitor to major chains in Quebec and the Atlantic provinces, including Jean Coutu Group Inc. (OTCPK:JCOUF), the analyst said.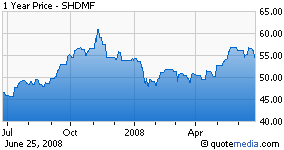 If McKesson makes more acquisitions and pushes westward, Shoppers may feel the impact as well, Mr. Gibson added.
He has a price target of C$51.90 on Shoppers, with earnings per share estimates of C$2.47 and C$2.72 for 2008 and 2009, respectively.