Caterpillar (NYSE:CAT) has been a superior performer over the last two years, as it has weathered economic uncertainty well by growing EPS 78% in 2011. It is estimated to grow EPS by 28% for 2012. Even though the company has had a positive surprise every quarter since late 2009, the stock has been adversely affected by recent news. But it is positioned well for a short-term trade. I believe that Caterpillar deserves a second look at today's distressed prices.
Recent Notable Events
The main drivers of the decline in Caterpillar shares over the past months come from the fact that the CEO has discussed the troubles in Europe, which left a haze of uncertainty over the stock. Machine sales have been mixed depending on the region, but global dealer sales ticked up 14% the last three months. Additionally, the company has been dealing with an employee strike, but a favorable contract has been ratified for workers. Industry trends have also dragged on the stock, with Deere (NYSE:DE) reporting weak EPS results for Q2. News from Joy Global (NYSE:JOY) and BHP Billiton (NYSE:BHP) have also impacted the industry as a whole.
All of these happenings have slowed down the upside growth for Caterpillar, even in light of positive financial trends for the company. Since 2009, sentiment has improved significantly for Caterpillar shares. This drove P/E ratios upward along with the share price. Any deviation from this trend, given its strong financial position, presented a potential buy opportunity with a high probability of success. Such is the case now.
Caterpillar Buy Opportunity
My first step in analyzing any long investment is to assess the downside before determining any upside. It is far too difficult a task to estimate uncertain company/economic factors that will move a stock upward in the near term, so the best way to analyze a stock is to assume the worst-case scenario and assess how the stock is likely to react. Protecting the downside is where the true long-run outperformance is attained.
I look for buy opportunities where good companies are trading at significant discounts to their recent trends. I view this in the context of P/E and P/B. You can review more details of my strategy here, which outlines the same strategy for SPDR Trust (NYSEARCA:SPY) buy opportunities.
Essentially, a company's P/E or P/B must trade at a distressed discount to its recent trend before I am willing to take on risk by purchasing shares. This will skew the margin of safety in the long trade investors favor for the coming months. Even if economics or company fundamentals deteriorate in the next months, the stock is priced low enough that there is a cushion built into the downside.
Caterpillar has indeed deviated well below its recent trend as it pertains to P/E. The chart below demonstrates historical buy signals for Caterpillar according to my strategy. You will notice that there have been multiple buy signals in the past two months, beginning when Caterpillar was priced in the $80s (it's currently around $89). A buy opportunity still exists at today's prices and will provide you with a favorable risk/reward.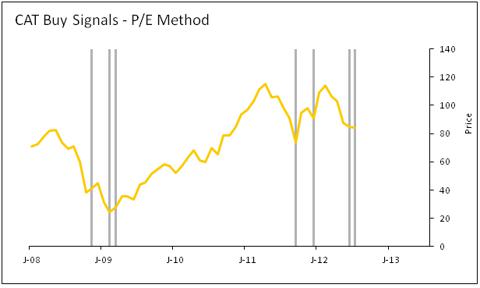 If Caterpillar was trading at a multiple many times above that of the industry average, I would be concerned trading around earnings-driven price swings. Moreover, a high multiple around earnings would make a stock susceptible to anything but a stellar report. Chipotle (NYSE:CMG) is an example of this risk, as the market expectations far exceeded what the company could deliver. Even with solid revenue growth, the shares have tumbled of late and I am still long shares for the longer term as store growth potential is high. (You can find an overview of my outlook on Chipotle here.) Caterpillar is not like Chipotle in that the stock was reasonably priced and is not as susceptible to earnings surprises.
The current P/E for Caterpillar is well below its recent trend at 9.26 times (and below the industry average of 13.77 times), and shares are now more reasonably priced as a result of notable events the last months. Caterpillar still maintains solid fundamentals, and the distressed news the last two months offers an attractive entry point for an investor with a horizon through 2012.
Downside Potential
The table below summarizes the upside/downside I am forecasting for the shares through 2012. I haircut 2012 EPS estimates by 10%, and assumed that the P/E ratio will align more reasonably with its trend as investors realize how discounted shares have become. The reward for this trade is 2.65 times the risk with a $117 price target in the near term. Barring any drastic changes, Caterpillar shares are attractive for a buy at prices up to the low $90s. Of course, this is up for interpretation as some traders may desire more upside or view my price target as too high.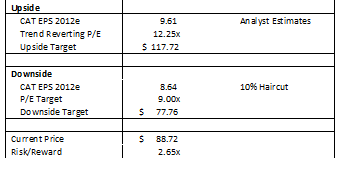 You'll notice that I am not terribly concerned with the long-term financials of Caterpillar for my trading purposes. The only reason I assess its relevance is so that quality names make up the stocks I am trading. I am most concerned with the adverse situations that temporarily impair sentiment and prices. The hope (better named background research for professional purposes and backed by historical probability) is that P/E trend reversion will occur, even minimally as it has already been severely impaired. Essentially, I am determining a point at which a relief rally may occur during oversold periods.
Note: Prices mentioned above are as of Aug. 23, 2012.
Disclosure: I have no positions in any stocks mentioned, but may initiate a long position in CAT over the next 72 hours. I wrote this article myself, and it expresses my own opinions. I am not receiving compensation for it (other than from Seeking Alpha). I have no business relationship with any company whose stock is mentioned in this article.