"If all I hear is me then who should I be afraid of"- Drake
Everyone's expectations are based on assumptions. The results of these expectations are the following:
Right Results based on Right Assumptions
Right Results based on Wrong Assumptions
Wrong Results based on Right Assumptions
Wrong Results based on Wrong Assumptions
Also, everyone reacts similarly to the results. They either credit or blame the results on themselves or on other people, as seen in the image below.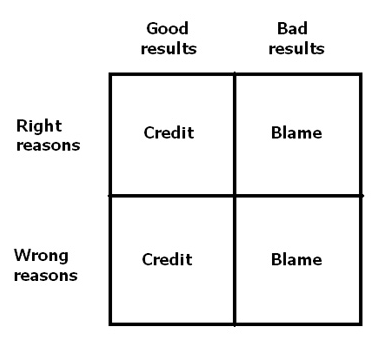 For 2012 my expectations for EURUSD (NYSEARCA:FXE) were for the FX Cross to fall to 1.18, i.e. a -9.65% decline. With these assumptions any long positions on UUP or any short positions on the EURUSD should have been profitable for 2012. My assumptions were based primarily on a Eurozone recession and accommodative monetary policies by the ECB. The results so far have been promising at best, with EURUSD down approximately 3.65% YTD. However, MTD EURUSD has been up 1.38%. These MTD results made me contemplate my overall outlook and assumptions as I attempt to be right for the right reasons so that at the end of 2012 I know where to assign the credit, rather than the blame.
Technically Speaking
EURUSD ended its May 2010 uptrend approximately a year later with a weekly high of 1.4939. Then it seemed to have formed a downward trend channel, making lower weekly highs and lower weekly lows, within a particular band. This can be seen in the chart below.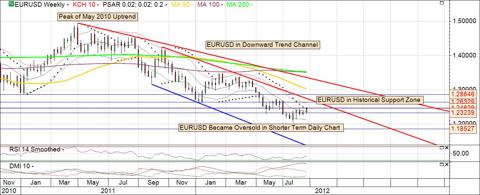 Click to enlarge
On the shorter term chart the EURUSD became oversold, with a daily low of 1.20413 on 24th July 2012. The EURUSD now seems to be in a short term uptrend, making a higher high and a higher lower over the period over the past two months, as seen below.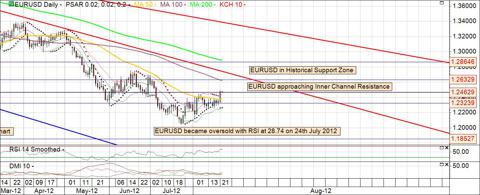 Click to enlarge
My expectations are for the EURUSD to find resistance at the 1.263 price level and continue its medium term path downwards. My medium term view will shift in the event the EURUSD crosses above 1.35.
Wrong for the Right Reasons
My 2012 view on the Euro is for it to decline against the US Dollar (NYSEARCA:UUP). Although I appear to be consistent with EURUSD depreciating 3.65% YTD, the recent 3.53% bounce of the lows has left me skeptical and wrong in the short term as EURUSD has a MTD return of 1.38%. The assumptions of the EURUSD decline were based on the Eurozone's growth contracting and the ECB continuing its accommodative policies.
Eurozone GDP contracted 0.2% in the second quarter of 2012. Some of the issues surrounding the fall were the worsening debt crisis and tougher budget cuts. A 5 year chart of the Eurozone's GDP can be seen below.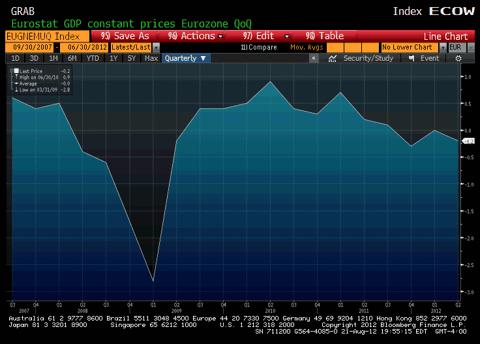 Click to enlarge
To combat the price stability of the Euro and by extension the European Debt Crisis the ECB cut is Main Refinancing Rate by 0.75% in July and cut its overnight deposit rate to 0%. Expectations are for another rate cut in September, which should keep the EURUSD negative YTD, however a short term uptrend in EURUSD will hinder my results.
Right for the Wrong Reasons
One hypothesis I have been peddling internally is a pick-up in German exports in the Eurozone. An increase in exports would trigger an increase German GDP. A sustained expansion in German GDP may ultimately lift the Eurozone out of a contraction and Europe should have renewed growth. This is possible as German GDP represents approximately 20% of EU GDP. This renewed growth would trigger an upward move in the Euro. From a glimpse there appeared to be some relationship between the 2 data points (seen in the chart below), unfortunately based on a fact-finding mission I was unable to attain a strong positive correlation on quarter over quarter German exports and the Euro (I attained -0.267 over 10 years and -0.326 over 5).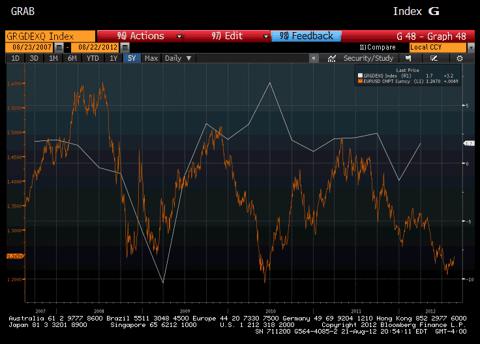 Click to enlarge
Although EURUSD is off the lows, an improvement in German exports may not be the sole contributor to the movement. Reasons affecting EURUSD may be right at the wrong time, or wrong at the right time. These include, but not limited to:
Eurozone GDP
EU Inflation
ECB policies
EU fiscal policies
EU business and consumer sentiment
Right for the Right Reasons
Although EURUSD is off the lows I am still of the view that it would end 2012 in a negative position. The reasons listed are as follows:
Economic contraction in the Eurozone
Increase in the money supply and maintaining low borrowing costs by the ECB
Investors exiting their EUR positions and entering positions in "clean shirt"and "cleaner dirty shirt" positions.
Disclosure: I have no positions in any stocks mentioned, and no plans to initiate any positions within the next 72 hours. I wrote this article myself, and it expresses my own opinions. I am not receiving compensation for it (other than from Seeking Alpha). I have no business relationship with any company whose stock is mentioned in this article.
Additional disclosure: Disclaimer: The views expressed in this article are my own and are not necessarily the views of any companies or organizations I am affiliated. I expressly disclaim all liability in respect to actions taken based on any or all of the information in this writing.