Metalico Inc. (NYSEMKT:MEA) shares have been posting big gains as metals prices continue their upward ascent. The company reported amazing first-quarter results on Apr 25 that included a 230% increase in sales from the same period last year. Moving forward, Metalico is anticipating strong pricing power, a factor that should help drive the company's bottom line.
Metalico Inc. operates as a ferrous and non-ferrous scrap metal recycler and lead-based product fabricator in the U.S. The company was founded in 1997, carries a market cap. of $625 million and is headquartered in Cranford, New Jersey.
Amazing First-Quarter Results
As metals prices continue to head north, scrap metal recyclers have found themselves as the benefactor of very strong demand for their products and services. This enabled Metalico to post record first-quarter earnings on Apr 24.
Sales jumped ahead to $170.5 million, an amazing 230% increase from the same period last year when the company recorded revenue of $51.8 million.
Income came in at $6.5 million, a 104% increase from last year. This produced earnings of 20 cents per share, easily outpacing analyst expectations of 13 cents.
Amazing Growth Numbers
Metalico cited the one-two punch of higher selling prices and increased volume as the primary drive behind the awesome quarterly results. The company's scrap metal segment experienced quarter-over-quarter volume growth of 82% for ferrous metals and 95% growth in its non-ferrous division.
Metalico's scrap metal segment posted an impressive 307% gain in operating income, which climbed to $16.3 million from $4 million in the same period last year.
Analyst Estimates
In light of the strong quarterly performance and very favorable pricing environment, analyst's continue to upgrade their earnings projections. The current-year estimate has advanced to 93 cents per share, up from 75 cents 90 days ago.
This doesn't exactly place this stock in value territory, but in light of the company's growth trajectory and potential future earnings, its forward P/E multiple of 19X isn't unreasonable.
The Chart
As previously mentioned, shares of MEA have had a great run in 2008, advancing from a low-point below $9 a share to the recent high-water mark of over $18, a new 52-week and all-time high. Moving forward, with shares hugging the high, Metalico needs to deliver solid earnings to support future appreciation. But if the trend is any indicator, it should be well positioned to attain those objectives.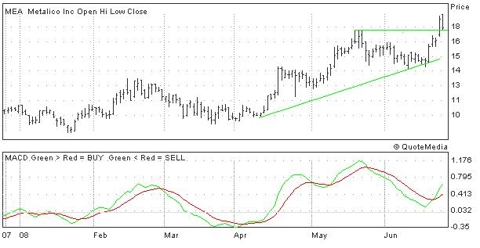 Click to enlarge