Conservative investors may wish to evaluate public stocks in terms of values as they might be viewed for a private acquisition.
That would minimize the risk of buying into a bubble and the "greater fool" approach to investing, which assumes that someone will pay you more for something you paid too much for in the first place.
Of course, conservative investing based on takeover value also greatly reduces the universe of eligible stocks, because by far most stocks are priced beyond private takeover value.
While one overvalued, high multiple public company can use its inflated stock as currency to buy another overvalued company sporting a lower multiple, a cash buyer or a leverage buyer must look at affordability and cash-on-cash return, or debt service capacity of the target.
One of the measures that private acquirers look at is Enterprise Value to Earnings Before Interest, Taxes, Depreciation and Amortization (EV / EBITDA).
Private buyers (those playing with their own money) prefer to buy at an EV / EBITDA of 4 or less, and may go to 6 (maybe 7). Those multiples are based substantially on the ability of the acquired company to generate cash to pay purchase debt or to provide an attractive cash return on debt-free cash used to make the purchase.
There are other issues to consider beyond EV / EBITDA, but it is a good starting place to begin to identify companies valued such that they could make sense if purchased for money instead of stock.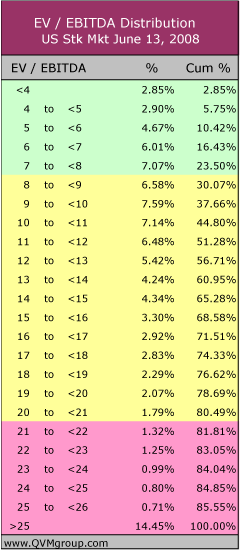 Definition:
EV is the market capitalization of the company plus its long-term debt. EBITDA is similar to "cash flow." It is operating earnings before interest on and amortization of long-term debt, and before depreciation and taxes.
What We Did:
We did a screen of approximately 9,000 stocks (including ADRs) available in the US markets, to see what kind of EV / EBITDA opportunities are out there today. We used continuing earnings in our calculation of EBITDA.
We also excluded those companies priced below $5 and excluded those that did not have a positive EBITDA in the preceding 12 months. Those two criteria reduced the universe to 4,243 stocks (more than 1/2 of stocks were eliminated.
We did not require a minimum market-cap.  If we had put a $100 million market-cap minimum into the screen, we would have excluded another 636 stocks.
The table above shows the percentage of stocks in each EV / EBITDA range along with the cumulative percentage of stocks included as the EV / EBITDA increases.
The Screen Results:
The table shows that the great middle (aproximately the 80% middle) of stocks with positive EBITDA are currently priced at an EV / EBITDA between 8 and 21.  About 16% are priced at 7 or below and less than 3% are priced at 4 or less.
Looking at quartiles, the break point multiple between the 1st and 2nd quartile was 8.2.  The median multiple was 11.8.  The break point betwen the 3rd and 4th quartile was 18.3.
Example Stocks:
Not as recommendation, but simply as markers, two stocks at each of the quartile break points were:
Other Factors:
Of course, you will want to examine why a company carries a low multiple.  Surely, it will tend to be that way due to low expectations or some perceived flaw.
Low expectations can be a good thing, because the probability of positive surprises may be greater than for companies priced to perfection.
Perceived flaws are OK, if you know what they are and believe they are curable.  Incurable flaws are potentially fatal, but curable flaws can lead to good long term value.
Remember that great companies are not always great investments (because they may be overpriced), and mediocre companies are not always bad investments (because they may be substantially underpriced).
Moral — do your homework.