Click here to read part 1 of this story
China's economic soft-landing has had a significant impact on economic growth across the globe and particularly in Latin America where mining and commodities production are key drivers of economic activity. In the first article of this series the linkage between Latin American economic growth, commodities exports and Chinese economic growth was illustrated. This showed that China's slowing economy and decreased demand for commodities has been a key catalyst for the fall in economic growth across the region. It has also been a key catalyst for the plunging share prices being experienced by many resource companies, which include some of Latin America's largest publicly tradable companies like Vale (NYSE:VALE) and Petrobras (NYSE:PBR).
Market outlook on commodities growing more optimistic
However, markets have been taking a more optimistic view of China and commodities over the last month. This growing optimism is based on signs that the contraction in Chinese economic activity is easing along with increasing speculation that the Chinese government will take action to boost growth. This has led to considerable speculation that there will be a recovery in commodities prices, which should see a renewal of economic growth in Latin America.
One of the key drivers of this growing optimism has been the slowing contraction of the Chinese manufacturing sector, with the Chinese purchasing managers' index (PMI), rising in July to a five month high. There has also been renewed confidence in the iron ore mining sector with Australia's third largest iron ore producer Fortescue Metal's Group (FSUMF.PK) recently reporting an 8% increase in profit, along with positive statements from both Rio Tinto (NYSE:RIO) and Vale concerning the future direction of iron ore prices. However, with the exception of crude oil it appears that this optimism is misplaced with commodity and basic materials prices continuing to fall.
Iron Ore
Iron ore is the basic component for steel and with China now being the world's largest steel producer, manufacturing almost 50% of all steel world-wide; it is the number-one global consumer of iron ore. As a result it would be expected that any manufacturing led economic recovery in China would create a greater demand for steel and hence iron ore.
But on reviewing the price chart below there is no evidence of a recovery in iron ore prices and it is expected the iron ore price will continue to decline, with it now having hit a three year low of $104 per metric ton.
click to enlarge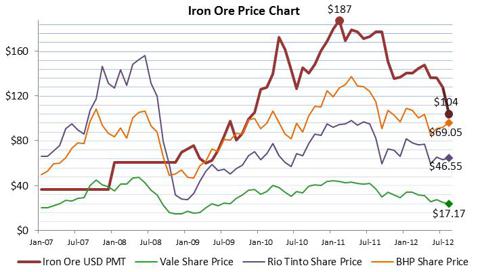 Source data: Index Mundi, Bloomberg, Yahoo Finance, Fidelity
NB: The prices are from the latest price data available at COB 23 August 2012
Despite iron ore prices continuing to fall as the chart shows, the share prices of two of the world's largest iron ore producers BHP Billiton (NYSE:BHP) and Rio have rebounded of late. This can be attributed to the markets increasingly optimistic outlook regarding China. However, the world's second largest mining company Brazil's Vale has seen its share price continue to spiral downwards and this as explained in my last article on Vale can be attributed to additional issues other than declining iron ore prices.
This would indicate that markets have taken a more optimistic view of these miners and factored in a degree of optimism with regard to the direction of iron ore prices. Furthermore, Vale's management, and in particular CEO Murillo Ferreira, have taken a particularly optimistic view that iron ore prices will start to rise in September on the back of falling inventories. In fact Ferreira went as far too recently state:
"Prices are set to rise beginning in September because inventories of the steel-making raw material in China have fallen to the equivalent of 20 days' usage from a level of 30 days in June."
However, it is difficult to determine whether there will be a sustained recovery in iron ore prices, with many analysts predicting that the price will fall as low as $105 per metric ton. At a price of lower than $120 per metric ton it is uneconomical for many miners to continue production and with prices now well below that level it does not bode well for the continued profitability of iron ore miners such as Vale. It will also certainly impact economic growth in those Latin American economies like Brazil where iron ore is a key export.
Copper
Copper is a key component in a wide range of semi-manufactured and manufactured goods that span the breadth of economic activity from electricity generation, infrastructure and construction to the manufacture of a wide range of consumer products. As a result copper is seen as key indicator of economic activity and has had an uncanny knack for predicting the direction of economic activity.
The chart below shows that there has been a recent spike in the copper price primarily on the back of growing hopes of China undertaking further stimulus measures to promote economic growth. This has also seen a spike in the share prices of copper miners including the largest copper miner operating in Latin America, Southern Copper Corp (NYSE:SCCO).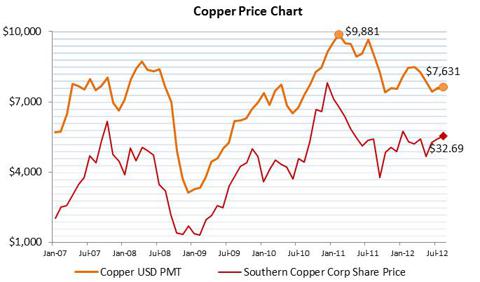 Source data: Index Mundi, Bloomberg, Yahoo Finance, Fidelity
NB: The prices are from the latest price data available at COB 23 August 2012
There is a view among some analysts that this is not a real move in the price but rather a reflection of renewed short covering activity. I share this view because there has not been a positive uptick in Chinese economic activity, but rather a slowing of the decline in economic activity, which has generated this optimism as indicated by the Chinese PMI, which ended July at just above 50 points.
Any activity in the copper price will have a significant effect on economic growth in Chile as the world's biggest producer of copper. To date the Chilean economy has weathered the global headwinds and China's soft landing remarkably well but some of this could be explained by virtue of its more advanced economy in comparison to other Latin American countries.
Another factor that will contribute to supporting the copper price is the supply side pressures that currently exist. There have been a number of analysts expressing some concern regarding the deterioration of ore grades and that major producers are struggling to increase capacity. This would indicate that a significant rise in copper prices should be expected as economic activity picks-up.
Thermal Coal
Thermal or steam coal is predominantly used in power generation with around 65% of the world's coal consumption occurring in Asia with Japan, China and South Korea being the top coal importers. This makes demand for thermal coal a general indicator of economic activity and as shown by the graph, the thermal coal price has started to recover over the last month.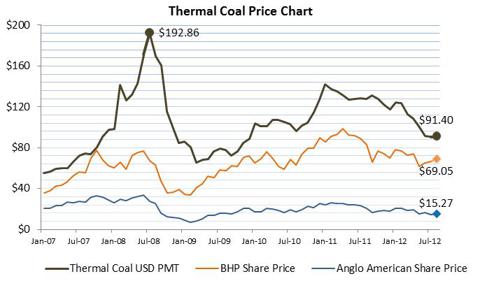 Source data: Index Mundi, Bloomberg, Yahoo Finance, Fidelity
NB: The prices are from the latest price data available at COB 23 August 2012
Colombia is now the largest coal producer in Latin America and the ninth largest producer of thermal coal globally. It also has the largest coal mining operation in Latin America, Carbones del Cerrejón Norte, which is located in the Guajira Peninsula in northeast Colombia. The mine is currently operated in a partnership between BHP, Anglo American (AAUKY.PK) and Glencore (GLNCF.PK).
It seems that the thermal coal price is reflecting increased economic activity with the price recently moving upwards. Of all the basic materials, thermal coal, as a key ingredient for energy production, would see its price react quicker to increased energy demand triggered by rising industrial production than many of the other basic materials reviewed. This is a positive sign for miners of thermal coal, though the pricing of BHP Billiton and Anglo American have a far wider range of price determinants because they are global diversified mining giants.
Crude Oil
Crude oil has become a key contributor to economic growth throughout Latin America with Venezuela now believed to have the largest proven oil reserves in the world. Furthermore, Brazil's proven reserves are ranked as the ninth largest in the world and the country is now the world's eleventh largest oil producer, with Colombia now ranked as the world's 23rd largest oil producer. As the chart below illustrates, there has been a recovery in the price of oil over the last month, which is linked to increasing optimism about a U.S recovery and signs of increased manufacturing activity in China.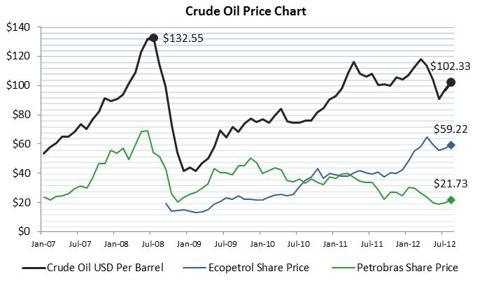 Source data: Index Mundi, Bloomberg, Yahoo Finance, Fidelity
NB: The crude oil price used is a sample average of WTI, Brent Dated &Dubai Fateh Spot Prices.
As a result Latin America's two largest publicly oil companies Ecopetrol (NYSE:EC) and Petrobras have seen their share prices move upwards. Although oil prices will have a direct effect on the profitability of both companies and their share price performance, there are a wide range of other domestic factors that affect their performance.
The risk for investors with Ecopetrol are predominantly related to the company's lack of provable reserves combined with security and infrastructure risks that are impacting on production targets. For further details of this, see my analysis of Ecopetrol's second quarter 2012 results. For Petrobras the key factors are political risks relating to the Brazilian government's ongoing interference in the economy and the management of the company. For more information on these risks see my analysis of Petrobras.
Steel
China is the largest producers of crude steel manufacturing almost 50% of the world's total crude steel production. China is then followed by Japan, India and South Korea as the chart shows.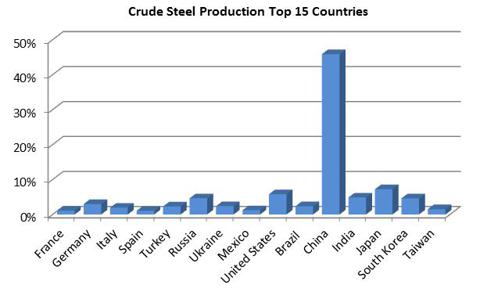 Source data: World Steel Association
The key drivers for steel demand are manufacturing, industrial production and the construction industries in China, India, South Korea and Japan. In fact up until recently China's construction industry was one of the largest users of steel globally as the country's urban population grew exponentially. This tremendous demand saw China become the world's single largest producer of steel. As a result any fall in demand for steel in China leads to Chinese producers offloading their steel elsewhere. Depending upon the level of demand in China, this can see a flood of excess steel flooding global markets and exerting considerable downward pressure on the price for steel.
The Chinese construction industry and its demand for rebar and other steel products associated with construction is a key driver of this demand because China has one of the fast growing urban populations globally. However, as a result of the economic soft-landing construction activity along with manufacturing activity has slowed dramatically.
This has seen the demand for steel slump and along with it the price for steel has fallen. But as the price chart below shows there has been a slight recovery in steel prices, which can be attributed to steel producers reducing production. By the end of June total global production had fallen by almost 3%, with U.S steel production down by over 8% followed by Brazil with the second largest reduction in production of 5%.
As the price chart shows there has been a marginal rise in the price of steel since the start of 2012 and this is responsible for the improving share price for Brazil's tow largest steel producers Gerdau (NYSE:GGB) and Companhia Siderrgica Nacional (NYSE:SID).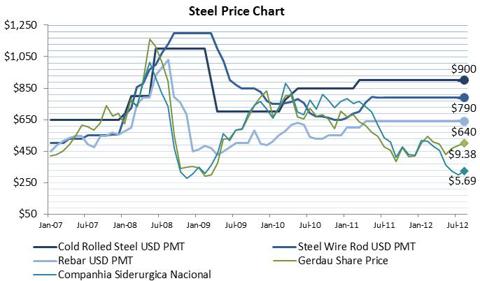 Source data: Index Mundi, Bloomberg, Yahoo Finance, Fidelity
NB: The prices are from the latest price data available at COB 23 August 2012
With Chinese real estate construction a key driver for demand, it is likely that steel prices will remain subdued until there is a considerable uptick in construction activity in China. This will also include the need for sufficient activity to absorb the growing steel and iron ore inventories in China.
However, there will be increasing demand for steel in Brazil as construction steps up in preparation for the 2016 Olympics in Brazil. With local content rules and increasing protectionism combined with a government desperate to restart the domestic economy, it is likely that there will be an emphasis on sourcing construction materials locally. This bodes well for both Gerdau and Companhia Siderurgica Nacional.
The bottom line on commodity prices as indicators of Chinese growth
While commodity and basic materials prices give investors some insight into future economic growth and company performance, it must be recognized that they are lagging indicators. This essentially means that these prices move on demand that has already occurred and may not be repeated. Hence they do not give a clear indication of future price movements or economic performance. In order to gain a clearer perspective of future performance it is therefore necessary to identify leading indicators.
It is clear that for there to be a significant increase in economic growth in Latin America that Chinese economic growth needs to increase so as to trigger a renewed appetite for basic materials. Therefore, in the third part of this series I am going to identify some leading indicators that will hopefully identify the future direction of commodities prices, as well giving investors some perspective on the future of economic growth in Latin America and investment opportunities this reveals.
Disclosure: I am long EC, PBR, VALE. I wrote this article myself, and it expresses my own opinions. I am not receiving compensation for it (other than from Seeking Alpha). I have no business relationship with any company whose stock is mentioned in this article.