Shares of Foster Wheeler moved higher Thursday in a down market on a major new contract with Petrobras (NYSE:PBR) to build a gas-to-liquids facility in Brazil. The company also announced earlier in the week that it is opening a new office in the U.K. due to the strong demand in the upstream business there.
I think these aspects of energy infrastructure (60% of overall company revenues) are going to be strong over the next few years as companies like Cheniere Energy (NYSEMKT:LNG) get financing in place from sources like Blackstone (NYSE:BX) and Asian wealth funds to build multi-billion dollar plants to turn natural gas into liquid. I believe the stock is in the early innings of a significant move up.
"Foster Wheeler AG (FWLT) operates as an engineering and construction contractor, and power generating equipment supplier worldwide." (Business description from Yahoo Finance)
6 additional reasons FWLT is a solid value pick up at $21 a share:
The company has over $600mm in net cash on its balance sheet (more than 25% of market capitalization).
The 15 analysts that cover the stock have a median price target of $27 a share on FWLT, some 30% above its current stock price.
The stock is selling near the bottom of its five year valuation range based on P/S, P/CF and P/B.
Even before this latest contract win, analysts expected the company to bounce back with double digit revenue growth in FY2013. The stock has a tiny five year projected PEG (.52) as well.
FWLT is selling at just over 10 times forward earnings (under 8 backing out net cash), a discount to its five year average (13.5).
The stock has bounced off long term technical support and just busted through its 200 day moving average today. (see chart).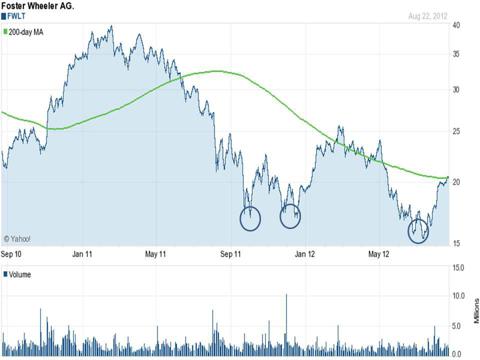 Click to enlarge
Disclosure: I am long FWLT, BX. I wrote this article myself, and it expresses my own opinions. I am not receiving compensation for it (other than from Seeking Alpha). I have no business relationship with any company whose stock is mentioned in this article.