This article will cover the exposure of BHP Billiton (NYSE:BHP) to the present iron ore pricing collapse.
Exposure
The first thing that jumps out when looking at BHP is that the company is very diversified along mineral and geography lines. Still, it couldn't avoid having iron ore as a very relevant source of income. For the year ended on June 30, 2012, around 31% of its revenues and 52% of its EBIT comes from iron ore (source: BHP presentation):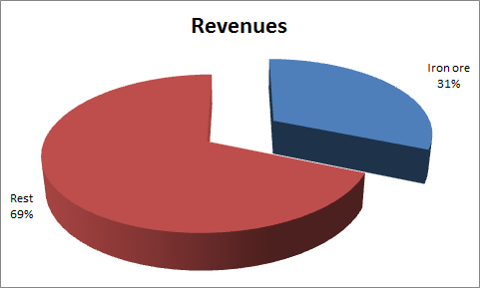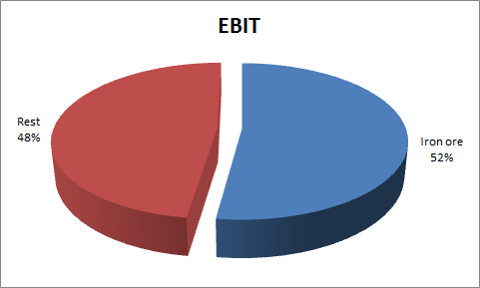 Average selling price and breakeven
This makes for $22.601 billion in iron ore revenues, and $14.201 billion in EBIT. Given that WAIO iron ore tonnage during the latest fiscal year was 179 million tonnes, we have an average selling price of $126.3 per ton. Taking into account the 62.8% EBIT margin -- which is huge -- we come to an EBIT breakeven price for BHP's iron ore of $46.9 per ton, quite low at that.
BHP had net earnings before one-off items of $17.1 billion, which gives us an EPS of $6.43. At the present quote, $68.3, that's good for a P/E of 10.6.
Impact
As per BHP's presentation, a $1 move per ton in iron ore represents a $110 million change to net profit.
With BHP's average for last year hovering around $126, if the market was to now stabilize around $100 per ton and after a while (while contracts rolled over), the negative impact from pricing alone would be -$2.86 billion. Some of this could be compensated by volume increases, but on the other hand several of the other minerals BHP sells, such as met coal, are under the same pressure as iron ore.
Anyway, an impact of -$2.86 billion would take earnings down to $14.24 billion, on 2.66 billion shares that's an EPS of $5.35, for a P/E of 12.8 right now. Not too excessive.
With a move towards $80 per ton, the impact on net profit would be -$5.06 billion, taking net profit to $12.04 billion, EPS to $4.53, and moving the P/E up to 15.1, which already seems a bit stretched in a scenario where earnings would be dropping fast.
Conclusion
BHP's very diversified nature shield it reasonably well from iron ore's gyrations. While iron ore can have a significant impact on BHP's fortunes, a drop significantly below $100 would be needed to make the situation rather worrying at this point.
BHP is better positioned than either Rio Tinto (NYSE:RIO) or VALE (NYSE:VALE), whose stocks I'll try to cover in coming articles, to weather this storm. I still wouldn't buy it in the face of such negative newsflow, though. I find it likely that BHP's stock will fall, it will just fall a whole lot less than RIO.
One final observation, directly from BHP's presentation transcript, and without further comment:
"Going forward, therefore, those who invest in iron ore should do so in the full knowledge that supply will meet demand in due course and that the scarcity pricing that we have seen over the last 10 years is unlikely to be repeated."
Disclosure: I have no positions in any stocks mentioned, and no plans to initiate any positions within the next 72 hours. I wrote this article myself, and it expresses my own opinions. I am not receiving compensation for it (other than from Seeking Alpha). I have no business relationship with any company whose stock is mentioned in this article.