Cummins Inc. (NYSE:CMI) tends to perform in line with the economy's performance. When the economy and the market were tanking in 2008, Cummins tanked right along with it. When the economy turned around in 2009, Cummins recovered significantly and is now trading above its 2008 pre-recession levels. The highly cyclical nature of the business creates good swing trading opportunities for those interested in such strategies. It can also serve as a good long-term investment for those with strong stomachs.
Cummins is an $18.96 billion large-cap manufacturer of diesel and natural gas engines. The company produces a diverse array of engines in various sectors. It makes engines for trucks, buses, RVs, automobiles, construction, mining, and agriculture equipment, marine, and rail. It also produces power generating systems and standby generators, engine filters, turbochargers, and emissions products.
With the stock at about $100, the company is still undervalued with a forward PE ratio of 9.45, a PEG of 0.84, and a price to book ratio of 3.14. The current economic environment of slow, steady growth makes this an attractive time to start a position in the stock. The stock is trading at 22% less than its 52-week high of $129.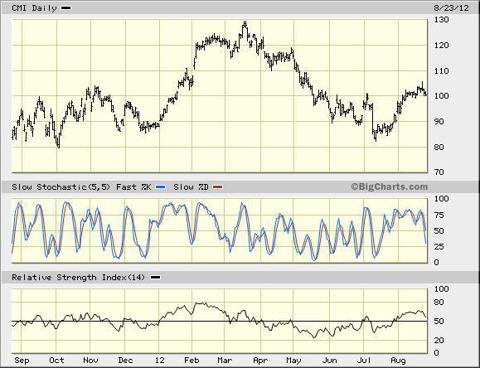 The company has a double-digit profit margin of 10.42% and an operating margin of 11.8%. For the last 12 months Cummins has pulled in $$1.73 billion in operating cash flow and $568 million in free cash flow. It has twice the amount of current assets than current liabilities.
Cummins is expected to grow earnings annually at 12.75% for the next five years. It also pays a dividend of 2%. If the dividends are reinvested, investors should expect to nearly double their investment in five years.
The company experienced an increase of 53% for the demand of heavy duty on-highway products in North America for the first half of 2012. Demand for medium-duty truck and bus products increased 24% in the same time period. These gains offset the decline in demand in Brazil and China that Cummins experienced for the 1st half of 2012.
Although the company has various challenges in the near term with weakness in Brazil, China, and Europe, Cummins believes that it will benefit from the following macroeconomic conditions in the long-term: tightening emission controls throughout the world, infrastructure needs in emerging markets, energy availability/cost issues, and globalization of the company's industry.
I think that there are many investment strategies to employ based on individual investors' personal preferences. Cummins can serve as good long-term investment for those who can stomach large price swings in the short-term. The company can also serve as a trading vehicle between oversold and overbought conditions.
For those who are long-term investors and don't mind the short-term price swings, buying and holding the stock can work over the long-haul. Some may consider selling call options to hedge their position when the stock looks overbought and when the economy is on shaky ground. Others may prefer to buy the stock when it is down during economic fears and sell it when it looks overbought during stable economic times.
Disclosure: I have no positions in any stocks mentioned, and no plans to initiate any positions within the next 72 hours. I wrote this article myself, and it expresses my own opinions. I am not receiving compensation for it (other than from Seeking Alpha). I have no business relationship with any company whose stock is mentioned in this article.