Buy, Sell & Hold
On August 21st Lorillard Tobacco Co, a subsidiary of Lorillard Inc (NYSE:LO) issued $500M in 5 year call protected corporate bonds. The bonds have a 2.3% coupon and currently yield 2.12%.
Lorillard Tobacco Co 2.3% 08/21/2017 (CUSIP: 544152AF8)

price: $100.80 yield: 2.12%

credit rating: Baa2/BBB-
I spoke to Lorillard's investor relations department, they explained "the board has authorized a $500 million share repurchase program.. It is safe to say those proceeds are being used in their entirety for share repurchase."
I searched for mutual funds that hold Lorillard equity and debt. I found one increased Lorillard stock holdings, one sold all tobacco holdings and another holds Lorillard debt.
$151M Judgment Against Lorillard
Tobacco companies focus on protecting their ability to do business by lobbying. In fact Speaker John Boehner used to hand out checks from tobacco lobbyists; while Representatives voted on tobacco related bills.
"He handed out checks from tobacco lobbyists on the House floor in 1995 while lawmakers were weighing tobacco subsidies."
In December 2010 Lorillard was ordered to pay $151M; because they routinely gave away free cigarettes to children at playgrounds.
"... a lawyer for Lorillard ... insisted it did not give cigarettes to children and called the allegation that it intentionally gave samples to black children "disturbing."
"It's Addictive"
In The Long-Term Durable Competitive Advantage Of Philip Morris Seeking Alpha author David Flynn quotes Warren Buffett:
""I'll tell you why I like the cigarette business. It costs a penny to make. Sell it for a dollar. It's addictive. And there's fantastic brand loyalty." -- Warren Buffett, 1987"
Eventually Warren Buffett and Berkshire Hathaway (NYSE:BRK.A) did an about-face. Cigarettes are cheap to produce, they do sell for a lot more and include ingredients to heighten addictiveness.
Cocoa extract.. Cognac oil.. Ethyl vanillin.. Fig extract.. Ginger oil.. Honey.. Licorice extract.. Malt extract.. Molasses.. Nutmeg oil.. Orange oils.. Plum extract.. Rum.. Sugarbeet juice concentrate..
Mr. Buffett has given millions to fight oral cancer. I called Berkshire Hathaway today and asked if these donations were tobacco related.
Mr. Buffett is very generous and has pledged money to various foundations… I've not seen Berkshire take a stance on that or any other issue... Mr. Buffett is a very, very generous man.
The philanthropic actions speak louder. Though some investors do not care about how their money is spent as long as they make more. Some, very few know there is a difference.
Buy, Sell & Hold
USA Mutuals' Vice Investor (VICEX) may provide the exposure tobacco supporters wish for; Vice Investor held 40,000 shares of Lorillard and 500 Lorillard options contracts.
"During the fiscal year period ending March 31, 2012, shares of the Vice Fund Investor Class increased in value by 16.79% while the S&P 500 Index increased by 8.54%. The Vice Fund benefited from better market performance relative to the benchmark in all four sectors: tobacco, alcohol, gaming and aerospace defense"
As of March 31, 2012 the fund held 24% or $22,314,511 in tobacco companies. As of June 30, 2012 it appears Vice Investor had increased its position in Lorillard from 4.8% of the fund's holdings to 6.9%. Notice Lorillard's stock price increased nearly $20 a share from June to July, only to fall right back down: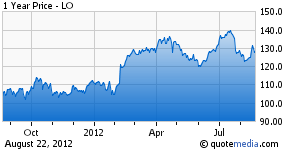 American Century Heritage (Sold)
American Century Heritage Investor Class (TWHIX) was listed as holding Lorillard, however the current prospectus does not list any tobacco holdings.
American Century Heritage Investor and Vice Investor's top holdings include:
American Century Heritage Investor Class

expense ratio: 1%

Vice Investor (as of 06/30/2012)

expense ratio: 1.59%

National Oilwell Varco (NYSE:NOV)
Altria (NYSE:MO)
O'Reilley Automotive (NASDAQ:ORLY)
Lorillard
Teradata Corp. (NYSE:TDC)
Wynn (NASDAQ:WYNN)
Apple (NASDAQ:AAPL)
Diageo PLC (NYSE:DEO)
Whole Foods Market (NASDAQ:WFM)
Reynolds (NYSE:RAI)
Alliance Data Systems (NYSE:ADS)
British American (NYSEMKT:BTI)
Joy Global (NYSE:JOY)
Philip Morris International (NYSE:PM)
SXC Health Solutions (NASDAQ:CTRX) [now Catamaran Corporation]
Galaxy Entertainment (OTCPK:GXYEY)
Fastenal Co (NASDAQ:FAST)
United Technologies (NYSE:UTX)
BE Aerospace (NASDAQ:BEAV)
Raytheon (NYSE:RTN)
Massachusetts Financial Bond Fund (Held)
Additionally Massachusetts Financial Bond Class A (MFBFX) holds Lorillard 8.125% 06/23/2019. From June 2012 to July 2012 Lorillard was reduced from the top ten holdings, however the fund has held onto the securities. The fund holds 0.4% in AAA rated bonds and 56.5% in BBB rated bonds, as of June 30, 2012.
MFS Bond Fund Class A (as of June 30, 2012)

front end load: 4.74%

expense ratio: 0.84%

MFS Bond Fund Class A (as of July 31, 2012)
BE Aerospace Inc 8.5% 07/01/2018
Crown Americas LLC 7.62% 05/15/2017
Crown Americas LLC 7.62% 05/15/2017
Gap Inc (NYSE:GPS) 5.95% APR 12/2021
Myriad International Holdings BV 6.37% 07/28/2017
Dollar General (NYSE:DG) 4.12% 07/15/2017
Phillips Van Heusen (NYSE:PVH) 7.37% 05/15/2020
Constellation Brands 7.25% 09/01/16
Mylan Inc (NASDAQ:MYL) 7.62% 07/15/2017
Southern Copper Corp (NYSE:SCCO) 6.750 APR 16 40
CCH II LLC 13.5% 11/30/2016
Phillips Van Heusen 7.37% 05/15/2020
Constellation Brands (NYSE:STZ) 7.25% 11/01/2016
Myriad International Holdings BV 6.37% 07/28/2017
Wyndham Worldwide (NYSE:WYN) 4.25% 05/01/2022
Mylan Inc 7.62% 07/15/2017
Lorillard Tobacco Co 8.12% 07/23/2019
CCH II LLC 13.5% 11/30/2016
Life Technologies (NASDAQ:LIFE) 6% 05/01/2020
Wyndham Worldwide 4.25% 05/01/2022
Alternative To Lorillard Senior Notes
While Lorillard has been held and sold from two of the funds, Vice Investor's position has increased. USA Mutuals' fact page for Vice Investor shows that the minimum investment is $2,000 while MFS is shown by Bloomberg and Yahoo! Finance (NASDAQ:YHOO) to be $1,000. American Century's fund minimum is $2,500.
The minimum of each of these funds would cost $5,500 total (plus $94 front end load on the MFS Bond fund + any commissions.) Given the MFS fund's approximate 0.05 per month dividend; it should generate $7 income a month. So $2,000 in MFS will generate $84 a year, however incur $16.80 in expense ratio; this leaves $67 compared to Lorillard's 2.3% 08/21/2017 $23 per bond.
There is no way to tell which position could perform better in 5 years. Though exposure to 3 investment strategies and an array of industries provides far more diversification than one bond position. In effect you could buy, sell and hold the company's equity and debt.
If you have any comments or would like to suggest another security to consider relative to Lorillard Tobacco's equity and debt, please comment below.
Disclosure: I am long AAPL, BRK.B, MO, RAI, RTN, YHOO. I wrote this article myself, and it expresses my own opinions. I am not receiving compensation for it (other than from Seeking Alpha). I have no business relationship with any company whose stock is mentioned in this article. I am long American Century Heritage Investor Class and I am considering MFS Bond Fund.