As you know, in business as well as in nature, there is a "food chain" that develops in any new market. The Lithium market seems to be following that age old analogy as just yesterday, Rockwood Holdings (NYSE:ROC) made a bid of $724 million to swallow Talison Lithium (OTC:TLTHF)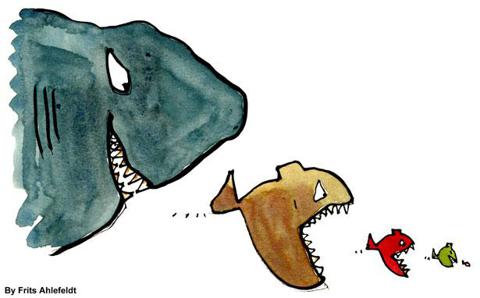 of Australia, for a 53% premium over Talison share price of one day earlier ($4.25 to $6.50 offer price see: Financial Post). Just two years ago in 2010, Talison was the bigger fish, swallowing Salares Lithium at a premium of 100% above the share price of Salares at that time (see Salares).
In any new market there are very tasty fish and some not so tasty. Some may not even qualify as fish, as the quick buck artists invade the new market with "mirage" companies of there own, with the intent of fooling novice investors with dreams of big pay days. Talison is certainly not one of those.
With 25 years in the business of producing lithium (from spodomen) at their Greenbushes operation in Western Australia, and over 300 customers, most of which are in China, Talison is no mirage. Just this summer Talison finished upgrading their plant and announced a 25% premium on their product, which their customers have already accepted. There are the largest pure lithium company on the planet, and that made them a very tasty morsel for Rockwood.
There are some whispers of possible competing bids and some recent investors in Talison I hear are planning to hold on to see if or what those competing bids might be. For me, that is simply pie in the sky right now, and I have cashed out of my Talison shares as of yesterday at a premium of 110% over all (previously made over 300% on our original shares of Salares Lithium before the Talison buyout).
There is nothing wrong with taking profit, especially such rich profit. I hope for their sake these newer investors are right about possible competing bids. That is a distinct possibility, given that Talison is so well positioned in the industry and the fact the merger will effectively grant Rockwood almost 55% of the current lithium market worldwide.
For my part, I will look to possibly buy Rockwood on any pullback, but only after the deal gets done.
Disclosure: I have no positions in any stocks mentioned, and no plans to initiate any positions within the next 72 hours. I wrote this article myself, and it expresses my own opinions. I am not receiving compensation for it (other than from Seeking Alpha). I have no business relationship with any company whose stock is mentioned in this article.