Inflation data that has been coming out of the Bureau of Labor Statistics has been quite muted over the last few years. Inflation expectations that surfaced after QE1 never materialized due to a softening economy that more than compensated for the extra liquidity in the system. Then when QE2 was initiated, there was yet another phase of high inflation expectations that still haven't materialized. Except of course in a few areas, one of which is in the agricultural sector (mostly due to severe drought conditions), and in the housing sector, specifically rentals.
One of the largest components of CPI is the Owners Equivalent Rent component which measures the level of rent you can currently receive for a primary residence. According to Investopedia, Owner's Equivalent Rent is
"The amount of rent that could be paid to substitute a currently owned house for an equivalent rental property. Owners' equivalent rent (OER) is a dollar amount that is published by the U.S. Bureau of Labor Statistics to measure the change in implicit rent, which is the amount a homeowner would pay to rent or would earn from renting his or her home in a competitive market.
Owners' equivalent rent is obtained by directly asking sampled homeowners the following question: "If someone were to rent your home today, how much do you think it would rent for monthly, unfurnished and without utilities?" It is also referred to as rental equivalence."
To see the official BLS definition, go to http://www.bls.gov/cpi/cpifact6.htm.
There is no arguing that this particular component of CPI has been on the rise. See chart below. And I bring this up, because this trend bodes well for certain REITs. Particularly apartment REITs that own and operate multi-family projects, where displaced former homeowners have tended to gravitate to after losing or selling their homes in recent years.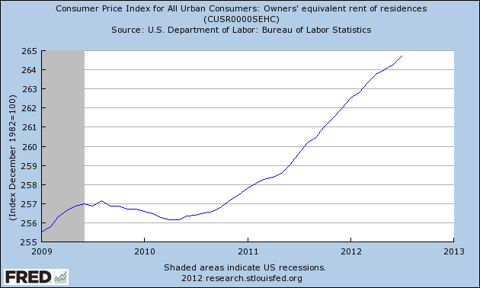 We screened for apartment REITs that looked interesting and compiled a short list of companies that operate in that space, but are diversified by geographic region, price level, and operating strategy. Below is a list of 5 REITs you may want to evaluate to take advantage of a favorable environment for landlords.
1. Equity Residential (NYSE:EQR)
Equity Residential is a real estate investment trust (REIT). EQR is focused on the acquisition, development and management of multi-family residential properties, which includes the generation of rental and other related income through the leasing of apartment units to residents, in United States. ERP Operating Limited Partnership (or Operating Partnership), which is an Illinois limited partnership, conducts the multifamily residential property business of EQR. All of the Company's property ownership, development and related business operations are conducted through the Operating Partnership. The Operating Partnership holds all of the assets of the Company, including the Company's ownership interests in its joint ventures. As of December 31, 2011, the Company, directly or indirectly through investments in title holding entities, owned all or a portion of 427 properties located in 15 states and the District of Columbia consisting of 121,974 apartment units. To read more, go to Equity Residential Management Discusses Q2 2012 Results - Earnings Call Transcript
I also think EQR is one of several REITs you can own in your portfolio during all phases of the business cycle. The rest of the list is at 8 REITs For All Phases Of The Business Cycle

2. Avalon Bay Communities (NYSE:AVB)
AvalonBay Communities, Inc. (AvalonBay) is a real estate investment trust (REIT). The Company is engaged in the development, redevelopment, acquisition, ownership and operation of multifamily communities in high barrier to entry markets of the United States. Its markets are located in New England, the New York/New Jersey Metro area, the Washington DC Metro area, the Pacific Northwest, Northern and Southern California and the Midwest. Its consolidated real estate investments consist of Established Communities, Other Stabilized Communities and Development/Redevelopment Communities. As of January 31, 2012, AvalonBay owned or held a direct or indirect ownership interest in 180 operating apartment communities containing 53,090 apartment homes in 10 states and the District of Columbia; 19 wholly owned communities under construction, and rights to develop an additional 32 communities. To read more, click on Avalonbay Communities Management Discusses Q2 2012 Results - Earnings Call Transcript

3. Apartment Investment and Management Co. (NYSE:AIV)
Apartment Investment and Management Company (Aimco) is a self-administered and self-managed real estate investment trust (REIT). The Company is engaged in the ownership and operation of a portfolio of apartment properties. Through its wholly owned subsidiaries, AIMCO-GP, Inc. and AIMCO-LP Trust, it owns majority interests in AIMCO Properties, L.P., which it refers to as the Aimco Operating Partnership. The Company conducts substantially all of its business and owns substantially all of its assets through the Aimco Operating Partnership. As of December 31, 2011, Aimco's portfolio of owned and/or managed properties consisted of 518 properties with 93,694 apartment units. For more information, go to Apartment Investment & Management Management Discusses Q2 2012 Results - Earnings Call Transcript

4. UDR, Inc. (NYSE:UDR)
UDR, Inc. is a self administered real estate investment trust (REIT), which owns, operates, acquires, renovates, develops, redevelops, and manages multifamily apartment communities located throughout the United States, whose asset is its ownership interest in the United Dominion Realty, L.P. together with its subsidiaries (Operating Partnership). UDR also conducts business through other subsidiaries and operating partnerships, including its subsidiary RE3, whose activities include development of land. UDR holds interests in other operating partnerships, subsidiaries and joint ventures, owns and operates properties. During the year ended December 31, 2011, it acquired eight operating communities with 3,161 apartment homes. During 2011, it sold 18 apartment home communities. In December 2011, the Company announced that its joint venture with Kuwait Finance House (KFH) had acquired 1301 Thomas Circle in Washington, D.C. To read the earnings transcript, go to UDR's CEO Discusses Q2 2012 Results - Earnings Call Transcript

5. Mid America Apartment Communities Inc. (NYSE:MAA)
Mid-America Apartment Communities, Inc. is a self-administered and self-managed real estate investment trust (REIT). The Company focuses on acquiring, owning and operating apartment communities in the Sunbelt region of the United States. As of December 31, 2011, it owned 100% of 160 properties representing 46,872 apartment units. Three properties include retail components with approximately 93,000 square feet of gross leasable area. It operates in three segments: large market same store communities, secondary market same store communities and non same store communities and other. Its business is conducted principally through Mid-America Apartments, L.P. (operating partnership). In July 2012, it acquired Allure at Brookwood, a 349-unit high-end urban multi-family apartment community located in the Buckhead sub-market of Atlanta, Georgia. In August 2012, the Company completed the acquisition of Retreat at Lake Nona, a 394-unit multi-family apartment community in Orlando, Florida. For additional perspective on MAA, it's a bit dated but you can go to Finding Embers In The Ashes Of The Real Estate Market. Maybe Roger will write an update soon.

As interest rates start to rise, making home purchases less affordable, these REITs should continue to benefit, from improving labor conditions, increasing population, job mobility, etc. The risks are that rates remain low enough and long enough that buyers whose credit took a hit in 2008 will now have sufficiently high credit scores to buy again; that the job market improves more rapidly than expected, resulting in increases in consumer confidence that drives further home buying; and fierce competition in certain areas that may cause rents to remain somewhat flatter than what current projections may entail.
In the meantime, these REITs pay decent dividend yields in addition to possible price appreciation.
Check them out and determine for yourself if they are worthy of being added to your portfolios.

Disclosure: I have no positions in any stocks mentioned, and no plans to initiate any positions within the next 72 hours. I wrote this article myself, and it expresses my own opinions. I am not receiving compensation for it (other than from Seeking Alpha). I have no business relationship with any company whose stock is mentioned in this article.