The most embarrassing thing that can happen to a financial journalist is to be proven wrong on a recommended investment. The best way to avoid that risk? Only 'predict' the past.
This occurs every day on CNBC where you hear a constant stream of experts explain why a stock that has just plummeted went down. It's equally likely you'll be informed about why you should have known, as the TV personality certainly did, why shares that gapped up pre-market were about to surge 30% overnight.
A recent issue of Forbes magazine and Forbes.com ran this headline …
Were they getting you in at the ground floor of a great opportunity? You be the judge. Here is a chart of VRTS's 5-year performance relative to its peer group and the S&P 500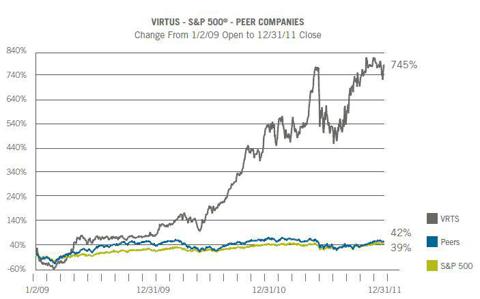 Click to enlarge
Do you want to be buying in right after a 745% long-term outperformance? How about paying $87.71 versus a 52-week low of $50.10?
Virtus Investment Partners (NASDAQ:VRTS) looked even worse to me when I analyzed why the shares had done so well since last summer.
VRTS's corporate performance in 2008 and 2009 was nothing to rave about. They posted net losses in both years. The unusually large deficit in 2008 was related to a non-cash charge rather than strictly from operations.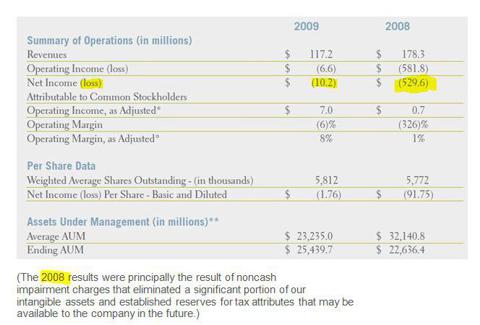 Click to enlarge
2010 and 2011 were much improved; in harmony with the rebounding stock market. VRTS earned $0.81 per share fully diluted in 2010 and posted a very good $1.96 in EPS on an apples-to-apples basis last year.
Forbes noted that net inflows, mainly into just a few Virtus funds, were the driver of the great 2011 results. First half 2012 continued these stellar results. EPS for the six-months ended June 30, 2012 were $1.72 versus $0.73 fully diluted (source: Value Line).
What's not to love? Retail mutual fund flow is 'hot money'. Teams of mutual fund wholesalers blanket America's full service brokerage firms pushing whatever funds have just finished doing best in their respective categories.
Virtus Investment's three biggest net asset gathering products (in the year ended June 30th) were their Emerging Markets Opportunities [HEMZX], their Premium AlphaSector-A [VAPAX] and the Multi-Sector Short-Term Bond-A [NARAX].
Their actual total returns are no longer anything special. HEMZX lost value in the latest year versus a 3-year annualized return of 18.1%. VAPAX eked out a less than thrilling 0.1% total return for the latest 12-months. Even the bond fund saw sharply lower 1-year results than its own 3-year annualized results.
Expecting a repeat of new large inflows is probably not a good bet. Yet, the two analysts covering Virtus Investments, as a company, show 2012 - 2013 average estimates growing wildly to $4.33 and $6.12 respectively.
At the August 24, 2012 9:45 am quote of $87.71, you'd be paying 20.2x this year's and just 14.3x those estimates. I'm not drinking the Kool-Aide.
VRTS shares look very risky based on trailing twelve month mutual fund results that are nowhere close to what made this such a hot place to park money.
Forbes noted that VRTS's wholesalers were making hay while times were flush; driving their Mercedes to numerous retail offices and taking down as much as $500,000 in yearly commissions. If they were smart they didn't put all those earnings into their own company's shares.
Disclosure: I have no positions in any stocks mentioned, and no plans to initiate any positions within the next 72 hours. I wrote this article myself, and it expresses my own opinions. I am not receiving compensation for it (other than from Seeking Alpha). I have no business relationship with any company whose stock is mentioned in this article.