Commodity Chart Of The Day
Weekly Corn
(click image to enlarge)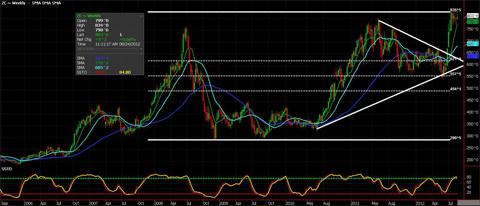 Click to enlarge
Let me start by saying past performance is not indicative of future results. Could there perhaps be a trend? Prices appear to peak during the summer months, then fall off appreciably. This year, the pattern could be different, as we have had one of the toughest weather years in over half a century. However, my take is that this has been largely factored into the price, and that is why corn prices are where they are.
In the last three months, prices have climbed nearly by 50%. But as you can see, prices have had trouble holding above $8/bushel over the last four weeks. Prices are overbought on this weekly chart, and as you can see by the convergence of the trend lines drawn and the Fibonacci levels, it would not be unreasonable to see prices back near $6/6.50 bushel in the coming months.
For longer term trades, I think it is a great swing trade to be scaling into bearish trades. There are various ways to protect unlimited risk by utilizing a combination of futures and options. The takeaway should be that if corn has not reached a top, it is likely very close in time and price, in my opinion. The crop is made, and adverse weather should not do much more damage than it has already inflicted.
Risk Disclaimer: The opinions contained herein are for general information only and not tailored to any specific investor's needs or investment goals. Any opinions expressed in this article are as of the date indicated. Trading futures, options, and Forex involves substantial risk of loss and is not suitable for all investors. Past performance is not necessarily indicative of future results.
Disclosure: I have no positions in any stocks mentioned, and no plans to initiate any positions within the next 72 hours. I wrote this article myself, and it expresses my own opinions. I am not receiving compensation for it (other than from Seeking Alpha). I have no business relationship with any company whose stock is mentioned in this article.