I mentioned last time in Bankable ETF Strategy: Simpleton Counter-Trend that I received many requests for strategies on other ETFs. This time I am going to present a swing trading strategy for trading the Euro Currency ETF (NYSEARCA:FXE).
Currency markets behave quite differently from the stock market indices. In general, currencies have higher persistency in continuation moves, meaning that once it has settled in one direction, it is more likely to move in the same direction for at least a week. This characteristic is especially obvious in the Euro.
I created the Festina Lente strategy to take advantage of this bias. Festina lente roughly means "make haste slowly" which perfectly describes the way how the strategy works.
The Festina Lente Strategy
1. Always in the market
2. Use spot forex Euro 4-hour bars to generate the signals
3. Go long when both 30 period simple moving average and 150 period simple moving average are rising for 1 bar at the same time
4. Go short when both moving averages are dropping for 1 bar at the same time
The Performance
The following chart shows the approximate net points gained on FXE since mid 2003 by applying the strategy on the spot Euro.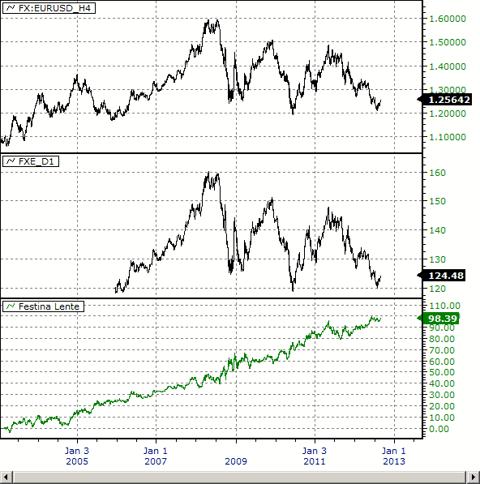 Notice that FXE was not available before 2006. The purpose of showing how the strategy performs prior to 2006 is to illustrate the fact that it is a stable performing model before the turbulent period of 2008 to 2010.
Notable characteristics of this model:
1. Using confirmed signals on two moving averages. Confirmed signals based on moving averages are often called late entries because a market has to reverse from its prior direction for a period of time before the moving averages would turn around.
2. If someone is trading a single 10K lot euro in spot forex, then the net gain since mid 2003 is then $9,839. So the model pull in on average $1,000 a year on maximum drawdown of about $1600.
3. 3 pips slippage on every trade is applied. Cost of rollover is ignored.
4. Works well with both spot euro and FXE.
5. Trades 10-13 times a year.
6. Stable across bullish and bearish period.
7. Stable winning percentage over the years.
8. Adding basic stop loss and targeting combination can yield 30% or more in performance.
Information Incompleteness
The reason why we need to use actual spot market data to generate the signal is that FXE itself has too many gaps. Since the trading of the Euro is busiest during European market hours, a lot of information is missing from FXE as it only trades during US market hours. When a signal is generated during non-US trading hours, the delay in entry in FXE reduces the performance slightly.
Lately there is this issue of widening in spread that develops between FXE and the spot Euro. This problem is working to the advantage of the model when applied to FXE so far. I am monitoring the development closely myself and anyone trading FXE off signals generated from spot market should do the same.
Late Entries Are Not Necessarily Bad Entries
This strategy shows that late entries based on confirmed signals can still work.
In this case, the Euro's persistency bias is best exploited with confirmed signals.
Disclosure: I have no positions in any stocks mentioned, and no plans to initiate any positions within the next 72 hours. I wrote this article myself, and it expresses my own opinions. I am not receiving compensation for it (other than from Seeking Alpha). I have no business relationship with any company whose stock is mentioned in this article.