Fear has surrounded Chinese Internet search company Baidu (NASDAQ:BIDU) due to Qihoo 360's (NYSE:QIHU) dumping Google's (NASDAQ:GOOG) search engine for its own. Google's stock price, even though dumped by Qihoo 360, hasn't been affected very much, yet Baidu's stock price has taken a beating in the last few days. Of course Baidu now has a new competitor in Qihoo 360, which is known for its security and browser offerings. But is Qihoo 360 really that big of a threat to Baidu?
In Baidu's Q2 2012 earnings call held on July 24, 2012, the company noted it had 252,000 active online marketing customers which represented an 18% year-over-year increase and a 9.7% sequential increase. Baidu noted it has taken on debt in order to optimize its sales process, establish call centers, improve customer relationship management systems and improve incentives for the sales staff.
Baidu reported revenue growth of 59.8% year-over-year and provided guidance for the third quarter of a 49.6% to 53.5% year-over-year increase.
The company indicated the economic slowdown in China has put pressure on large customer sentiment and spending. In order to counter the macroeconomic headwind, the company is proactively developing new categories for traditional themes such as food and beverage.
Baidu noted that 20% of mobile searches from high-end smartphones were related to local information, a much higher rate than observed for desktop computers. Based on this, the company is working to build new location based offerings such as a GPS navigational service with real time traffic information.
Additionally, Baidu discussed one of its new initiatives which is developing voice search capability, such that a user can get local information just by speaking into their phone.
As mentioned previously, Baidu's stock price has been taken to the wood-shed recently as shown below: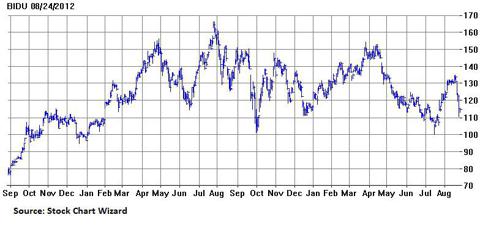 Click to enlarge
Baidu's stock price is near its previous $100 support level, so in spite of fears related to Qihoo, this might be a good opportunity to make an entry, but with the potential threat of Qihoo an investor might consider a protective strategy such as the married put. The married put strategy provides unlimited upside and limited downside, so the position takes advantage of a stock price increase, but is not exposed to a large downside movement. Typically, married put positions are selected with expiration far out-in-time in order to reduce the "insurance" cost per day. The married put position can be entered by purchasing a put option against the stock.
Using PowerOptions tools, a number of married put positions are available for Baidu for March of 2013 as shown below:

Click to enlarge
The top position looks attractive with a maximum potential loss of 7.9%. So even if the stock price plummets all the way to zero, the maximum loss which can be sustained is 7.9%. The Baidu married put can be entered by purchasing the 2013 Mar 125 put option for $20.70.
BIDU Married Put Trade
BIDU stock (existing or purchased)
Buy BIDU 2013 Mar 125 Put at $20.70.
A profit/loss graph for one contract of the Baidu married put trade is shown below: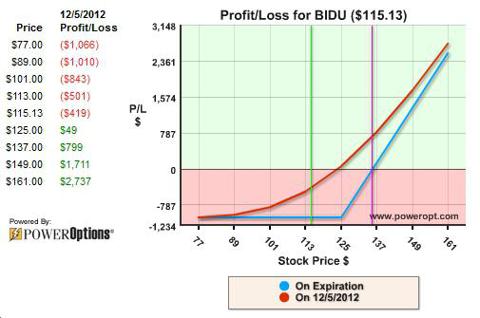 Click to enlarge
For a stock price below the $125 strike price of the put option, the value of the married put remains unchanged (at expiration). If the price of the stock increased above the $125 strike price of the put option, then income methods can be applied for receiving income and reducing risk as described by RadioActiveTrading.com.
In a previous article related to Baidu, it was noted that Baidu's name represents the persistent search for the ideal. After a fairly exhaustive search, a representation for the meaning of Qihoo could not be found, so if any readers know the meaning of Qihoo, please post it in the comment section located below this article.
Look forward to your comments!
Disclosure: I have no positions in any stocks mentioned, and no plans to initiate any positions within the next 72 hours. I wrote this article myself, and it expresses my own opinions. I am not receiving compensation for it (other than from Seeking Alpha). I have no business relationship with any company whose stock is mentioned in this article.