In the previous article in this series, I discussed the positive effects that the West Elara, West Capricorn and West Leo will have on SeaDrill's (NYSE:SDRL) second quarter revenues. This article will focus on the effects that these three new rigs will have on the company's cash flows and, ultimately, net income.
Here are the three rigs that are likely to have the most significant effect on SeaDrill's top-line revenues in the second quarter along with their type, dayrate and total additive revenue (these figures were calculated in the previous article).

Click to enlarge
The first step in determining the effect that these new rigs will have on SeaDrill's results is to figure out what each rig costs SeaDrill to operate and manage. Fortunately, this information is available directly from SeaDrill. The company helpfully provided this chart as a part of its presentation at the SEB Enskilda Nordic Seminar back in January: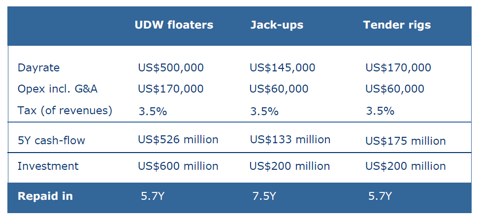 Click to enlarge
Source: SeaDrill, Ltd.
SeaDrill states that it costs the company approximately $170,000 per day to manage and operate an ultra-deepwater floater rig such as West Leo or West Capricorn. Therefore, using the same start-up dates that were used to calculate additive revenue, SeaDrill will incur approximately $12,920,000 and $5,100,000 in costs for West Leo and West Capricorn respectively. In the last article in this series, I calculated West Leo's additive revenues to be $38,703,000 in the second quarter if the rig achieves 97% revenue efficiency. Therefore, SeaDrill will also incur approximately $1,354,605 in taxes from this rig's operations in the second quarter. Tax rates, of course, are subject to change at any time and vary by region so this should only be considered an estimate. This works out to approximately $24 million in new cash flow (excluding interest costs) from West Leo in the second quarter. Also in the previous article, I calculated that West Capricorn should generate approximately $14 million in new revenue in the second quarter. This would result in SeaDrill paying an additional $490,000 in taxes due to this rig. SeaDrill could thus be expected to produce $8,410,000 in new cash flow from West Capricorn (excluding interest costs).
Estimating cash flows from West Elara, SeaDrill's third new rig, will prove somewhat more difficult. One reason for this is that West Elara is owned by SeaDrill's subsidiary North Atlantic Drilling (OTCPK:NATDF) and not by SeaDrill itself. As a result, the cash flow from this rig directly goes to North Atlantic Drilling and only indirectly flows through to SeaDrill. The above chart, assembled by SeaDrill, states that the company's operating expenses are $60,000 per day for a jack-up rig. West Elara, however, is one of the largest harsh-environment jack-up rigs in the world. As such, its operating expenses are somewhat higher than this figure. The approximate cost of managing and operating a harsh-environment jack-up such as West Elara is $82,000 per day. Therefore, West Elara cost North Atlantic Drilling $7,462,000 over the second quarter. The rig will also increase North Atlantic Drilling's tax liability by $1,106,023 over the course of the quarter (assuming 97% revenue efficiency). This would result in an additional $19 million in cash flow for North Atlantic Drilling over the preceding quarter.
In addition to being more expensive to manage and operate than a standard jack-up, West Elara will also impose some additional costs on North Atlantic Drilling. One of these costs would be the depreciation and amortization on the rig. The chart above states that an average jack-up costs approximately $200 million to build. West Elara, however, is not an average jack-up. West Elara was considerably more expensive to build; the rig had a project cost of $356 million. As a result, the rig will have depreciation and amortization costs of much more than those of an average jack-up rig. Fortunately, these are non-cash costs and so will not have a negative effect on the cash flow that North Atlantic Drilling is able to produce due to the rig. Additionally, the company's financing costs will be higher due to the higher cost of the rig compared to a more standard jack-up. This is a real cash cost as the company needs to make interest payments on its debt. This cost directly affects the company's operating cash flow. As West Elara is owned by North Atlantic Drilling and not by SeaDrill, these costs will fall on that organization. The rig commands and collects a substantially higher dayrate than a standard jack-up and that is more than sufficient to cover these higher costs. Harsh environment jack-ups, like West Elara, tend to be much more profitable over their lifetimes than ordinary benign-environment units.
North Atlantic Drilling operates with a very similar strategy as SeaDrill; that is, the company pays out a very large percentage of its operating cash flow in the form of dividends. Therefore, a good portion of the operating cash flow from West Elara this quarter is likely to make it back to SeaDrill. If we assume that all of the new cash flow from West Elara goes out as a dividend, then this will increase SeaDrill's cash flows by just over $14 million, quarter over quarter.
In order to determine the impact on SeaDrill's and North Atlantic Drilling's operating profit, subtract the depreciation and amortization from the cash flow from the rig. Additionally, any increase in costs that are not specific to those rigs should also be considered (such as home office administration and sales costs). Any additional costs here are likely to be negligible. Depreciation and amortization is not, however. Depreciation and amortization totaled 13.56% of SeaDrill's contract revenues in the first quarter. This percentage was relatively inline with its historical levels. Operating cash flow includes several other items that need to be adjusted for, including contract amortization, amortization of deferred loan charges, and adjusting for unrealized gains or losses on the company's investment and hedging portfolio. Additionally, factors such as changes in operating assets and liabilities can have a large impact on operating cash flow. Overall though, this article provided a rough idea of the impact that SeaDrill's three new rigs are likely to have on the company's second quarter results.
Disclosure: I am long SDRL. I wrote this article myself, and it expresses my own opinions. I am not receiving compensation for it (other than from Seeking Alpha). I have no business relationship with any company whose stock is mentioned in this article.