There is an economic malaise all over the world: Record unemployment and soaring deficits, yet the general markets such as the S&P 500 (NYSEARCA:SPY) are hitting new highs. How can a market rise despite all the negative gloom and doom economic numbers?
We believe the market and intelligent capital is coming to the realization that the Central Banks through the use of Quantitative Easing and record negative interest rates may start a stagflation which is when commodity and equity prices rise higher in the midst of poor economic conditions and weakening growth. This occurred in the Ford and Carter administration when gold, silver and mining stocks soared.
Yields are beginning to rise rapidly since we called the top on treasuries on 7-25-12 and may continue higher, putting pressure on an already weak economy.
Supply shocks accelerate stagflation. We are witnessing a crop shortage due to an historic drought that is causing food prices to spiral higher. This may slow down consumer spending.
This may be the start of a coming inflation that is combined with poor growth or stagflation. We may witness an oil shock with the growing tensions in the Middle East especially between Iran, Syria and Israel. Gas prices have been edging higher which may put upward pressure on the price of goods. Tensions are rising in the South China Sea between the Asian nations. This may impact the rare earth miners (NYSEARCA:REMX) which soared when the Chinese cut off rare earth supply two years ago. Utilities are making nuclear long term deals boosting the undervalued uranium miners (NYSEARCA:URA).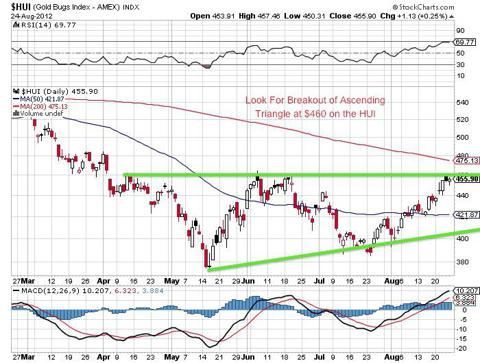 Click to enlarge
Precious metals (NYSEARCA:GLD), gold miners (NYSEARCA:GDX) and the uranium miners are beginning to show strength and the early stage junior (NYSEARCA:GDXJ) miners may continue to outperform, moving higher and outperforming gold bullion as a hedge against declining fiat currencies as the majors look for growth.
Investors are waiting for the Federal Reserve Jackson Hole meeting next week. We may see an explosive move in our sectors after Labor Day following a dovish Jackson Hole. There appears to be major buying in anticipation of a possible QE3. Silver and gold are breaking out of constructive flat bases as we predicted last Sunday night. Bollinger bands were converging, indicative of a breakout to the upside.
We are in the summer goldrums which is characteristically low volume and when many resource investors especially in Canada are enjoying the great outdoors rather than their computer screens. However this week it appears that many came back to their offices in anticipation of a dovish Fed meeting next week in Jackson Hole.
Get ready for a potentially explosive move after Labor Day in precious metals and commodities.
Disclosure: I am long GLD, SLV, GDX. I wrote this article myself, and it expresses my own opinions. I am not receiving compensation for it (other than from Seeking Alpha). I have no business relationship with any company whose stock is mentioned in this article.