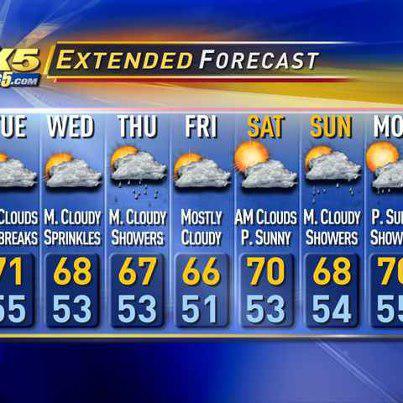 Just a week ago, I was moaning about unrelenting upward march of share prices. That was exactly the same moaning I had done for about four weeks in a row as I watched strike price after strike price either encroached upon or swept by the wayside. Unable to hold back the tide from the melt up, it was a sorry end to a monthly option cycle.
From my perspective, I'm only as good as the latest cycle, so I was in deep introspection, at least by my standards.
Those who are relatively uninformed always cite the risk of missing out on a stock's "unlimited upside" as the reason why selling options is a bad idea.
Similar to the old adage regarding broken clocks, every now and then, the covered option naysayers get to be right, too. Fortunately, not very often, as they're already pretty obnoxious in their consistent ability to buy low and sell at the peak. Although broken clocks can be thrown out, there's not yet a culturally acceptable way to deal with naysayers in the same fashion.
It was also interesting listening to the moaning coming from the hedge fund community., as by their very nature they suffer the same fortunes when the market just keeps mindlessly moving up. After all, what do you need to be hedged against when things can only move in a single direction? In case you don't know the answer to that question, the fortunes they suffered from was the lack of fortune.
I looked around and didn't notice a string of fast cars and priceless art in my home, so I didn't real feel very sorry for them, despite the fact that we at least shared something in common.
What I am happy about is that somehow I heeded my own cautionary note from last week. That was at a time when I realized that I'd be flush with cash from having all of those positions assigned at the end of the August 2012 option cycle. I also knew from past experience that "I must feed the beast" whenever money is burning a hole in my pocket. Addictions are hard to beat.
What I needed was the equivalent of a cold shower, and it came in the form of Ben Bernanke, whom I greatly admire. Since I'm a big believer in patterns, despite the fact that I profess to not understand or believe in stock charts, I recalled that we were due for release of FOMC meeting minutes this week.
Why is that important? Because the market tends to go down the day after the minutes are released. Strange, but true. Patterns take on many forms.
What was really unusual about this week, besides the fact that the S&P broke that winning streak, was my own trading pattern. Normally, I make lots of trades on Monday and Tuesday, and very few the rest of the week. This week, sanity reigned over impulse, and most of the trades came between Thursday afternoon and Friday's close.
Perfect timing? No, serendipitous for a moment or two at best, because the Europeans return from vacation soon, and we will find out whether Mario Draghi of the European Central Bank is really the Emperor with no clothes. After a month off and awaiting the promise of pulling out all weapons to restore the EU to financial health, the vacation is over, and the dysfunction may be expected to start anew.
Long story short, despite Friday's (August 24, 2012) 100 point gain, the S&P 500 lost 0.5% for the week, but waiting until the end of the week to commit money put the beast in its place and satisfied it all at the same time.
This coming week, I do have some residual trepidation about the European tail wagging our markets, but life has to go on.
As always, the week's stocks for consideration are presented as being either of Traditional, Momentum or Double Dip Dividend categories (See details of potential trades).
Despite all of the discussion surrounding a slowing economy, especially in China, a number of this week's picks thumb their noses at that thought. When your time frame is a month or less, it's easy to disregard what may happen too far down the line. It's not a coincidence that you don't see many mosquitoes with 401k plans.
Among the picks are two from the reviled category, part of my Evil Troika of stocks.
Both Halliburton (NYSE:HAL) and British Petroleum (NYSE:BP) have been recent recommendations that were assigned at lower prices. Normally, I like to wait until prices have dropped before considering a re-purchase, but as prices have all been creeping higher, that's more and more difficult to do. Someday, I hope to see them reunited with Transocean (NYSE:RIG), as well.
In Halliburton's case, it is also a Double Dip Dividend selection, but the paltry $0.09/share isn't the driving factor. Halliburton's climb has been slow, but it has caught up to the S&P which it had lagged for the better part of the past year. I think it still has more room to move, at least staying within the tight range that I'd really like to see.
British Petroleum, another favorite, has just been sandwiched in between the performances of the S&P 500 and Halliburton. There's nothing terribly compelling about it, other than it is fairly predictable, and is very often a great candidate upon which to sell covered calls, even as hurricane season may be coming upon us.
Although I haven't owned shares of Rio Tinto (NYSE:RIO) in about two months, I thought the time to pick up shares was so good that I uncharacteristically alerted subscribers in advance late Friday afternoon on this one. Yes, I know that it may be held hostage to the Chinese economy, but it has been trading within a fairly tight range despite those fears. It is the "Traditional" alternative to Freeport McMoRan (NYSE:FCX), which often finds its way into my portfolio.
Finally, staying on the theme of energy and materials, I think that this week offers another good opportunity in Williams Companies (NYSE:WMB). It was a Double Dip Dividend selection last week. However, despite having both weekly and monthly options available, the dividend was completely factored into the weekly option premium, so I went with the monthly. Now that the dividend is out of the way, both the monthly and weekly premiums look very attractive.
On the momentum side, it's back to some recent successful trades. YUM Brands (NYSE:YUM) has been skewered, literally and figuratively, this week as being a pure Chinese play. That's a bit of an exaggeration, but it certainly has lots of exposure. I almost recommended it early in the trading day on Friday and should have, but there is still plenty of opportunity to milk premium and manage risk, especially by looking at ITM strike prices, as may be warranted for many of this week's picks.
Walter Energy (NYSE:WLT) makes itself into a compelling story for the second time in just a few weeks. No dividend this time around, just a nice call option premium relative to risk, as shares are slowly grinding up from its yearly lows.
Rounding out the list of familiar names is Lexmark (NYSE:LXK) which was on the list again last week and was subsequently caught in the Hewlett Packard (NYSE:HPQ) and Dell (NASDAQ:DELL) downdrafts. It's had its own problems of late, but at this price and a healthy dividend, which has not been placed on anyone's danger list, it continues to be a reasonable way to park some cash if the beast so commands.
Traditional Stocks: British Petroleum, Halliburton, Rio Tinto, Williams Companies
Momentum Stocks: Lexmark, Walter Energy, YUM Brands
Double-Dip Dividend: Halliburton (8/31 ex-div), Lexmark (8/29)
Remember, these are just guidelines for the coming week. Subscribers will get Trading Alerts if these appear to be reasonable actions, as trading begins next week. If you're on your own, please adjust accordingly with market movement and you'll have the makings of a healthy income stream for the week with reduced risk.
Disclosure: I am long HAL, LXK, FCX, WMB, and may initiate positions in BP, WLT, YUM and RIO. I wrote this article myself, and it expresses my own opinions. I am not receiving compensation for it (other than from Seeking Alpha). I have no business relationship with any company whose stock is mentioned in this article.