While executives are beginning to jump off the Yahoo! (NASDAQ:YHOO) ship in the midst of another takeover battle from Microsoft Corp. (NASDAQ:MSFT), the company still has some positive fundamentals building up, Canaccord Adams Internet analyst Colin Gillis said in a report.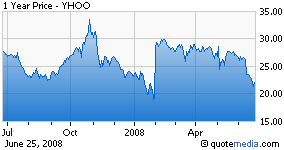 According to Mr. Gillis, Yahoo is still seen by advertisers as the best online portal for display advertising and ad agencies are expressing key interest in the company's upcoming AMP platform.
Mr. Gillis told clients:
Yahoo's deep reach – touching one out of every two people worldwide who use the Internet – remains a unique asset.
He commends Yahoo for opening its search platforms which could drive innovation from outside the company. Its search monetization partnership with Google (NASDAQ:GOOG) is also likely to improve.
Furthermore, the turnover in Yahoo's top management could be seen as a positive catalyst with the current stock price luring new talent seeking stock options, added Mr. Gillis. Yahoo shares have fallen about 25% since rebuffing Microsoft's takeover offer worth $47.5 billion this past February.
Mr. Gillis upgraded his rating on Yahoo shares from "sell" to "hold" with a $23 price target.