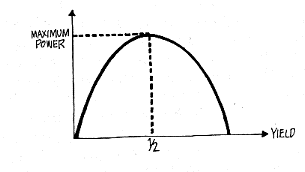 There are several applications of the Law of Diminishing Returns, most commonly used in reference to marginal production of labor (which I could not find a good chart of), but in this case we also have an example of optimal power use.
There are also practical applications of this law to the markets, and stocks themselves. Companies are first bought for their growth prospects, and inevitably they mature; see Citi (NYSE:C), GE (NYSE:GE), or any company in the Dow Jones Industrial Average.
Citi and GE are examples of companies which have simply grown to be too large (Citi is was a $2.2 trillion company, and GE has a market cap of $283 billion). It's not that they are not competitive in their respective industries, it's only that they have limited upside due to lack of further growth (as you can see in the chart above, 1 share of GE is practically worth the same nominal amount after 5 years). 
For example's sake, let's say Berkshire Hathaway (NYSE:BRK.A) acquired a small cap materials company which doubled its returns one year after the acquisition; those profits would be negligible on Berkshire's balance sheet.
This has been an inconvenience to investors in the United States for a while, as we are maturing as a nation. The addition of billions of dollars to our GDP amounts to a very small amount regarding the total (its been near 1%-2% per year), hence the diminishing returns. No wonder hedge funds/investment banks are levered 25 to 1…25 times 2% turns into a good return, but it comes with consequences when abused, as we have seen.
Finally, the question; what does this mean for the future of the US? we have had some bad recessions including the tech bubble, but this one is being lead by financial instruments which got out of hand, and driven further by bad bets (this is not reminiscent of old fashioned value investing).
Perhaps this is why we have witnessed a shift to stocks which have natural growth prospects, those which have exposure to demand driven markets: Rio Tinto (RTP), Vale (NYSE:RIO), Southern Copper (PCU), Monsanto (NYSE:MON), Potash (NYSE:POT), US Steel, XTO (XTO), Apache (NYSE:APA), and Petrobras (NYSE:PBR).
Materials and Energy are emerging as secular themes in global markets, and this may be the beginning of a trend which leaves the US in the dust as a global importer of raw materials…after all, we're only a nation of 340 million people, whereas China and India make up close to 3 billion combined (or half of the world).
Disclosure: Author holds a long position in RTP