Investors in Arena Pharmaceuticals, Inc. (NASDAQ:ARNA) got great news in late June that the company's obesity drug Belviq had received FDA approval. A combination of excitement and irrational exuberance then took over and sent Arena toward a 52-week high of $13.50. While seeing that range was great, it was based on excitement that was perhaps overstated at least at this early stage. I am not saying that Arena is not worth $13.50. I am simply saying that it moved too fast, and the fact that it did settle down quickly is probably good evidence of that.
So where does that leave us now? It leaves us with a pharmaceutical company that is one of only two that have been successful in getting FDA approval on an obesity drug in the last decade. That is reason enough that Arena has extreme potential. Add to that the company's cash position, and we now have a company than can move forward in a strategic manner. A good sign when you may become the object of potential partnerships or buyouts, as a strong cash position allows you to negotiate from a better position. Simply stated there are reasons why Wall Street is getting more excited about Arena.
What has me more excited are some technical indicators. I like to look at volume, support and resistance, and exponential moving averages as it allows me multiple points to consider. Right now I see something very exciting happening with Arena.
Volume
I use volume to measure the relative strength in a move. Any move that happens on substantial volume has some strength and reasoning behind it. When volume tapers off, it typically means that whatever compelled the above average volume is no longer a catalyst. I typically use the 200 day as my baseline, but monitor the 5 day, 13 day, and 20 day as well. Monitoring all of these allows me to gauge current action against several points to consider the relative meaning.
With Arena, the average volume is 12.9 million shares. Lately, the company has traded below that level - at the same time it has been making a run in price. This is very interesting because to me it demonstrates that the Street is very willing to test higher levels, but not yet doing so with that much conviction. These are the times when a savvy trader can make a play.
Click to enlarge

Click to enlarge
In my opinion, there is not a lot of conviction behind this move, but there is enough action to test higher ground. I see something brewing here.
Support and Resistance
Support and resistance are also very classic technical indicators. I like to refer to these because they are relatively simple to understand, and they give a relative indication as to the potential moves an equity can make. When I look at support and resistance, I gauge the strength of each level as time passes in order to better grasp my risk or reward.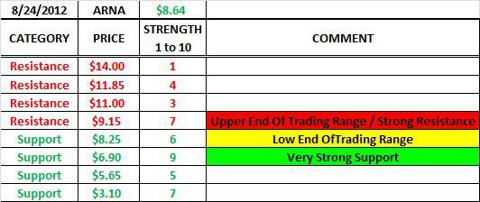 Click to enlarge
Right now, Arena is in the middle of strong support at $6.90 and strong resistance at $9.15, and testing higher highs often. There seems to be a trend building and much of that is based on the fundamentals of Arena as the launch of Belviq approaches. The beauty of this is that we are seeing a foundation built at current levels that should allow the company to hold strong. Once this equity breaks past $9.00, there is little holding it back. The march upward again is far more healthy that a spike upward.
Exponential Moving Averages

The third category I consider is Exponential Moving Averages. When the successive averages are higher than the next it is a bullish indicator. When they are lower it is bearish. Just two weeks ago, Arena was exhibiting all bearish signals on the EMA. Today, the story is quite different and building in a positive manner.

Click to enlarge
Arena has started a run, and that run has turned several technical indicators bullish. Over the last few trading sessions, the 5 day average has turned all green. The next phase is the 13 day average, and with current action, that will happen sooner rather than later.
So What Does All Of This Mean?
Arena is building on solid fundamentals and an exciting potential. These are core considerations in investing into any equity. It is also building on a technical basis, which makes things even more exciting.
Combing all three of these technical measures gives us some clues of what to watch for both short and long term. It can also give additional confidence in an investment.
I look for moves on good volume. Right now, I see Arena testing the proverbial waters and drifting upward, but not having true conviction in these moves. The key here is bringing up the 13 day averages, while trying to keep above the 5. Believe it or not, this equity can maintain a bullish stance with a close above $8.42. That gives it a little room to work with. This equity is poised to go all green from an EMA standpoint very soon, and it is why, even with this most recent run, there is still upside potential building. On the risk side, we want to see it hold at least $8.25 support.
Things To Consider
News and rumors can fuel or spoil a run. Arena has seen some positive press lately, outside of buyout rumors, and this could help support new support and strength above $8.00. Prior to FDA approval of Belviq, this equity was much more speculative. Once Arena's Belviq gained FDA approval, there were fundamental reasons to invest, as the potential is substantial. The next phase is getting it to market and that is only months away. In my opinion, Arena is worthy of a serious look.
Disclosure: I am long ARNA. I wrote this article myself, and it expresses my own opinions. I am not receiving compensation for it (other than from Seeking Alpha). I have no business relationship with any company whose stock is mentioned in this article.