Global computing giant Hewlett-Packard Co. (NYSE:HPQ) reported weak quarterly results Wednesday afternoon and issued an equally bleak outlook. Revenue tumbled 5% year-over-year to $29.7 billion for the company's third quarter, which was about $400 million worse than consensus expectations. Earnings per share, adjusted for $10.8 billion of charges, mostly related to a write-down of Electronic Data Systems, were a few cents better than consensus expectations, though they did fall 9% from a year ago.
Looking ahead, the company's full-year earnings guidance came in slightly below the Street's expectation of $4.07 per share, in the range of $4.04-$4.07 per share, though we think CEO Meg Whitman may be setting low hurdles to exceed earnings. Though we think the company has better prospects than Dell at the moment, we aren't rushing to establish a position in Hewlett-Packard, which scores just a 6 on our Valuentum Buying Index (our stock-selection methodology).
Click to enlarge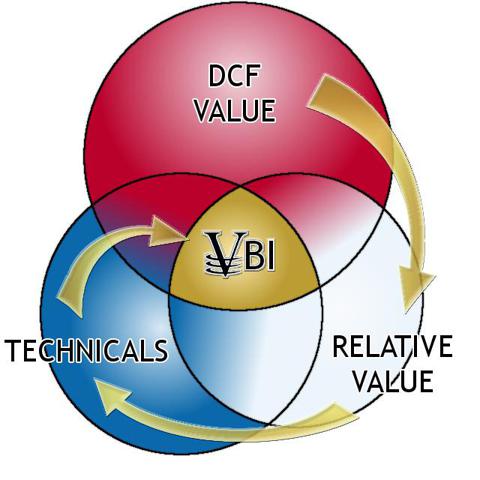 Hewlett-Packard's poor quarter echoes the results we saw from Dell Inc. (NASDAQ:DELL) earlier this week. Industry-wide PC sales continue to slump, and Hewlett-Packard's revenue in its personal systems group fell 10% year-over-year to $8.6 billion (on a similar drop in aggregate unit demand). The segment's 4.7% operating margin is certainly nothing to write home about, but it is much stronger than the 0.5% operating margin Dell posted in its consumer segment earlier this week.
However, Whitman admitted that "channel inventories were high," or that the firm is stuffing the retail channel with product. Weak results from computing come as no surprise given the anticipation of Microsoft's (NASDAQ:MSFT) Windows 8. However, we think consumers are gravitating towards the best value PCs if they aren't purchasing Mac computers (Apple: AAPL), so both Hewlett-Packard and Dell could face pressure from low-end competitors going forward. Such a trend is a mixed bag for Intel Corporation (NASDAQ:INTC), though the firm will benefit from supplying Mac computers that continue to take market share. However, low-end PC makers like Lenovo could choose to use cheaper Intel chips like i3 and i5 processors, which would hurt Intel's profitability.
Traditionally, the firm's Imaging and Printing Group has been a strong performer, but revenue fell 3% year-over-year to $6 billion. Undoubtedly, the demand for paper is in long-term decline. However, we expect there will be some natural minimum threshold and perhaps Hewlett-Packard could be one of just a few players remaining in this market. Of course, enterprise shifts towards tablets-read iPads-could really crush this business, especially if adoption accelerates. Whitman conceded the consumer market to Apple, but we also think it will be very difficult to compete with the world's largest company in the enterprise space.
The firm's Services segment also struggled, with revenue slipping 3% year-over-year to $8.7 billion. Management remarked on the conference call that some of the decline can be attributed to a decline in IT outsourcing, which fell 6% year-over-year, as the company eliminated contracts that didn't boast ample profitability. Whitman specifically addressed the company's need to discontinue EDS' low-margin services business. We'll keep a watchful eye on this segment, which we suspect will house many of the firm's announced 10,000-15,000 job cuts in its Enterprise Services segment.
Not surprisingly, Hewlett-Packard wants to focus on growing revenues in the highly profitable software segment, which accounted for less than $1 billion of revenue during the third quarter, though it did grow 18% year-over-year. We've seen IBM (NYSE:IBM) successfully make the transition from hardware to enterprise software, but the space is highly competitive between major players like Oracle (NASDAQ:ORCL), Accenture (NYSE:ACN) and SAP AG (NYSE:SAP).
Though Hewlett-Packard is certainly in the midst of a turnaround, the company continues to generate a significant amount of cash flow. In its reported third quarter, the firm generated $2.8 billion in operating cash flow and $2.1 billion in free cash flow (which the firm is using to pay down debt). As long as Hewlett-Packard continues to generate plenty of cash, the balance sheet will improve and the firm will have no problem surviving.
We think shares are incredibly cheap right now, trading at less than 5 times 2012 earnings and at a tremendous discount to our fair value estimate range (based on our DCF process). We may become more interested in a position in our market-beating Best Ideas portfolio if the firm's technicals improve or if the stock becomes too cheap to ignore (it's not there yet).
Disclosure: I have no positions in any stocks mentioned, and no plans to initiate any positions within the next 72 hours. Some of the firms mentioned in this article may be included in our Best Ideas portfolio. I wrote this article myself, and it expresses my own opinions. I am not receiving compensation for it (other than from Seeking Alpha). I have no business relationship with any company whose stock is mentioned in this article.