Mr. Bernanke is of the opinion that the Federal Reserve has room to deliver additional stimulus to boost the U.S. economy. Market participants are also looking hopeful for another round of stimulus as indicated by the recent trend in equities.
Mr. Bernanke's speech at the end of next week (annual symposium in Jackson Hole) will be closely watched by market participants for further cues on the next round of stimulus.
In this article, I will discuss why Mr. Bernanke should delay the stimulus at the cost of disappointing the market participants in the next Fed meet.
The first reason is to exercise restraint on spending at a time when government debt to GDP is at 102%. Also, additional debt is having a diminishing impact on GDP growth.
In such a scenario, the Fed needs to pause and analyze the reason for the ineffectiveness of government spending on the real economy. Else, it will not be long before US government debt reaches levels seen in some European countries facing sovereign debt crisis.
I will, however, not focus on debt and its impact on GDP, which I had discussed in one of my earlier articles. I will rather focus on the economic reasons for avoiding stimulus in the near term.
The chart below gives the TSI Freight and TSI Passenger index. It can be considered to be a more realistic indicator of economic activity.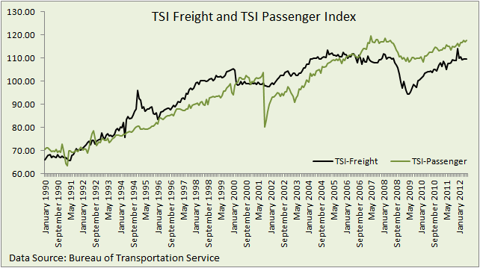 Currently, the TSI freight index has fallen from its peak and stabilized at relatively low levels. There are no indications of transportation activity falling off the cliff (as witnessed in 2008-09).
The freight index data is available until June 2012. However, I don't expect the July and August numbers to be very weak considering the fact that retail sales bounced back in July after three months of decline.
Growth in retail sales also shows that U.S. is not rushing into recession or a very major slowdown.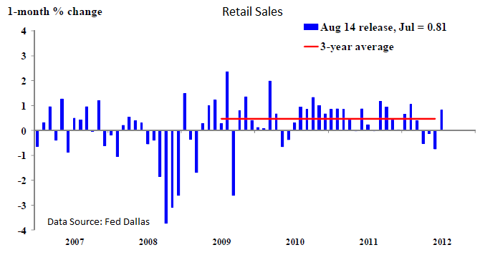 Another good indicator of general economic conditions is the Aruoba-Diebold-Scotti business conditions index. Since the index captures almost all components of economic growth, it gives a pretty realistic picture of real economic activity.
According to the Federal Reserve Bank of Philadelphia:
The Aruoba-Diebold-Scotti business conditions index is designed to track real business conditions at high frequency. Its underlying (seasonally adjusted) economic indicators (weekly initial jobless claims; monthly payroll employment, industrial production, personal income less transfer payments, manufacturing and trade sales; and quarterly real GDP) blend high- and low-frequency information and stock and flow data.

The average value of the ADS index is zero. Progressively bigger positive values indicate progressively better-than-average conditions, whereas progressively more negative values indicate progressively worse-than-average conditions.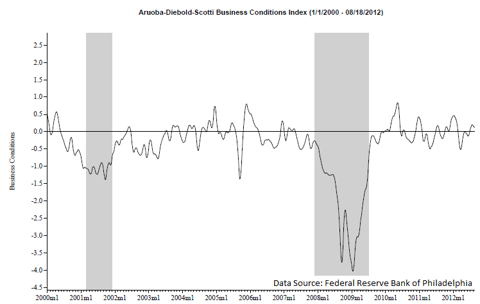 The ADS index does indicate some weakness in economic activity. At the same time, policymakers can give the economy some time to observe if the weakness is sustaining or there is a reversal.
Again, there is no case of free-fall in economic activity that should force the Fed to implement some more easing measures immediately.
Underscoring my point is the recent consumer confidence and consumer sentiment data.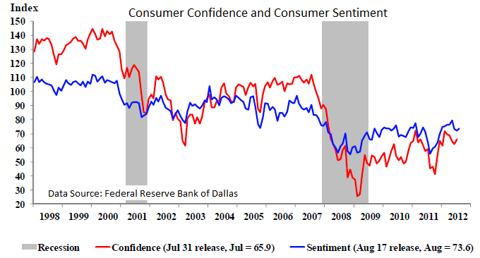 Both these measures have shown an uptick in the most recent release. Consumer confidence is an important aspect to consider in an economy driven by consumption spending.
The recession probability predicted by the Treasury spread does not indicate recession either (at least in the very near term).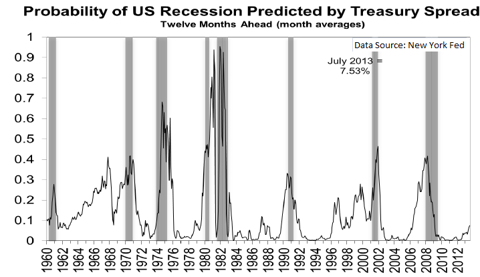 I am not suggesting that recession will certainly not happen in the United States. All I am suggesting is that the Fed can afford to wait before taking any measures to support the economy. By doing so, the real strength of the economy and resilience of consumers can be measured.
The Fed is also concerned about asset markets and I had discussed the reason for this concern in one of my earlier articles. Even on that front, the Fed has ample headroom as the equity markets are at a four-year high.
If markets do correct by 10%-15% in the process of discounting a sharp slowdown or recession, the Fed can employ expansionary monetary policies again.
I personally have no doubt in my mind that we will more and more of quantitative easing in the times to come. I also remain skeptical about the impact of such measures on the real economy.
However, the Fed will be wiser to delay any such easing intentions and observe the performance of non-intervened economic activity.
If the Fed disappoints by not announcing any quantitative easing measures, asset markets will witness some correction. Even otherwise, equity markets do look overbought in the near term. I would therefore avoid fresh equity exposure at this point of time.
A 10%-15% correction in equity markets would be a good time to buy quality stocks or invest in the index. The easiest index investing option would be through the SPDR S&P 500 (NYSEARCA:SPY) ETF, which tracks the price and yield performance of the S&P 500 Index.
Disclosure: I have no positions in any stocks mentioned, and no plans to initiate any positions within the next 72 hours. I wrote this article myself, and it expresses my own opinions. I am not receiving compensation for it (other than from Seeking Alpha). I have no business relationship with any company whose stock is mentioned in this article.