BreitBurn Energy Partners LP (BBEP) is an oil and gas E & P company. It seemed to right the boat in the last earnings report with adjusted EPS of $1.29 versus an estimate of $0.21 -- a beat of $1.08. Net production increased 18% year over year, and adjusted EBITDA increased 28%. Logically good results should continue next quarter as natural gas prices, NGLs prices, and oil prices have rebounded from their Q2 lows recently. There is no reason to believe production will shrink. Rather BreitBurn's recent purchases ensure that production will increase.
On June 28, 2012, BreitBurn completed the acquisition of oil properties in Park County in the Big Horn Basin of Wyoming from NiMin energy Corp. for approximately $93 million. On July 2, 2012 BreitBurn completed the acquisitions of two largely oil properties in the Permian Basin in Texas from Element Petroleum LP and CrownRock LP for approximately $150 million and $70 million respectively. Production from all of the above will be accretive to BreitBurn's Q3 production and earnings. Further BreitBurn at its Q2 earnings announced that it was increasing its 2012 capital program by $50 million. This expands the total 2012 capital program to $137 million, and it will be allocated mostly to oil development activities on the newly acquired assets and the legacy partnership assets. This is good news for the future because natural gas prices have fallen much further than oil prices in the past few years (even in the last year).
BreitBurn does have good hedges on both natural gas and oil, and these have largely saved the company with the recent fall in natural gas prices. The chart below specifically delineates the hedging.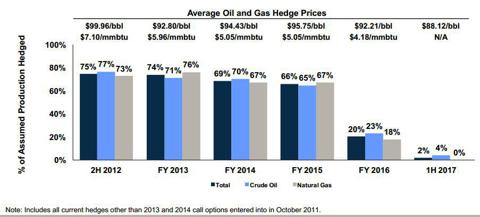 As you can see BreitBurn is 75% hedged in 2012 and 74% hedged in 2013. The 2012 hedges are at much better rates, but the 2013 hedges are still good. This means that the results will likely be good for the rest of 2012, and the market often does not pay close attention beyond the quarterly results on high dividend stocks. This means you money should be safe for the next six months or more in BreitBurn. The call options mentioned for 2013 and 2014 are worrisome. They could turn into total losses. However, you will not have to worry about that until next year. Meanwhile the 9.70% dividend should make you very happy you own the stock. The probable increase in production, especially oil production should again make you happy. The increased emphasis on oil development and production over natural gas development and production in capital spending should make you happy.
The table below of recent acquisitions, their proved reserves, and their resource mix should instill you with confidence.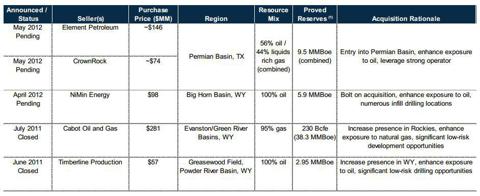 As you can see these are predominately oily, except for the Cabot Oil and Gas (NYSE:COG) acquisition in July 2011. The acquisitions of properties listed as pending in the table have since been completed. The proved reserves listed are not maximum figures. Rather they are internal estimates made before the acquisition date. The two Permian Basin properties have a production of approximately 2,100 Boe/d of 56% oil and 44% liquids rich gas. There are approximately 40 existing wells and over 160 potential drilling locations. The estimated reserve life is over 13 years. The new Big Horn Basin property in Wyoming is 100% oil. It has a current production of approximately 600 Boe/d (as of March 2012). It has approximately 45 existing wells. The property provides substantial upside potential will many infill drilling locations. It has a reserve life index of over 20 years. All of the above production will be immediately accretive to distributable cash flow.
BreitBurn is also closely watching the development of the Utica Collingwood shale in Michigan. For those who don't know, this is a formation that was found to exist under much of the leaseholds that BreitBurn currently owns in Michigan. BreitBurn has over 130,000 net acres in this field of which about 85% is held by production. The acreage is primarily in the wet gas window, but some is in the oil window, Devon Energy (NYSE:DVN) and EnCana (NYSE:ECA) are the primary operators in the Utica Collingwood. BreitBurn is watching their results closely to get a better assessment of the wealth of the field. BreitBurn also has approximately 75,000 net acres in the A-1 Carbonate play in this same Michigan area, Devon Energy and Atlas Energy (NYSE:ATLS) are currently drilling in the play. Again BreitBurn is watching their results to better be able to estimate the wealth of the play.
For those who only care about dividends, BreitBurn has a 9.70% dividend. Plus it has an excellent history of consecutive dividend increases as the chart below shows.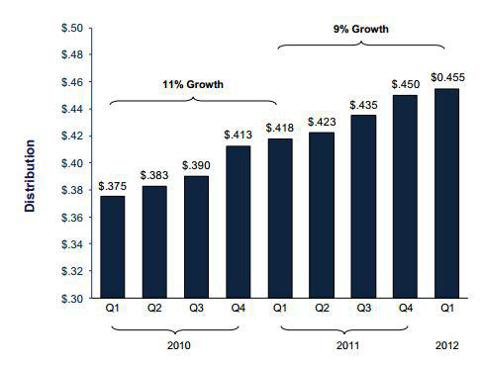 There is no reason to believe the dividend increases will stop for the remaining quarters of this year. I will not try to predict results for 2013 yet. There are too many unknowns in the global world economies, including in the US economy.
In sum BreitBurn's recent moves give one confidence that the company leadership is doing the appropriate things (getting more oily and growing). The prices of both natural gas and oil have rebounded from Q2 lows. With an el Nino winter (colder than normal) currently being predicted, the prices of natural gas stand to rebound further as that likely harsh winter approaches. BreitBurn seems set to perform well in Q3 and Q4 if not far beyond that.
The two year chart of BreitBurn provides some technical direction to this trade.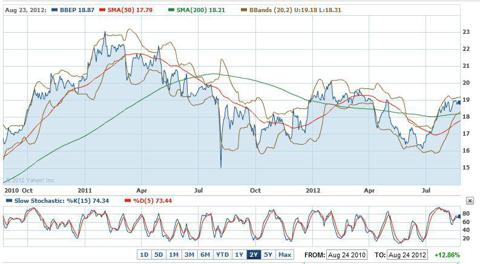 The slow stochastic sub chart shows that BreitBurn is near overbought levels. The main chart shows that BreitBurn has been rising on recent purchases news and recent earnings. The 50-day SMA appears to be headed upward to break through the 200-day SMA. This would be a buy signal. The fundamentals are already a buy signal. With its good dividend (9.70%) BreitBurn looks like a buy. However, the overall market is currently overbought. Earnings season was bad. Revenues were approximately -0.1% versus the year earlier period. The market really has no legitimate reason to be at such a high level at this time. Rather it seems to be inflated based on QE or rumored QE expectations. When you see the #1 online retailer selling at a near 300 multiple and a near 100 FPE, you know the market is far over inflated. It is only a question of exactly when it will fall. I will not try to predict the timing exactly, but the overall market does seem destined for a retracement soon. David Kostin, Chief Forecaster for Goldman Sachs, has an end of year target for the S&P 500 of 1250. Since it is currently 1411, Kostin's prediction is another reason to believe it may fall significantly. BreitBurn may fall along with the market to some degree. Averaging in is probably a good strategy.
Note: Some of the Fundamental fiscal data above is from Yahoo Finance.
Good Luck Trading.
Disclosure: I have no positions in any stocks mentioned, but may initiate a long position in [[BreitBurn]] over the next 72 hours. I wrote this article myself, and it expresses my own opinions. I am not receiving compensation for it (other than from Seeking Alpha). I have no business relationship with any company whose stock is mentioned in this article.