Some investors may be thinking that there is a quick capital gain opportunity coming next week when the currently open "premature call window" for bank trust preferred stocks (TRUPS) expires.
Preferred stocks that are "call-protected" tend to command a higher market price than otherwise similar preferred stocks that do not enjoy such protection (those that have already exceeded their published call dates). Looking at the current market prices of traditional preferreds (non-TRUPS), we can see that investors are paying an average $1.59 per share premium for call-protected issues [1].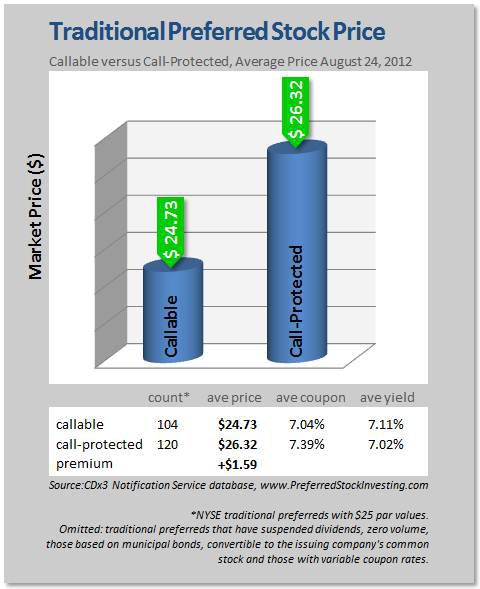 Since a multitude of TRUPS that are currently redeemable will become call-protected next week, it is tempting to think that the market prices of such issues are likely to increase accordingly, delivering a quick capital gain to this week's buyers.
But preferred stock investors thinking along these lines will probably be disappointed. In fact, as compelling as the above chart may appear, buying TRUPS shares this week will be much more likely to produce a capital loss than any near-term gain. Here's why.
Call-Protection Returns Thursday, September 6, 2012
As explained in the Seeking Alpha article titled "Preferred Stock Investors About To Be Cash-Rich Thanks To New Fed Action," the Federal Reserve announced on June 7, 2012 that they are considering changes to how bank reserves ("Tier 1 Capital") should be calculated in order to comply with new international guidelines (Basel III). That announcement was deemed to be a "capital treatment event." Consequently, all bank-issued TRUPS, even those that had yet to reach their published call dates, became callable during the subsequent 90 days following June 7.
TRUPS that were call-protected prior to June 7, 2012 lost that protection on that date. The price premium that they were commanding in the marketplace disappeared accordingly, now at $0.62.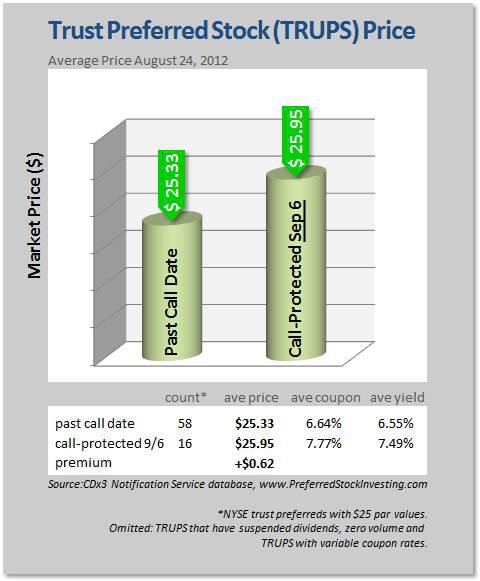 The current 90 day window during which premature calls are allowed expires on Thursday of next week, September 6, 2012. On that day, bank-issued TRUPS that have yet to reach their published call dates return to being call-protected.
Widely held examples include C-G from Citigroup (NYSE:C), JPM-C from JPMorgan (NYSE:JPM) and BWF from Wells Fargo (NYSE:WFC). Each of these TRUPS, and 13 others like them, have been callable since the June 7 announcement, but will return to being call-protected on Thursday of next week.
Two More Triggers to Pull
A capital treatment event occurs not just when a change is made to the formula for Tier 1 Capital, but also when it is announced that such a change is merely being considered. That's what happened when the Fed made their June 7 announcement. They did not announce a change to the Tier 1 Capital formula. Rather, the Fed announced that they were considering making a change needed to comply with new international reserve guidelines.
The actual change needed to comply with Basel III guidelines is still being deliberated by banking officials and has yet to be announced.
Once finalized, which can happen at any time, the Fed will announce an actual change and the implementation date for that change. The announcement of an actual change to the Tier 1 Capital requirements needed to comply with the new Basel III guidelines will, for the second time, open the 90 day premature call window for call-protected bank TRUPS.
Any such announcement would presumably also include the date that the change is to become effective. On that date, when the change is actually implemented, the 90 day premature call window will open for the third time, rendering all call-protected TRUPS redeemable for the subsequent 90 days.
Timing
The Fed could (and very well may) do all involved a huge service and eliminate a great deal of market confusion if they announce the agreed upon change for Basel III compliance on October 3, 2012 for implementation 91 days later on January 1, 2013. Doing so would sync up the implementation of our domestic standards, per the Dodd-Frank legislation which are scheduled to become effective January 1, 2013, with the implementation of our international standards, per Basel III.
Because the Fed has two capital treatment triggers remaining regarding Basel III compliance, and can pull those triggers at any time, it is unlikely that the market prices of call-protected TRUPS will gain the premium that other call-protected preferred stocks currently enjoy as illustrated in the first chart above.
It is not possible to know with certainty what market prices will do in the future. But investors considering purchasing TRUPS shares prior to Thursday of next week, thinking that a capital gain opportunity is in store for shares that will return to being call-protected, should also consider that the Fed will open the premature call window for two more 90 day periods, rendering such shares redeemable on both occasions, regardless of their published call dates.
When the Fed makes their next Basel III compliance announcement, which they have reason to make on or before October 3, 2012, the market price of call-protected TRUPS shares will almost certainly move immediately toward $25, exposing many TRUPS buyers hoping for a quick capital gain to a very different result.
Footnotes:
[1] Source for all preferred stock data in this article: CDx3 Notification Service database, Preferred Stock Investing, Fourth Edition (see PreferredStockInvesting.com). Disclaimer: The CDx3 Notification Service is my preferred stock email alert and research newsletter service including data for all preferred stocks and Exchange Traded Debt Securities traded on U.S. stock exchanges.
Disclosure: Preferred stocks identified within this article are for illustration purposes only and are not to be taken as recommendations. I have no positions in any stocks mentioned, and no plans to initiate any positions within the next 72 hours. I wrote this article myself, and it expresses my own opinions. I am not receiving compensation for it (other than from Seeking Alpha). I have no business relationship with any company whose stock is mentioned in this article.