Following the release of the Fed minutes Wednesday and the fantastic performance of everybody's favorite precious metal many a market commentator immediately begin calling for a pullback. It took less than twenty four hours for observers to reinterpret the Fed's message by downplaying the probability of QE3.
I think this misses the point. Whether or not QE3 happens is almost irrelevant. If the economy worsens to the point that QE3 is necessary I think we may well be beyond the point of no return. I think QE3 will fail under almost any circumstance, even if it comes this week.
What QE3 would do is temporarily drive stocks higher and of course help gold and silver move up as well. But ultimately precious metals will trend higher and stocks will falter and then fail. The fundamentals for gold are unchanged and there just is nothing on the horizon to move stocks higher. Yes, individually some stocks will do well, that happens in every market. But on the aggregate there is no reason for the S&P 500 or the Dow to go much further than where they are now.
But gold, as I gauge with the SPDR Gold Trust (NYSE: GLD), in fact crossed important levels on Tuesday, Wednesday and Thursday and held a critical level in a boring trading session on Friday.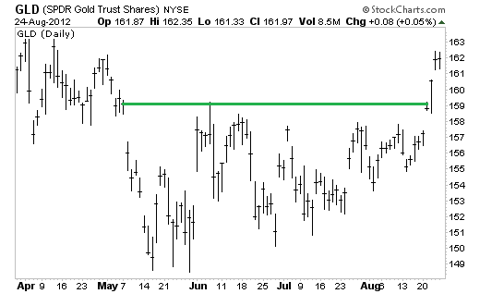 Click to enlarge
The green line in the chart above links August 21 with May 7. These two trading days are near mirror images of each other mark two important breaches: May 7 presaged the gap down on May 8 and the rapid drop to the intra-day low of $148.60 on May 16. August 21 was the gap up that marked the end of the consolidation period and the break-out to current highs. It also clearly indicated what the market expected from the Fed the next day.
The next chart is Wednesday the 22nd. GLD reacted quite positively to the Fed minutes closing very near the high and returning GLD to levels not seen in 3 1/2 months.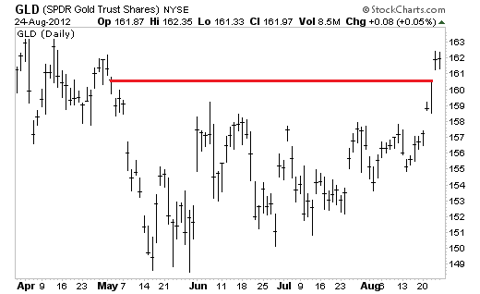 Click to enlarge
By the end of trading Wednesday I was reading commentary claiming that GLD had failed to exceed resistance levels and that the Fed interpretation was deemed more positive than the message really was. GLD however did not agree and not only traded higher Thursday (seen below) but gapped up again, never trading one penny within Wednesdays range. GLD also closed at another short term high, a price last seen on April 30 (which GLD exceeded by $0.01).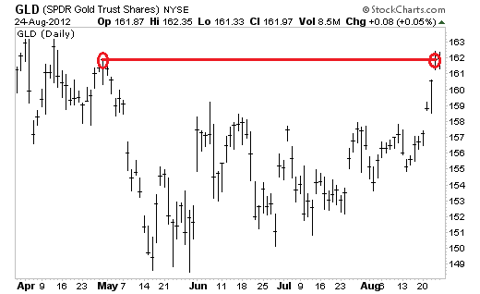 Click to enlarge
The coup de grâce came Friday shown below. Despite a relatively boring trading day (except the action between 11:15 and 12:00 EST) and despite further calls for GLD to pull back the ETF did exactly what it needed to do. It closed at the high for the week and at the highest point since April 12.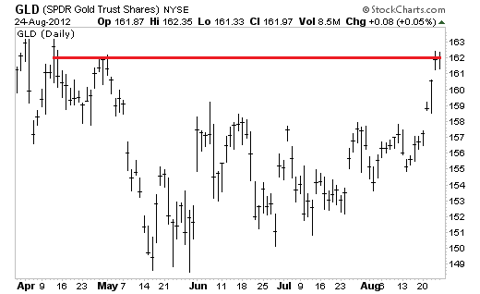 Click to enlarge
Experienced traders all know that you don't hold positions long going into the weekend unless you expect the price to continue to move higher. There's too much risk that bad news may come out over the weekend. So GLD closing at the high for the week was big victory for gold investors. Although the debate will continue as to the actual likelihood of QE3 and its potential impact I think gold and GLD may have changed course and what has been a year of negative bias may finally be over.
Disclosure: I have no positions in any stocks mentioned, and no plans to initiate any positions within the next 72 hours. I wrote this article myself, and it expresses my own opinions. I am not receiving compensation for it (other than from Seeking Alpha). I have no business relationship with any company whose stock is mentioned in this article.