The outcome of the Apple vs. Samsung patent war was entirely predictable: The San Jose jury pointed out only what the whole world already knew, and Seoul protected native Samsung. However, the twin verdicts - rendered at nearly the same time on two separate continents - will have nowhere near the same impact. The Seoul verdict limits both Apple (NASDAQ:AAPL) and Samsung (OTC:SSNLF), but only in South Korea, and damages the Galaxy line of tablets as well as the iPad. In Europe, Samsung's 3G claims have been dismissed by the courts, who ruled that Samsung patents must be made available under license to competitors.
The important thing about the San Jose verdict isn't the $1,049,343,540 Apple was awarded, substantial as that figure may be. (The penalty may triple as the infringement was found to be willful.) The important thing is that now non-Apple companies are going to have to start designing their own phones.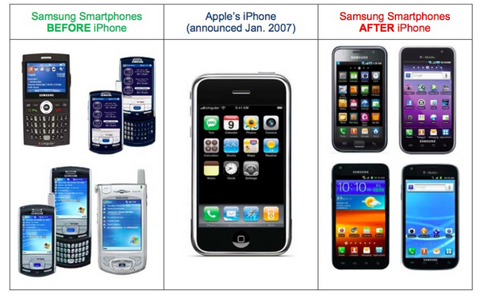 According to Roger Entner, an analyst for Recon Analytics -
All of the competitors will have to make bigger circles around certain design features. It gives it a lot more standing to Apple and anybody else with distinct features.
Android In Trouble
Google's (NASDAQ:GOOG) counter-attack against Apple using its recently acquired Motorola Mobility patents failed miserably, when the U.S. International Trade Commission ruled Friday that Apple didn't violate Google's Motorola Mobility patents.
The future of the Android ecosystem is now up in the air. Margins are slim in the mobile space. While endless litigation won't have much of an impact on Samsung, with its cash hoard, it may prove to be too much for some of the smaller manufacturers who already pay Microsoft (NASDAQ:MSFT) licensing fees for Android anyway.
As Bill Cox, the Senior Director of Microsoft Marketing Communications tweeted on Friday:
Windows Phone is looking goooood right now.
If Google and its Android licensees thought Apple was a threat then, just wait until the next few months. Apple's legal department is about to paper over Silicon Valley with cease and desist orders.
Lawyers, Lawyers Everywhere
The U.S. case is one of dozens of lawsuits among mobile phone companies dog-piling one another for a slice of the growing handheld/smartphone market. According to Kanzatec IP Group, Apple accounts for 60% of the lawsuits currently on file.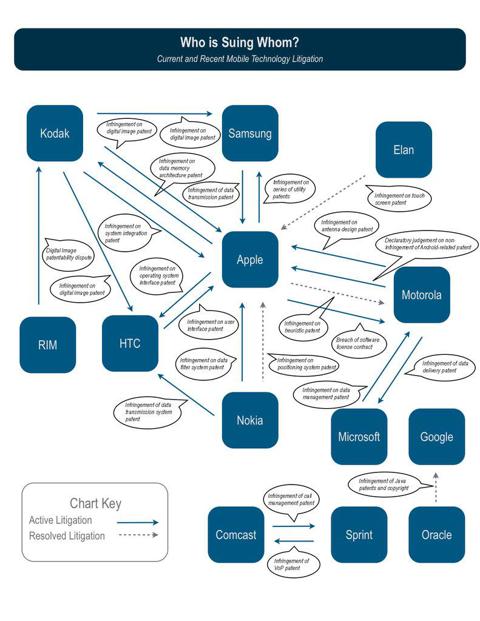 (source: Kanzatec IP Group)
iOS Is Supreme According To Carriers
Someone has bad data.
Official reports of Android penetration in the market have Google overtaking Apple in smartphone sales in Q1 2012, with Android sitting on 61% of the market vs. iOS 29% in Q1.
That doesn't tally with what the carriers are reporting. AT&T (NYSE:T), Verizon (NYSE:VZ) and Sprint (NYSE:S), account for about 80% of the market, reported an iOS market share of 78%, 51%, and 60%, respectively. Q1 sales totaled approximately 9 million phones.
According to BusinessInsider:
So, how did NPD get to its number of 29%? We asked, and the answer wasn't all that satisfying.

Ross Rubin, executive director for Connected Intelligence at NPD, told us NPD's data is based on surveying 12,811 consumers about what smartphones they bought in the first quarter. We asked why he didn't cross it with actual reported results. He said that's not part of their methodology. He also suggested that the discrepancy could be coming from the rise of pre-paid phones.

It's possible, but it looks sure looks like NPD is using faulty data to arrive at its conclusion.
A Zero Sum Game
Last year, Sprint's stock was taken to the woodshed after the company revealed that it spent $15.5 billion on iPhones. Verizon and AT&T were also punished by analysts for making similar payments to Apple. But if being on Apple's team is bad, not being on Apple's team can be lethal. T-Mobile has seen its subscriber base dwindle due to the fact that it doesn't carry the iPhone.
This zero sum scenario is the reason why carriers have an interest in decreasing Apple's stranglehold on the mobile space. Unfortunately for some of them, Android is no longer the silver bullet it used to be.
Conclusion
While a number of Seeking Alpha contributors have warned of AAPL hitting a top in recent days. I disagree. The sheer size and scope of the San Jose verdict gives Apple the most lopsided advantage of any tech company since the days of Microsoft and Windows 95. Apple is a bear-killer in this environment. The stock has already broken through a key resistance level at $650, and with the pent up demand for the iPhone 5 and iPad mini, there's nothing to stop AAPL from trading in the $700-$725 range by the holidays. The wind is at Cupertino's back.
Disclosure: I have no positions in any stocks mentioned, and no plans to initiate any positions within the next 72 hours. I wrote this article myself, and it expresses my own opinions. I am not receiving compensation for it (other than from Seeking Alpha). I have no business relationship with any company whose stock is mentioned in this article.