When Ben Bernanke speaks at the Jackson Hole Economic Symposium on Friday 31st August, he faces a tough backdrop of exhausted equity markets and increasingly bearish signals for global growth from numerous diverse indicators. The financial markets will be focused on his every word because asset price moves are becoming increasingly focused on Central Bank rhetoric, rather than actual economic data. Just look at the 6.1% rally in the S&P index since Mario Draghi said, "the ECB is ready to do whatever it takes to preserve the Euro" on 26th July. In fact weak data is currently met will bullish cheers as it "signals" the increasing likelihood of further Central bank stimuli; QE3, ECB bond purchase program, further PBOC easing, etc.
Congress established the Federal Reserve's (FED) statutory objective for monetary policy as: maximum employment, stable prices (clarified by the FED in January 2012 as close to 2% inflation) and moderate long term interest rates. It did NOT call for the FED to defend the $3.7 trillion retirement funds held in equities, and while the wealth effect is important to stimulate the economy, Bernanke would be better to use his dwindling ammunition to protect equities when they are under pressure, rather than current levels which are nudging the highs for the year. It was interesting that after this week's dovish FED minutes were released, the S&P could only close the day flat. Since that last Fed meeting on 1st August the US economic data has surprised to the upside, so if Bernanke did hold back on further dovish rhetoric at the Jackson Hole symposium, saving his bullets until the markets really needed it, equities would definitely trade lower in early September. Don't forget QE1 (Nov 08) and QE2 (summer 2010) were both a response to stock market crises.
But while we can argue all day about; will they/won't they, if and when, what is the actual price action telling us?
First of all, the S&P is right up against a strong resistance level with multiple tops at 1,419 and it's unable to close above there. It is also right at the top of 10 week trend channel, and is just starting to retrace towards the mean from extreme standard deviation levels (Bollinger bands).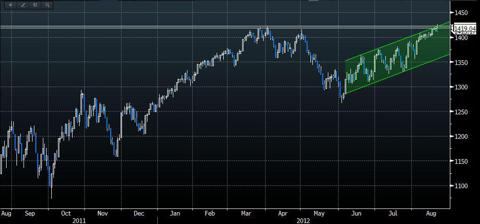 Click to enlarge
Now these are not bearish signals, but they do indicate that the index needs to consolidate before it can advance again. It needs a catalyst to propel it forward through the wall of selling resistance. That will be QE3, but the question is of course, when?
Another concerning signal is the VIX at a 5 year low. Whenever this index has moved below the 15 level in that 5 year period, the S&P has always followed this with a sharp move lower, as can be seen from the chart of the S&P vs VIX (inverted). The steepness of the VIX futures curve into year end should also be a concern here.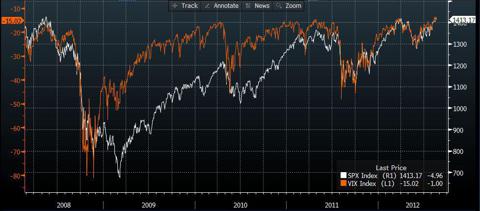 Click to enlarge
Now we can also introduce some other unmistakably bearish signals in the market. One is the clear breakdown in the correlation of the Dow Jones Industrial Average against the Dow Jones Transport Index. Some may put this down to the recent rise in crude oil from $77.7 to $97.0 in just 2 months, but such a rise in the oil price weakens demand not just in the transport sector, but throughout the whole economy. Either the DJIA should be lower or the Transport index higher.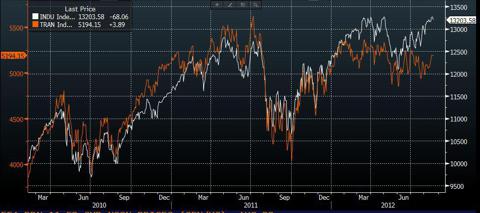 Click to enlarge
There has also been a clear breakdown in the correlation between the S&P and the Copper price, both of which are regarded as barometers of future economic activity. As we saw during the global financial crisis many correlations broke down for a long time, but few broke forever. Copper is trading heavily because the Chinese economy is slowing down, possibly even a hard landing. China has been the global growth driver since the financial crisis and for equities to blindly ignore this is dangerous.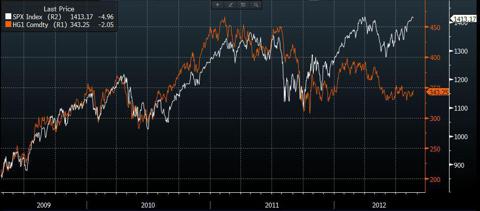 Click to enlarge
Chinese Purchasing Managers Index (PMI) is slowing dramatically, the overlay with the S&P is far from perfect (due to the strong rebound of the PMI in 2009), but the two rarely move in different directions. Until now.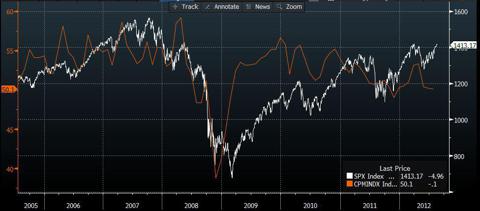 Click to enlarge
And we hardly need a reminder of the current direction of the Shanghai Composite index!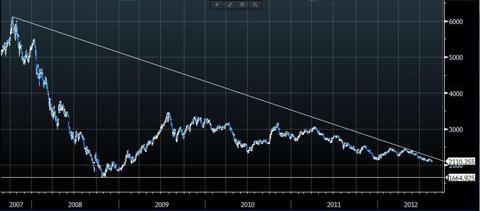 Click to enlarge
With asset price moves becoming increasingly binary; "risk on" versus "risk off", Ben Bernanke has to choose his words in Wyoming carefully. He may well appease the bulls and send equities to new cycle highs, but as an investor I would tread carefully and prudently. If he disappoints the market and saves his final ammunition until it's really required then there are plenty of headwinds and bearish indicators that will drive equities lower in September, not to mention the fiscal cliff in the months ahead.
Disclosure: I have no positions in any stocks mentioned, and no plans to initiate any positions within the next 72 hours. I wrote this article myself, and it expresses my own opinions. I am not receiving compensation for it (other than from Seeking Alpha). I have no business relationship with any company whose stock is mentioned in this article.