I've started experimenting with creating a basket of the most powerful brand-name companies in the S&P 500. While there are many possible metrics for identifying these companies, I've tried to keep it simple.
Criteria
Double-digit 10 year return on invested capital (ROIC)
Double-digit 5 year ROIC
Double-digit 10 year earnings before tax margin (EBT)
Double-digit 5 year EBT margin
Cannot be a commodity business
Of the S&P 500 only 17 companies make it pass these first 5 criteria. This is definitely a good sign; great companies should be rare, and if the screen returned more than 10% of the sample (50 companies) I would not have confidence in the results. Seeing less than 5% of the companies pass the test is excellent.
Here are the companies: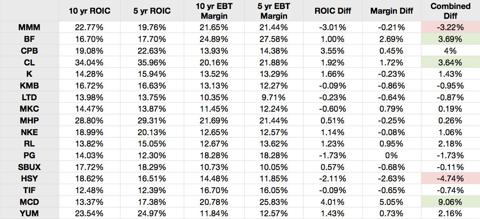 3 of these figures need explaining. The ROIC Diff is simply the 5 year ROIC minus the 10 year ROIC, same with the Margin Diff. This allows us to see which companies are actually improving over a longer time frame. The 10 year figure is essential in that in weeds out the companies that don't have the necessary track record. The 5 year figure gives us insight into whether the companies have actually strengthened through the recession, stayed the same, or weakened.
The market, over time, destroys the margins of businesses with high return economics. This happens as competition grows fiercer and new entrants offer different pricing schemes, increased efficiency, a wide array of things that make it harder to maintain pricing power.
So ideally we want to see businesses that have maintained or increased their margins, and in addition, have maintained or increased their returns on invested capital. Combining the two differentials gives something I'm calling the 'combined differential'. The green figures are positive and the red negative.
Discussion of the Results
Three businesses that have absolutely dominated are Brown-Forman (NYSE:BF.B), Clorox (NYSE:CL), and McDonald's (NYSE:MCD). These results are encouraging as I have looked very closely at two of the three. McDonald's in particular is the outlier with fantastic results; clearly if you are buying into their revamped store look and healthier offerings, the fundamentals would support such a position. I have read multiple pieces on Brown-Forman's success in selling multiple brands (Jack Daniels being one I enjoy) to the Asian consumer. While the China bears may bemoan the point, I don't see anything wrong with this strategy. Who knows, a recession in China may be a reason for people to drink more! Not much of a comment on Clorox though they do have a remarkable average ROIC in the mid 30s! Talk about value creation.
I haven't done enough digging to have a reasonable explanation for why, but the results show that the fundamental attractiveness of Hershey (NYSE:HSY) and 3M (NYSE:MMM) is fading fast. 3M is relatively stronger, though compared to its own track record has definitely fallen off a bit. Hershey all around would look to be one of the weakest of the group, though by no means does that make it a short! All of these companies made it through to this basket because they were at one point (or still are) exceptional.
Some honorable mentions outside of the clear winners and losers. I did not highlight Campbell's (NYSE:CPB) combined differential of 4% in green as the majority of its change came from increased ROIC with negligible change in margins. Going back to what I said earlier, margins are the more important sign here as they will be the leading indicator on changes in the business while ROIC will lag. Yum! Brands (NYSE:YUM) would be an interesting one for further investigation though I've always found it to be a little too pricey for what you get. Procter and Gamble (NYSE:PG) has been weak and adds more credence to Ackman's activist plan. Limited Brands (LTD) has fallen to a single EBT margin which is a terrible sign, and its ROIC is relatively low. I would say McCormick (NYSE:MKC) is also another one that's slightly more speculative than the rest. Lastly, I have been a Starbucks (NASDAQ:SBUX) shareholder in the past, but the story got way too ahead of itself and it should be in for some sub-par returns over the next little bit as its multiple comes back in line.
Conclusion
I will be doing valuation work on all of these names, as well as looking for some similar candidates outside of the S&P 500. Hopefully I'll be able to post some follow up pieces shortly.
Disclosure: I have no positions in any stocks mentioned, and no plans to initiate any positions within the next 72 hours. I wrote this article myself, and it expresses my own opinions. I am not receiving compensation for it (other than from Seeking Alpha). I have no business relationship with any company whose stock is mentioned in this article.