Kinross Gold Corporation (NYSE:KGC) might be an example of a classic value bargain. It might also be one of the best gold-mining buys in the market today. On August 21, Kinross shares were trading at $8.50 a share, which was up 10% from the previous day. This price increase came in spite of some big problems the little company was having.
The company was forced to seek a $1 billion loan in order to cover rising expenses at its Tasiast project in Mauritania, which is a remote West African nation. Kinross got 100% ownership of the mine when it paid $7.1 billion to acquire Red Back Mining in 2010.
Even though Tasiast is described as Kinross's top development priority and the cornerstone of the company's long-term growth strategy, it is also apparently a sinkhole into which Kinross's cash seems to be disappearing. George Topping, an analyst at Stiefl Nicolaus, estimated that Kinross has spent $800 million on Tasiast this year. Kinross also increased its revolving credit line from $1.2 to $1.5 billion in order to cover costs at Tasiast. The line has been extended to 2017.
Cash isn't the only thing that has disappeared at Tasist. Kinross's former CEO Tye Burt lost his job over the debacle earlier this month. In his first conference call, Burt's replacement, J. Paul Rollinson, said that his first priority was to control costs. Rollinson has slowed development on two other Kinross Projects, the Fruta del Norte Project in Ecuador and the Lobo Marte project in Chile. Unfortunately, Rollinson didn't say what his plans for Tasiast are.
Instead, Rollinson seems to be busy shaking things up at Kinross's headquarters. In the past two weeks, he has appointed Chief Operating Officer Brant Hinze president, put chief legal officer Geoffrey Gold in charge of corporate development, and named James Crossland head of corporate affairs.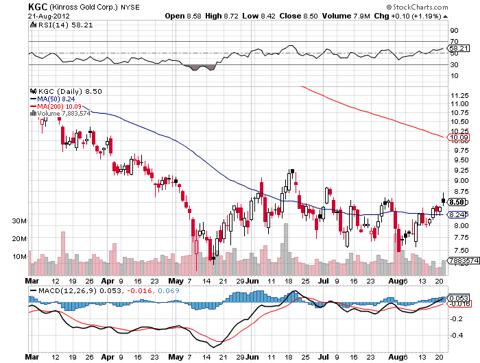 Rollinson's moves seem to have helped Kinross's share quite a bit; it rose from around $7.70 a share on August 6, right before he started the changes to $8.50 a share on August 21. The stock hasn't recovered most of the value it lost in its huge slide from March to May, when it fell from a high of around $10.09 to around $7.25 a share. Part of this fall was caused by Kinross' $2.94 billion writedown in Ghana earlier this year. The majority of the writedown was due to Tasiast.
Is the market right about this stock? Is it a basically a good company that has been mismanaged, but could come back with the right team in charge? Possibly, the company does seem to have some really impressive assets on its books. Despite its troubles, the Taisist mine did produce 200,619 ounces of gold in 2011, and it has estimated reserves of 7.46 million ounces. Unfortunately, it also has a mining cost of $702 an ounce. Kinross is currently reviewing the Taisist operation to see if it can reduce costs.
Kinross also owns 100% of the Kupol project in Russia, which produced 653,063 ounces of gold in 2011. Kupol had an impressively low mining cost of $378 an ounce. The estimated reserves at Kupol are 2.99 million ounces of gold and 37.1 million ounces of silver. Since it started production in 2008, Kupol has produced two million ounces of gold and 20 million ounces of silver, so Kinross does have at least one really good asset on its books.
Kinross also owns 50% of the Round Mountain operation in Nye County, Nevada, which produced 187,444 ounces of gold in 2011. Round Mountain had operating costs of $697 an ounce. It has estimated reserves of 1.4 million ounces of gold. The other 50% of Round Mountain is owned by Barrick Gold Corporation (NYSE:ABX). Kinross owns 100% of the Kettle River Buckhorn, an underground mine in Washington State. Kettle River produced 175,292 ounces of gold in 2011 with an operating cost of $420 an ounce. Unfortunately, Kettle only has estimated reserves of around 380,000 ounces of gold.
Kinross extracted 289,794 ounces of gold from the Fort Knox open pit mine north of Fairbanks, Alaska in 2011. Fort Knox has operating costs of $692 an ounce, but it also has estimated reserves of 4.3 million ounces of gold. Kinross mined 453,396 ounces of gold at its Paracatu mine in Brazil in 2011. Paracatu has impressive estimated reserves of 17.4 million ounces of gold, but it also has a high mining cost of $720 an ounce.
Kinross also has at least one very promising development projects in the pipeline. Annual production at the Dvoinoye project in Russia is estimated at 215,000-250,000 ounces a year for the first three years and 650,000-700,000 ounces when the mine reaches full production in 2014-2016. The Kinross board has approved final construction of Dvoinoye, but it might be delayed as part of Rollinson's cost-cutting measures.
Kinross is a nice little company with some very impressive resources and some serious problems. Yet it is a bargain compared with Barrick Gold, which was trading at $36.90 a share on August 21st, Goldcorp (NYSE:GG), which was trading at $39.26 a stock on the same day, and Newmont Mining (NYSE:NEM), which was trading at $48.25 per share at the close of business on that day.
I believe Kinross is a value buy in gold mining at current prices due to its impressive assets. If Mr. Rollinson can succeed in trimming costs and turning the company around, Kinross has the potential to be a much bigger player in gold. It also has the potential to generate a lot of cash under the right management team.
Disclosure: I have no positions in any stocks mentioned, and no plans to initiate any positions within the next 72 hours. I wrote this article myself, and it expresses my own opinions. I am not receiving compensation for it (other than from Seeking Alpha). I have no business relationship with any company whose stock is mentioned in this article.