A significant transaction occurred in the Bakken shale region on Friday. QEP Resources (NYSE:QEP) acquired acreage from Black Hills Corp (NYSE:BKH), Sundance Energy (OTCPK:SDCJF) and Unit Corp. (NYSE:UNT). The total amount of acquisition amounted to $1.4B. Obviously, the sale will impact all firms involved. One of the firms I see benefiting the most is Black Hills as it is a major step towards monetizing non-core assets and unlocking shareholder value. Based on analysts' and investors initial reactions, I believe this fast growing; high yielding utility has further appreciation ahead of it.
"Black Hills Corporation operates as a diversified energy company primarily in the United States. The company's Electric Utilities segment generates, transmits, and distributes electricity to approximately 201,500 electric customers in South Dakota, Wyoming, Colorado, and Montana, as well as distributes natural gas to approximately 34,800 natural gas utility customers in Wyoming." (Business description from Yahoo Finance).
Six reasons BKH is a solid value pick at $33 a share:

The stock yields 4.4% and its piece of the transaction ($243mm) should allow company to fund its five year capital spending program and/or add to its dividend payout in the near future.
The company operates in a faster growing part of the country and has solid earnings and revenue growth projections for a utility. Analysts expect revenue growth in the mid-single digit for both FY2012 and FY2013. They also project a 10% increase in EPS in FY2013.
Insiders own 6% of the firm and have been net purchasers of the shares in 2012.
As result of the recent transaction, Gabelli upgraded the shares to a "buy" from a "hold". Credit Suisse also upped its price target from $35 to $40 after the asset sale. Look for more analysts' upgrades in the coming weeks.
The company's management is well on its way to shedding non-strategic assets at solid prices. It sold its volatile energy trading business (Enserco) earlier in the year. It still has opportunities to sell additional assets such as its coal business, remaining E&P assets and valuable options on more than 70,000 acres of shale acreage. Once assets are sold, the stock should benefit with a higher multiple its "pure play" status as fast growing utility with a solid dividend deserves. Sales should also improve balance sheet significantly as well.
The stock appears to have recently bottomed off a medium term technical support level and crossed its 200 day moving average with its rally on Friday (See Chart).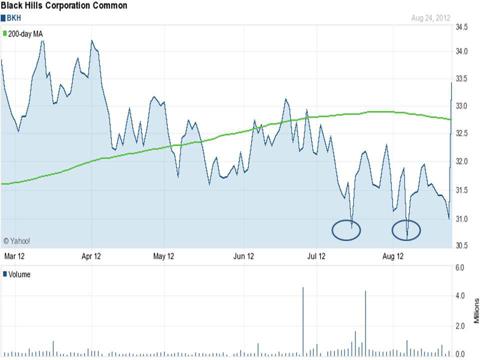 Disclosure: I have no positions in any stocks mentioned, but may initiate a long position in BKH over the next 72 hours. I wrote this article myself, and it expresses my own opinions. I am not receiving compensation for it (other than from Seeking Alpha). I have no business relationship with any company whose stock is mentioned in this article.