In this article I take a look at Wendy's (NYSE:WEN), a fast-casual restaurant. We'll evaluate Wendy's as an equity investment. We'll examine the industry, valuation and the financial performance and position.
Wendy's is testing new interior designs. The new restaurants will include free Wi-Fi and flat-screen TVs.
Industry
Wendy's operates fast-casual food restaurants. The firm most closely competes with McDonald's (NYSE:MCD), and Burger King Worldwide (BKW). Additionally, Wendy's competes with Yum! Brands (NYSE:YUM). Wendy's is in the services sector.
Typically, firms in the services sector are less geared to the economic cycle. Wendy's is non-cyclical. The industry is mature: The fast-casual restaurant industry in the U.S. isn't going to have high sales growth rates. In some countries the industry is in the growth stages. Additionally, some firms within the industry are growth firms and some benefit from growth in high growth countries. Wendy's primarily operates in mature markets.
The fast-casual restaurant industry is competitive in terms of the threat of substitute products and the bargaining power of customers. The industry has low barriers to entry and rivalry can be intense. There is an oversupply of restaurants which leads to price cutting.
Further, Wendy's and other restaurants are expecting to increase the prices consumers pay as input costs rise.
Rating System
Buy - Long
Neutral - No position
Sell - Short
(The ratings, research and analysis in this article should be considered as starting point for further research.)
Wendy's -- Neutral or Sell
Investment Thesis
The solvency of Wendy's is questionable. Interest payment are a huge portion of operating income and debt is a large percent of cash flow from operations. Some investors could probably profit from short selling shares of Wendy's. It isn't a good idea to be a long-term investor in this issue.
Wendy's Company Performance
According to the firm's financial statements, current assets decreased 2.3 percent to $729 million in the second quarter of this year compared to the fourth quarter of 2011: The decrease is most attributable to a decline in cash. Total assets increased 0.2 percent to $4.3 billion. Total current liabilities declined 5.4 percent to $348 million: The decline is mostly attributable to a decline in accounts payable. Additionally, current assets are greater than current liabilities: the firm is liquid. The financial leverage ratio is 2.16. The current ratio changed from 2.03 to 2.09. Long-term debt to total equity went from 0.68 to 0.69.
Total revenue in the second quarter, compared to the year-ago quarter, increased 3.8 percent to $645 million. Operating profit declined 19.1 percent to $38.4 million. Operating profit was 8.7 percent of revenue in the year-ago second quarter. In the second quarter of 2012 operating profit was 5.9 percent of revenue. Wendy's pays a high percent of operating income in interest expense: interest expense was 73 percent of operating income in 2012's second quarter. Wendy's reported a loss of just over $5 million. The comprehensive loss was $8.85 million.
During the first six months of 2012 earnings were high quality. Wendy's didn't generate enough cash from operating activities to cover capital expenditure. Further, Wendy's used $26.7 million in financing activities. The cash balance declined by $40 million to $435 million. Cash flow from operations declined while revenue increased: the cash flow to revenue ratio declined. Cash flow performance could have been better. Operating cash flow to debt for the first six months of the year was roughly 5 percent. At the current pace Wendy's would have a roughly 0.1 CFO to debt ratio for the year. In other words, it would take the firm 10 years to pay off all of its debt.
Performance at Wendy's Restaurants, LLC and subsidiaries differs marginally from Wendy's Company performance. Wendy's is not in the best financial condition; the company would be wise to suspend dividend payments.
Wendy's is seeking to extinguish its current senior debt obligations. Further, it seems as though the company is seeking amendments to senior debt restrictive covenants. The proposed amendments would allow Wendy's to discontinue filing financial statements with the SEC.
Wendy's plans to continue to develop its brand in North America. The firm plans to remodel restaurants, increase traffic, and grow breakfast sales. While these are good ideas, the firm should increase focus on cutting expenses such as interest payments, cost of sales and dividend payments.
Company v. Industry
Return on Assets: 0.35 v. 9.56
Return on Investment: 0.39 v. 13.57
Return on Equity: 0.66 v. 18.39
(The company versus industry data is courtesy of Reuters.)
Valuation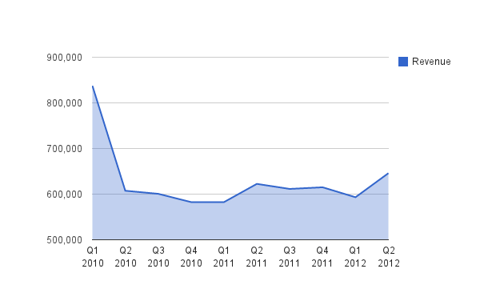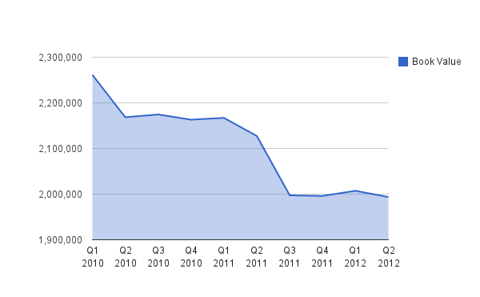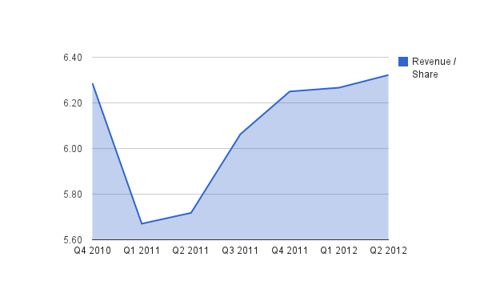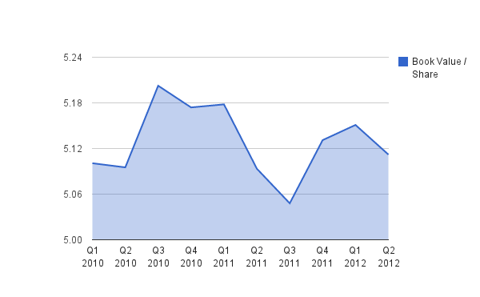 Revenue and book value are diverging. Revenue is increasing, but isn't adding to the book value of equity.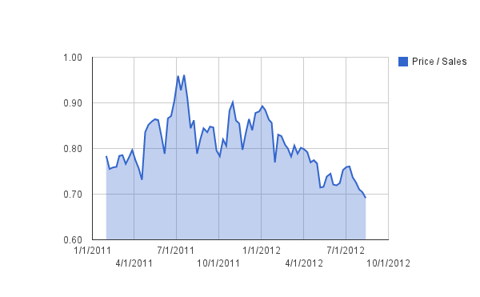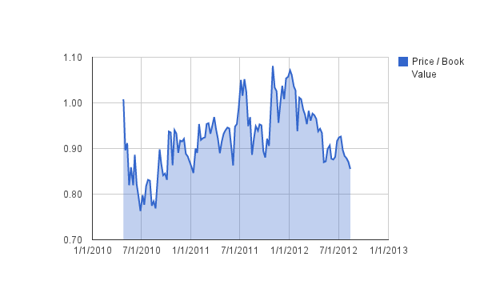 The valuations of Wendy's suggest it is undervalued. Wendy's is having some operational difficulty and thus the discounted valuation. Futher, the price-book value ratio suggests investors aren't thrilled with Wendy's growth prospects.
Disclaimer: This article is not meant to establish or continue an investment advisory relationship. Before investing, readers should consult their financial advisor. Christopher Grosvenor does not know your financial situation and ability to bear risk and thus his opinions may not be suitable for all investors.
Disclosure: I have no positions in any stocks mentioned, and no plans to initiate any positions within the next 72 hours. I wrote this article myself, and it expresses my own opinions. I am not receiving compensation for it (other than from Seeking Alpha). I have no business relationship with any company whose stock is mentioned in this article.