Hewlett-Packard (NYSE:HPQ) recently reported earnings and the stock went into a downward spiral. The stock fell more than 8% in the day. While the stock has seen a poor performance recently. Many investors have stated that the company may be a good buy. However, even with the company in midst of a restructuring, its difficult to determine when the bleeding will stop.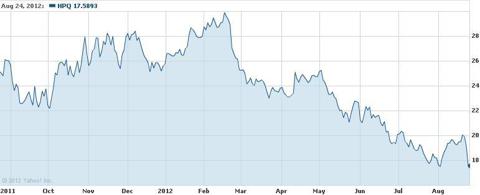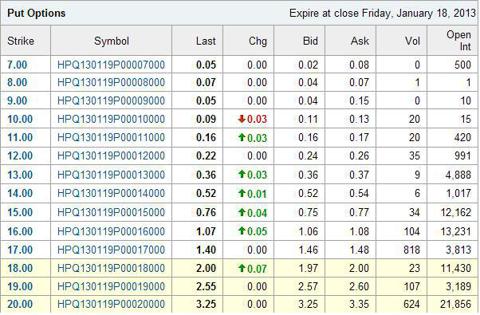 The $17 puts present a good opportunity now. They have a premium of $1.46 at the bid. So investors looking to buy around the $17 price would grab a return 8.5% in 4 months time. Investors placed into the stock would have an avergae cost of $15.60 per share if you factor in the premium.
If investors want to increase their margin of safety. They can choose to sell the $16 puts instead. The premium at this strike price is 6.6%. However, in order for option sellers to be put into a position, HP's stock would need to fall more than 9% from its current price. In addition to this, if investors are placed into a position at $16, there actual average cost would be around $15 per share if the premium is factored in.
Selling put options is a great strategy on HP. The company is not only very profitable, but is also experience a turnaround. If CEO Meg Whitman can jumpstart growth, the stock could stop its bleeding. Keep in mind, HP still expects to make a non-GAAP EPS of $4.05 this year. Based on the current market price, this yields a P/E of 4.3. While valuation is cheap, we still don't know if the stock can fall, investors looking to buy HP at a lower price should consider selling puts on it.
Disclosure: I am long HPQ. I wrote this article myself, and it expresses my own opinions. I am not receiving compensation for it (other than from Seeking Alpha). I have no business relationship with any company whose stock is mentioned in this article.
Additional disclosure: I sold the $16 Jan 2013 puts on HPQ.